Above: The retirement of Pete Frates' jersey at Boston College in 2016. (John Quakenbos)

Boston College will honor former BC baseball captain Pete Frates '07, by naming Phase II of the Harrington Athletics Village as the Pete Frates Center, thanks to the generosity of the Yawkey Foundations and a growing community of donors.

Frates, 34, was diagnosed with amyotrophic lateral sclerosis (ALS) at age 27, and has been a leader in the fight for a cure since 2012, most notably through his role as the inspiration for the Ice Bucket Challenge campaign in 2014.
The Pete Frates Center will provide a 31,000-square foot indoor baseball and softball facility featuring locker rooms, hitting tunnels, indoor turf field, strength and conditioning space, and a hospitality area.  It will be located adjacent at the Harrington Athletics Village, which opened in 2018.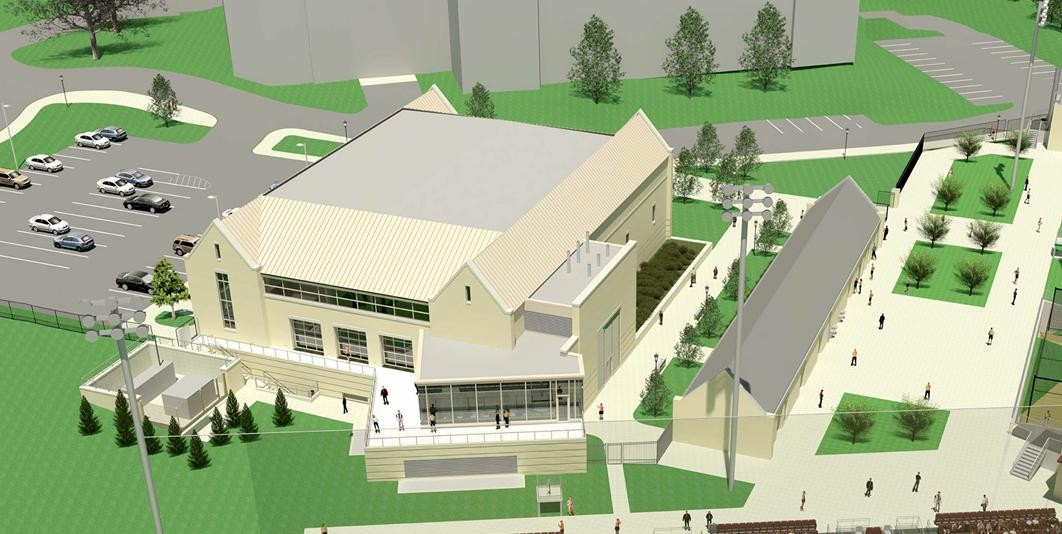 "It's truly special to have this state-of-the-art facility bear Pete's name, especially after someone who was such a hard worker during his playing career at the Heights and was always looking to improve," said William V. Campbell Director of Athletics Martin Jarmond. "Pete embodies our Jesuit motto of 'men and women for others' better than anyone I know."
 
"Tom and Jean Yawkey's love of amateur baseball reflected their desire to support young people at all levels playing the game that meant so much to them," said Jim Healey, president of the Yawkey Foundations.  "We are honored to see Pete's legacy associated with the Yawkeys, as both have made profound impacts in the community through a committed legacy of giving back."
 
Frates and his wife Julie and daughter Lucy, along with Team Frate Train, have been major advocates in the quest to find a cure for ALS. The Ice Bucket Challenge, which will continue to take place every August until a cure is found, has been embraced by some 17 million people worldwide and raised more than $220 million for ALS research.
 
Construction of the Pete Frates Center is set to begin this month. It is scheduled to open in the summer of 2020. The center will provide BC's baseball and softball student-athletes with a space to practice and train year-round, and will include sports medicine areas for treatment and recovery, as well as seven hitting tunnels with retractable cages, and space for a full-team practice on a turf surface.

The baseball and softball teams will have their own locker rooms and player lounge areas on the ground level of the facility. Locker rooms and lounges for each coaching staff, plus a game-day space for umpires, will be included, as well as a hospitality area for donor and alumni use on game days.

"

It's truly special to have this state-of-the-art facility bear Pete's name...Pete embodies our Jesuit motto of 'men and women for others' better than anyone I know.

"

Phase I of the Harrington Athletics Village provided BC baseball and softball with new playing fields that have been praised throughout the Atlantic Coast Conference and NCAA baseball. Built on BC's Brighton campus, the complex is equipped with AstroTurf playing surfaces, Musco LED lights, seating for 1,000 baseball and 300 softball spectators, Daktronics scoreboards, press boxes, and video replay capabilities. It was named in recognition of the generosity and lifelong commitment of University trustee associate John L. Harrington '57, MBA'66, H'10, P'82, '89, '94.

"We welcome the support of our alumni, parents and friends in following the lead of the Yawkey Foundation by donating to this important project," said Jarmond.  "It is a great way to honor Pete Frates, while supporting a facility that will be of tremendous benefit to our baseball and softball teams."

Jack Dunn | University Communications
Jason Baum | Boston College Athletics
 
WATCH: The Frates family joins Boston College at the June 26 press conference announcing the naming of Phase II of  Harrington Athletics Village as the Pete Frates Center. (Video courtesy of Boston College Athletics | Photo by Lee Pellegrini, University Communications)