Class of 2020 Commencement in Conte Forum on October 17, 2021. (Lee Pellegrini)

Boston College alumnus and trustee Steve Pemberton '89, M.A. '19, H'15, urged the graduates to serve as beacons of light who guide others at Boston College Commencement Exercises for the Class of 2020, held on October 17 in the University's Conte Forum.
"Lighthouses are perhaps the most selfless structure that humankind has ever created," he said.  "It serves no purpose other than to be of service to another, to simply be a beacon, especially in times of uncertainty and chaos."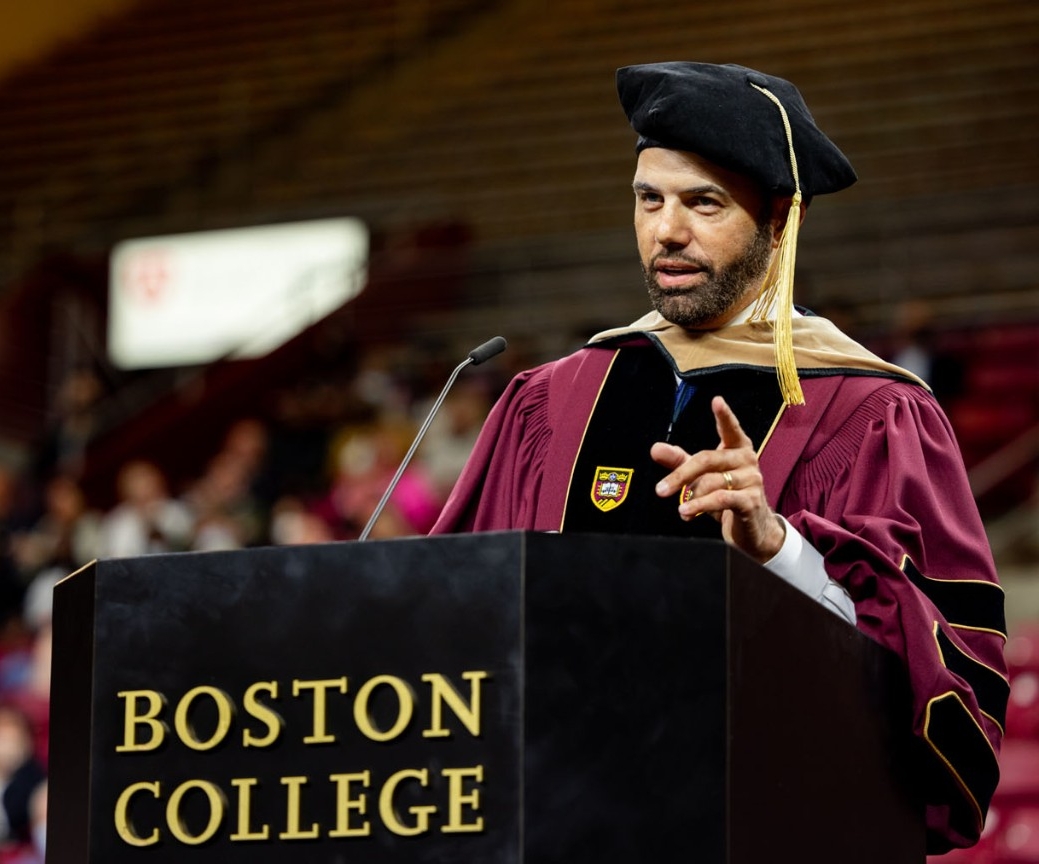 Pemberton, a business leader, philanthropist, motivational speaker, and diversity champion, is author of the best-selling memoir A Chance in the World, an acclaimed memoir chronicling his journey from a childhood spent in cruel foster homes to an adulthood of happiness and success. With its messages of resilience, faith, and family, the book became a best-seller and inspired a 2017 movie of the same name. The book was shared reading for the Class of 2020 during the summer before their arrival at BC, and Pemberton addressed the class at their First Year Academic Convocation in September 2016.

The Commencement highlighted a celebration weekend for members of the class, whose senior year was interrupted, including cancellation of their traditional graduation ceremonies, due to COVID-19 restrictions imposed by the City of Boston.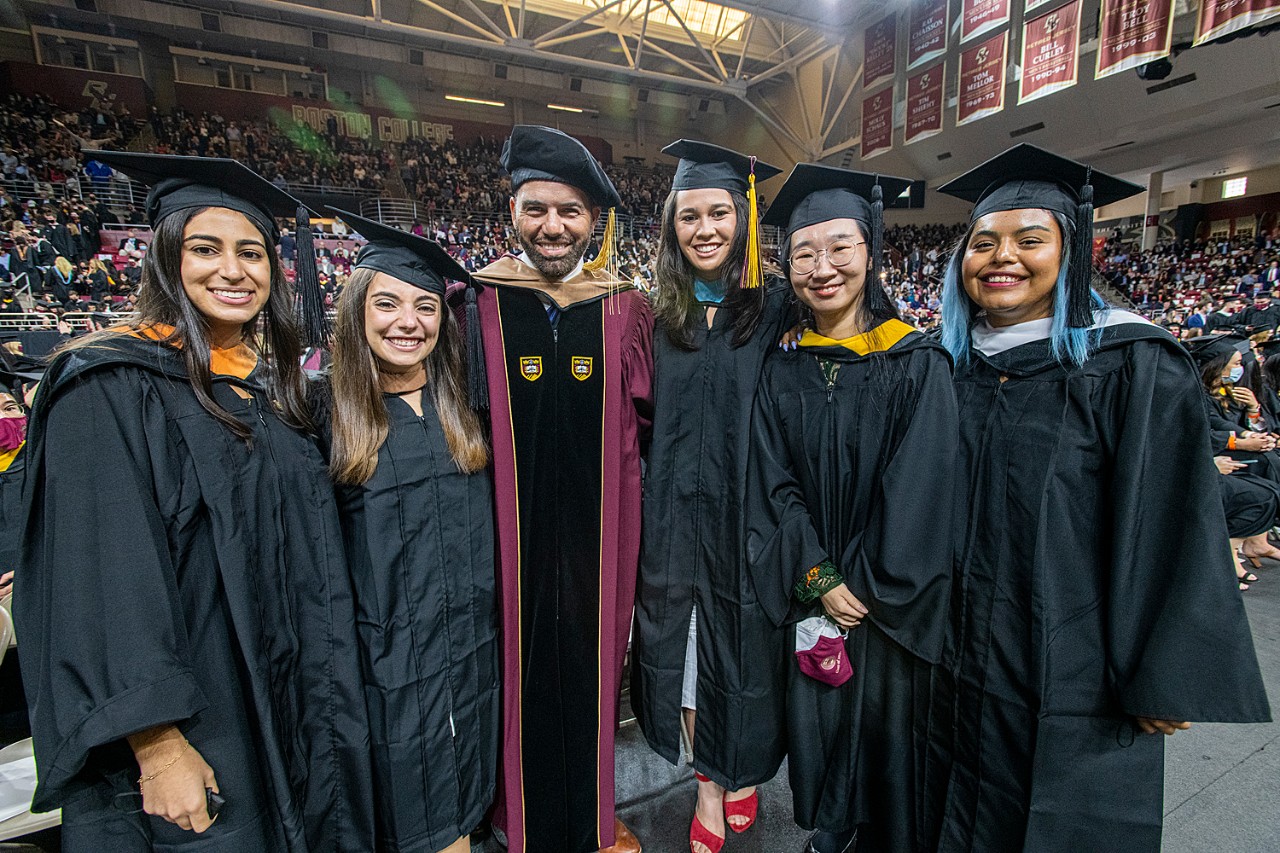 More than 1,600 Boston College graduates (out of 2,332 in the class) returned to campus to attend the ceremony. While all graduates had received their diplomas by mail in 2020, each attendee was acknowledged at individual school ceremonies that followed the main Commencement.
Pemberton, chief human resources officer at  Workhuman, noted that the world that the graduates entered in spring 2020 was rife with a global pandemic, an economic meltdown, and a polarizing political climate—three convergent storms that could not have been anticipated.
"While it has been challenging for all of us, it has been especially challenging for you. It has required you to be resilient, to stand strong, to have faith, to still serve in spite of your disappointments."
Lighthouses, he said, are no longer necessary as a practical matter for navigation at sea, but serve as a perpetual reminder of how we ought to act with one another, and to one another. The theme is central to his new book, The Lighthouse Effect: How Ordinary People Can Have an Extraordinary Impact in the World, in which he writes about the mentors, teachers, friends, and colleagues who selflessly guide others along life's voyage, and how these human lighthouses may lead the nation to a more unified tomorrow.
"The lighthouse is faithful, steadfast, resilient and humble," Pemberton said.  "It seeks neither reward nor recognition.  It is not concerned about one's race, gender or faith.  It neither qualifies your distress or renders judgment on your uncertainty, nor does it care about your title, where you stand on a specific social issue, or who you voted for in the last election.  The lighthouse is only concerned about protecting your journey, and in doing so, sees only our common humanity.
"You…the Class of 2020 have been the embodiment of the lighthouse."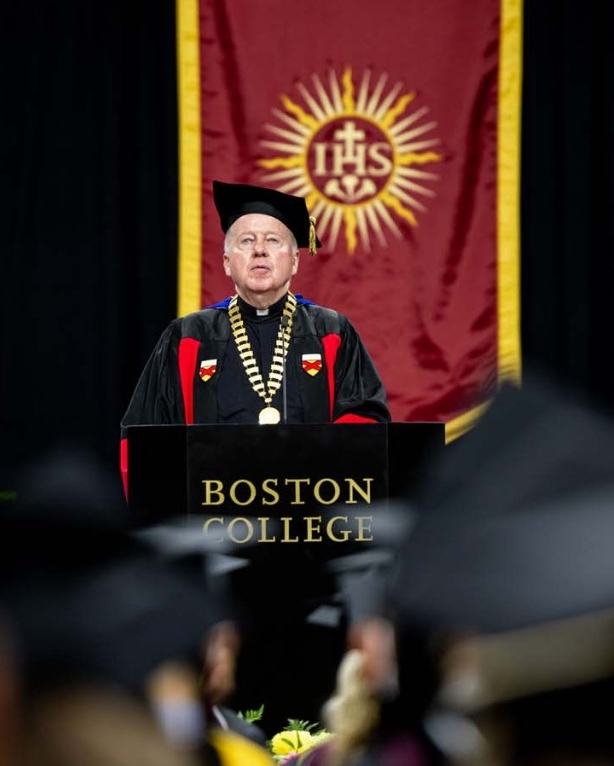 Remarks by Boston College President William P. Leahy, S.J., reflected a complementary message.
"Our world very much needs you graduates of the class of 2020," he said.  "We need you to help resolve challenges and bring more hope to our day.
"I believe that you are already doing that," Fr. Leahy said, "and I urge that you leave this weekend more deeply committed to sharing with others the benefits you have received from your Boston College education, one emphasizing the liberal arts, and provided in an atmosphere of care and faith shaped by the Jesuit, Catholic tradition and religious heritage.
"May you always strive to be beacons of light for those around you, much as the tower of Gasson Hall does on our campus. And may God continue to bless you and your families."
The day's festivities included a Baccalaureate Mass preceding the main Commencement, which was followed by individual school ceremonies and a celebratory lunch and toast on the Plaza at O'Neill Library.
Phil Gloudemans | University Communications | October 2021