The integration of intercultural learning at home and abroad will be the focus of a forum at Boston College for faculty, international education professionals, and others focused on the internationalization of campus communities and the promotion of inclusion.
Launched at BC last year, the Boston Intercultural Skills Conference (BISC) will take place on Feb. 24 from 9 a.m. to 3:30 p.m. in Corcoran Commons.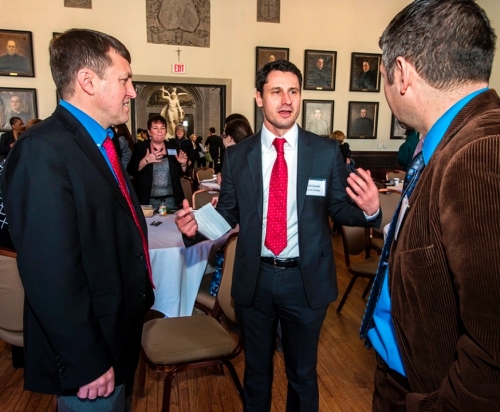 This year will see an expansion of the event's topic and reach, according to Office of International Programs Director Nick Gozik, the conference organizer.
 "We will be looking at intercultural learning, yet also broadening the theme to include discussions of inclusion," he said. "[BISC] is helping to put BC on the map as a leader in international education – a place for critical and substantive dialogue about the ways in which we as educators can help students become more interculturally competent, and able to embrace diversity in an increasingly complex and interconnected world."  
Conference keynote speaker Alma Clayton-Pedersen, CEO of Emeritus Consulting Group, is a senior scholar at the Association of Colleges and Universities – where she served as vice president for education and institutional renewal – and consults on programs that prepare faculty, administrators and institutions for the future of higher education. She led the establishment of "inclusive excellence" as a national imperative, said Gozik, adding that the concept has "taken off and been applied in a variety of contexts across the U.S."
 The conference will feature breakout sessions to explore topics that go beyond education abroad alone, which include student resiliency, mental health, and strategies for working with international students. According to organizers, the BISC will facilitate "dialogue across traditional university silos [which] will enrich the conversation as we work towards the common goal of providing resources that enable faculty and staff to navigate increasingly diverse campus communities, support students of all backgrounds, and prepare students to succeed in an increasingly interconnected world."  
The BISC is free of charge for BC staff, faculty and graduate students. Conference registration is open to BC community members; registrants will be accepted until the allotted number of spots is full. Find more information on registration, schedule, and other details at the conference website.
–Rosanne Pellegrini / University Communications