The old model for undergraduate international experiences in higher education, says Office of International Programs Director Nick Gozik, went something like this:

"Drop a student in the middle of the world, and they'll sink or swim."

In other words, conventional wisdom held that by virtue of simply being abroad, students absorb great insights that significantly broaden their perspective of the world, and of themselves.

The trouble with this mindset, Gozik says, is while such revelations are certainly possible, "students each have their own pace of development, their own temperament and way of looking at things. There are some students who may have such difficulty adjusting to a new and different environment that it's hard for them to process what's going on – which means they lose out on a real opportunity for personal growth."

Even students who have enjoyable, enriching study-abroad periods can't always discern the big-picture lessons of what they learned or observed, he adds, at least not on their own.

But now, the "sink-or-swim" approach to education-abroad experiences is being supplanted by one focused on building "intercultural skills," says Gozik. This philosophy envisions a vital role for faculty, administrators and other higher education professionals: helping students interpret these experiences into a deeper understanding of the world and their place in it, and where they go from here.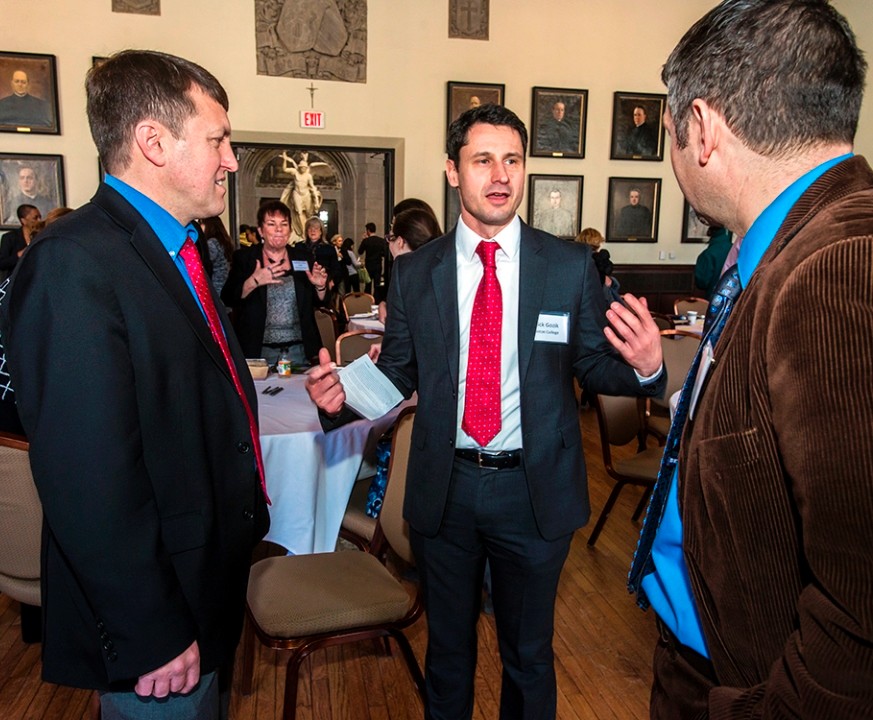 Boston College has emerged as a leader in the intercultural skills movement, and earlier this month hosted the first-ever conference on the subject to be held in New England. Some 125 representatives from BC and other colleges, as well as education-abroad programs, attended the daylong event, which featured keynote speeches and panel discussions that explored topics such as the use of technology in intercultural skill development, and how to integrate short-term programs into undergraduate curricula.

"Intercultural learning is still a new subject for many in higher education," says Gozik, who along with Provost and Dean of Faculties David Quigley gave opening remarks at the Boston Intercultural Skills Conference (BISC); he and morning keynote speaker Steve Duke, from the University of Nebraska, also provided closing thoughts. "This event was a good way for us to compare notes, identify and answer questions, and hopefully establish some lines of communication."

At a time when strong, often passionate exchanges about diversity and tolerance issues are common throughout higher education, he adds, intercultural skills can be an asset to the dialogue.

"Where BC is concerned, I think the conference moved the conversation about intercultural skills into the center of the University, which is where it needs to be."

 "Intercultural skills" may sound like an abstract concept or trendy phrase, says Gozik, but it is characterized by definable goals and objectives.

"When a student is abroad – whether for short or long term – you don't want him or her to stay in a bubble. Undergraduates should be 'out there,' away from the tourist spots, getting a sense of the places and the people, and what they're thinking about and feeling. The idea is, through the experience, students can both form impressions and break down stereotypes.

"But to really build intercultural skills takes reflection on the part of the students, and faculty; administrators or staff have to challenge them to go further and dig deeper."

Discussions at the BICS offered good examples of how intercultural skills can be nurtured and developed, says Gozik, pointing to the panel on short-term programs that included Carroll School of Management Associate Professor John Gallaugher, Professor of Communication Marilyn Matelski and Professor of English Suzanne Matson.

Gallaugher described his Technology and Development class' nine-day trip to study technology enterprises in Ghana, home to one of the world's fastest-growing economies. The trip – a variation of Gallaugher's "Tech Trek" course in the Silicon Valley – emphasizes local engagement, he said, including master classes with Ghanaian entrepreneurs and socializing with college students.

"With this degree of immersion, the BC students have a deeper cultural experience in a week than in many longer-term programs," Gallaugher told the audience.

Matelski discussed her Advanced Intercultural Communication class – which she calls "studyabroad.comm" – a web-based course for communication/International Studies majors as well as others studying abroad. Students keep an electronic journal that covers topics such as culture shock, stereotyping, images of Americans and America abroad, and differences in world views. They also compile a digest of news/information sources used by citizens of the host country, and compare how local and US newspapers cover an American news event.

Students also write a paper based on an interview with someone they met while abroad – such as a member of a host family – about cultural perspectives on gender roles, media influences, holiday celebrations and other facets of everyday life, she said.

"Asking questions like 'Who are your heroes?' or 'What was your first job like?' my students often get answers they don't expect," said Matelski. "It's very eye-opening to them and gives them a lot to think, and talk, about."

Matson spoke on Writing Out of Place, her three-week creative writing class in India. Students are exposed to a variety of sights and sensations, she explained, such as visiting a refugee colony and village school, listening to a talk on Indian economics, or taking a cooking lesson – all of which are intended to sharpen their skills in listening and observing, a necessary part of intercultural learning.

"We're trying to move them out of writing in a raw, subjective, emotive way, and to make what they experience real for their audience," said Matson, who added that the close-knit relationships formed among the students aid the writing process. "Their peers can point out what the writer is missing, or how something can be interpreted in a different way."

The success of intercultural skills-building programs, the faculty members said, depends to a great degree on resources for faculty, whether it be funding (Matelski noted that her class has been supported through a BC teaching/advising grant) or administrative support – assistance in making travel and accommodation arrangements or dealing with other red tape.

Resources that enhance mentoring abilities also are useful, Gozik adds, and complement growing efforts at the University to help students get more out of their international experiences. As an example, he pointed to the Reflection on Being Abroad, a two-credit online course offered by the Office of International Programs that prompts undergraduates studying abroad to consider how to integrate their foreign sojourn into their academic, personal and professional trajectories.

In addition, he notes, "BC's study-abroad evaluations have changed: Where they used to be more in the 'customer satisfaction' mode, now they ask students how being abroad changed their world views or otherwise affected them. And students are responding thoughtfully – beyond something like 'It was awesome' – and honestly. The evaluations are as much, if not more, for them than for us."

Sean Smith | News & Public Affairs