Erin Walter, whose daughter, Abby, is at student at the Campus School at Boston College, spoke to Massachusetts legislators on February 11 about the need to support adequate funding for schools that educate students with severe disabilities.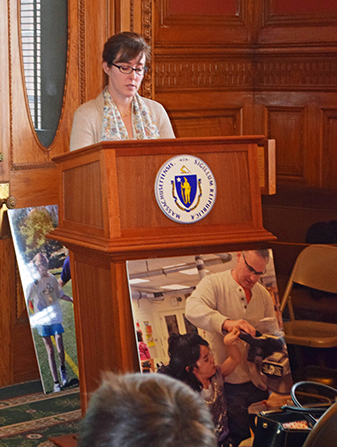 Erin Walter speaking to Mass. legislators.
Abby, 14, has a rare genetic disorder called CDKL5 that only affects 600 people worldwide. She relies on others for everything - she cannot walk, talk or stand on her own. Abby is legally blind and relies on a feeding tube, has limited communication skills and suffers from seizures, scoliosis, sensory issues, sleep abnormalities and severe neuro-developmental impairment.
Thanks to the education and therapy programs of the Campus School, her mother says Abby is more social, she responds to others, is able to make her opinions clear, take a few steps with assistance, bear her own weight, and hold a toothbrush.
Erin Walter was among the speakers at a special legislative briefing conducted by maaps – the Massachusetts Association of 766 Approved Private Schools – as part of its #OurSchoolsCount campaign to fight for fair special education funding in the Fiscal Year 2017 state budget.
In Massachusetts, more than 150 programs and schools provide education and treatment to approximately 5,500 Massachusetts students with disabilities. In addition to the Campus School, speakers at the briefing represented maaps-member schools Dearborn Academy, May Center School, Milestones Day School & Transitions Services and JRI's Walden Street School.
Ed Hayward | News and Public Affairs