School of Theology and Ministry Assistant Professor Hosffman Ospino has received the 2016 Catechetical Award presented by the National Conference for Catechetical Leadership (NCCL), an organization dedicated to serving the Catholic Church's religious education mission in the United States.
The Catechetical Award recognizes a life of witness to the Word of God; a magnanimous spirit of love and service to the Church; a vocation to ministry characterized by a pioneering spirit and innovative vision; and a dedication and significant contribution to the ministry of catechesis in the Church at large. The award was presented to Ospino at the NCCL's annual conference in May.
Ospino's teaching is in the area of Hispanic ministry and religious education; he is actively involved in Hispanic ministry in the Archdiocese of Boston, and his research concentrates on the dialogue between theology and culture and the impact of this interchange upon Catholic theological education, catechesis, and ministry.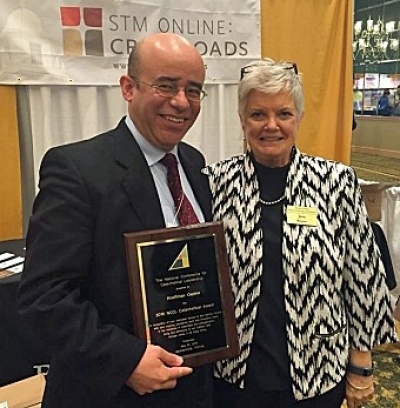 PHOTO: 2016 NCCL Catechetical Award winner Hosffman Ospino with BC School of Theology and Ministry colleague Jane Regan, who won the same award in 2009.
His award citation reads: "In recognition of your dedicated service to the Catholic Church with your ongoing pioneering spirit and innovative vision in the ministries of catechesis and evangelization, living and witnessing to our Catholic faith through media in its many forms."
"Receiving the 2016 NCCL Catechetical Award is both a humbling and an affirming experience," said Ospino. "I am honored that the largest organization in the country advocating for quality education in the faith for Catholics has recognized my efforts to do this creatively and in new ways while responding to the challenges of serving an increasingly diverse Church.
"The award affirms the groundbreaking research on U.S. Hispanic Catholics that I have conducted in the last five years with the support of Boston College, my colleagues and students in the School of Theology and Ministry, and most recently, BC's Roche Center for Catholic Education. Such recognition confirms that the path BC is following—as the leading institution advancing and supporting research on Hispanic Catholicism, and forming the next generation of Hispanic Catholic leaders in ministry and theology—is the right path."
Ospino was the principal investigator for the National Study of Catholic Parishes with Hispanic Ministry, which produced the widely recognized 2014 report titled "Hispanic Ministry in Catholic Parishes." He and Roche Center Executive Director Patricia Weitzel-O'Neill are co-authors of "Catholic Schools in an Increasingly Hispanic Church," a report published earlier this year based on the findings of their National Survey of Catholic Schools Serving Hispanic Families. The survey and the report explore how Catholic schools can partner with Hispanic families better to educate the next generation of Hispanic Catholics.

—Kathleen Sullivan | News & Public Affairs