Photos by Sally Philbin '18

Ottolenghi Fattoush, Labneh, and Ghraybeh aren't available every day at U.S. college and university dining halls. But at Boston College, they were on the menu for both faculty and students at Cooking Across Borders: Foods from Syria, a special event hosted earlier this semester by BC Dining Services.
The evening was prompted by Lynne Christy Anderson, director of English Language Learning, who was hoping to provide some comfort to her international students, many of whom were experiencing fears in the aftermath of President Trump's newly issued executive order on immigration and travel ban.
Approaching BC Dining was a natural for Anderson, author of Breaking Bread: Recipes and Stories from Immigrant Kitchens, a book born of her interest in the intersection between language, culture, identity, and food. A cooking workshop, she thought, would bring students together to celebrate Syrian culture, providing a bright spot for them during uncertain times.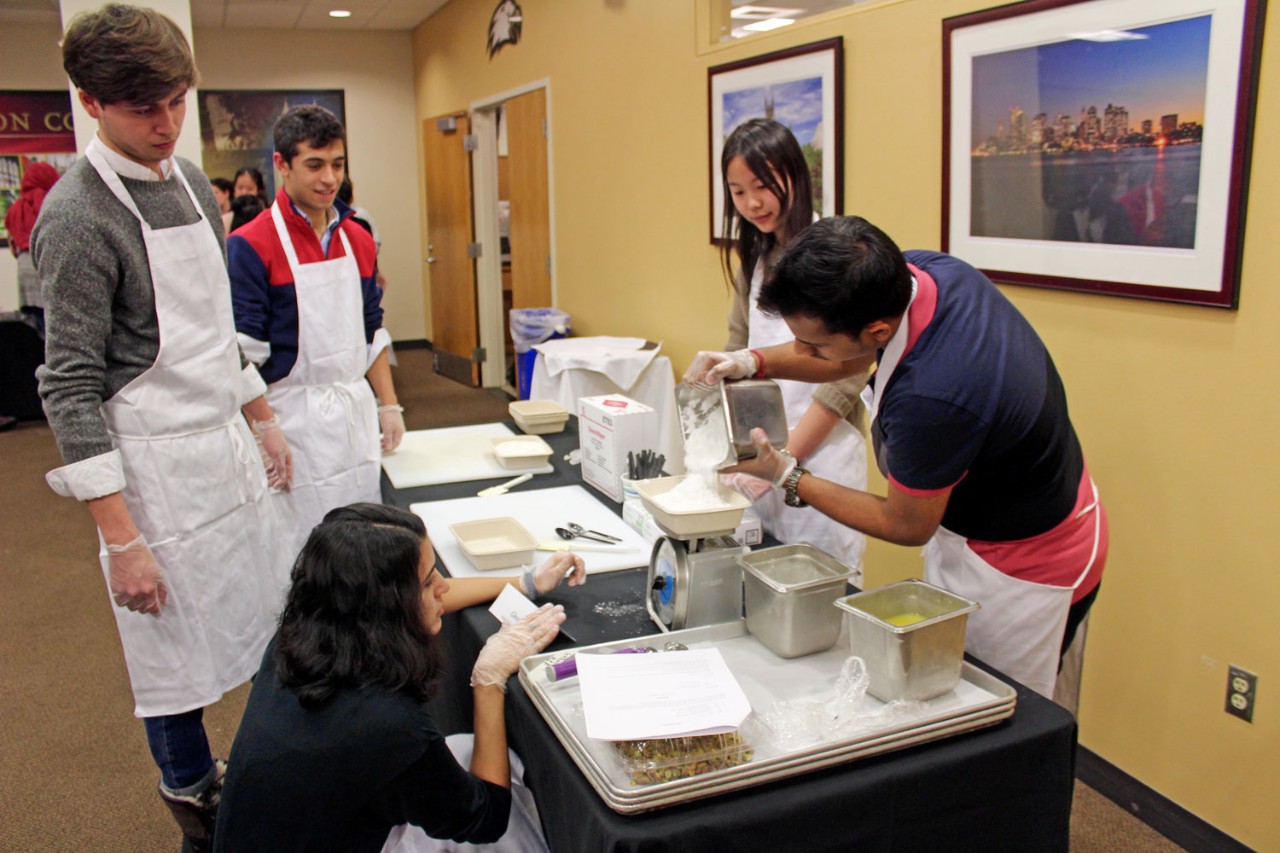 On February 10, against the backdrop of a freshly fallen foot of snow, students and faculty gathered in the lower level of Walsh Hall for an introduction to a Syrian menu designed by Anderson with BC Dining Associate Director Michael Kann and Executive Chef Frank Bailey.

Five stations lined the room, each complete with fresh ingredients and cooking equipment, and each dedicated to the preparation of a different part of the meal. The attendees were randomly assigned to groups.

My group's assignment was the Ottolenghi Fattoush, a pita-based salad with cucumbers, tomatoes, lots of garlic, and a blend of spices and herbs. We worked together to delegate tasks, which included chopping vegetables, crushing cloves of garlic, and breaking apart pita.

"Our culinary team was thrilled to partner with faculty and students and participate in this well-attended event with fabulous food and wonderful conversations."— BC Dining Services Director Beth Emery.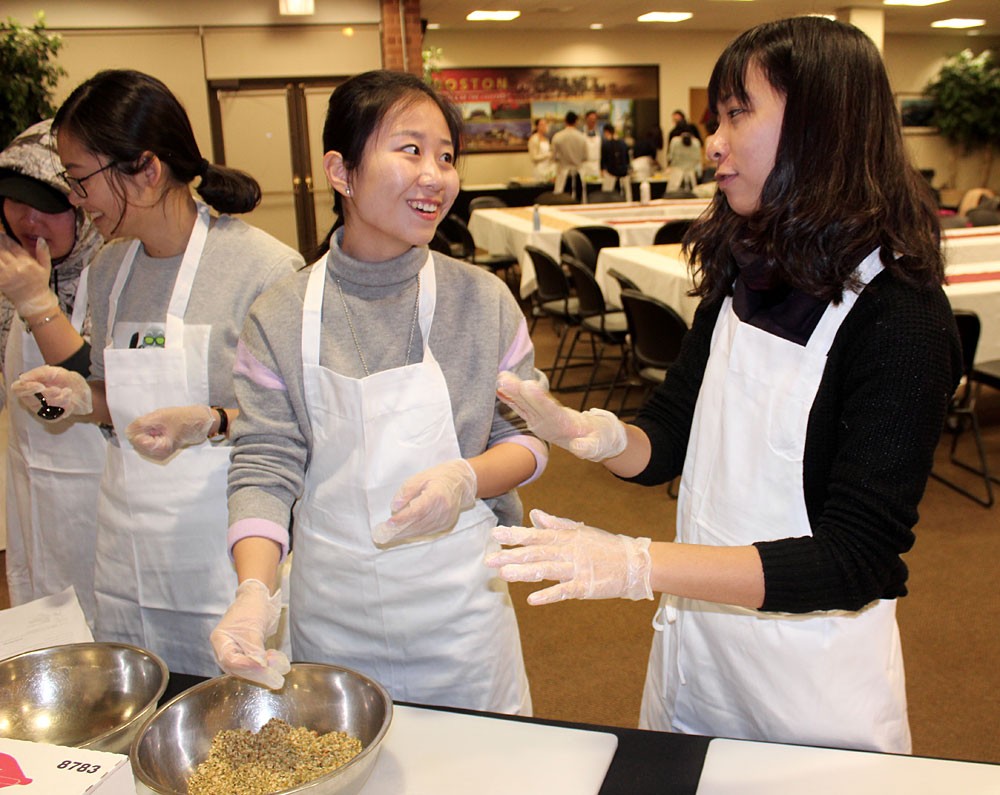 As we cooked, I got to know a bit about each person in my group—where they came from, what they do at BC, and why they chose to attend the event.
I also got to learn a bit from Chef Bailey, who has an extensive background with Syrian food from his training, about traditional elements that make up many Syrian dishes.
After about forty-five minutes of work, we compiled our respective parts of the Fattoush and our creation, a bright medley of fresh produce and buttery pita, was finally ready to eat.
Chef Bailey had prepared several dishes in the kitchen before the event started, making for a Syrian feast that lined an entire banquet table. In addition to the Ottolenghi Fattoush, the array included Dukkah (a Syrian seed-based spice blend; each attendee went home with a small container to incorporate into his or her own cooking); Za'atar spice mix; Za'atar spice-rubbed chicken served with garlic toum; shorbit adas (red lentil soup); labneh (yogurt cheese) with fresh vegetables; hummus; homemade pita (from a recipe adapted from Anderson's Breaking Bread); baklava, and ghraybeh (Syrian sugar cookies).
"We are blessed to have a Dining Services team with multi-cultural culinary talents, which sets a higher notch for food service or catering expectations, authenticity of menu, flavors, ingredients, and smiles," said Patricia Bando, associate vice president of Auxiliary Services. "This event is truly a wonderful sample of Dining Services' role as an educator in a non-didactic setting."
"Our culinary team was thrilled to partner with faculty and students and participate in this well-attended event with fabulous food and wonderful conversations," added Dining Services Director Beth Emery.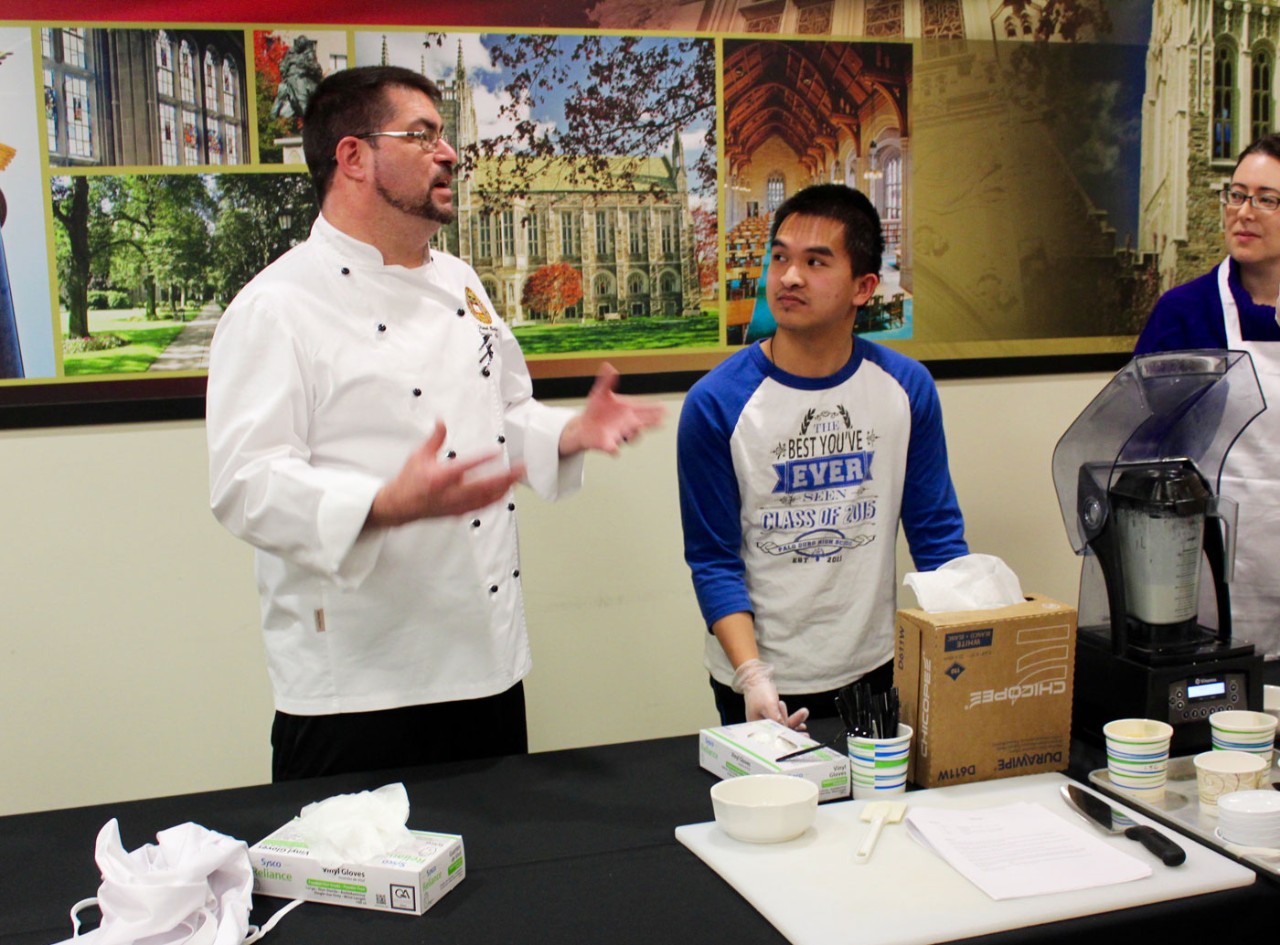 Before the hungry amateur chefs ate, Syrian student Joseph Nano, a freshman in the Morrissey College of Arts and Sciences, spoke to the group. Nano had immigrated to the U.S. in 2012 with his family, fleeing Syria's escalating unrest. He described his biggest hardship upon arriving: the language barrier.

"I could understand only five percent of what was being said," he said. "It was as if I were deaf."

But with the help of teachers and friends, Nano's English improved, and he began writing poetry regularly. He said he writes poetry to tell stories that challenge people to view life from different perspectives. He went on to read one of his poems, titled "Save the World." It painted an image of a dark world, but ended with a message of hope: "Let's think about the future. There is still hope somewhere. Let's forget about the past, and start with a new page. A white page with colorful flowers."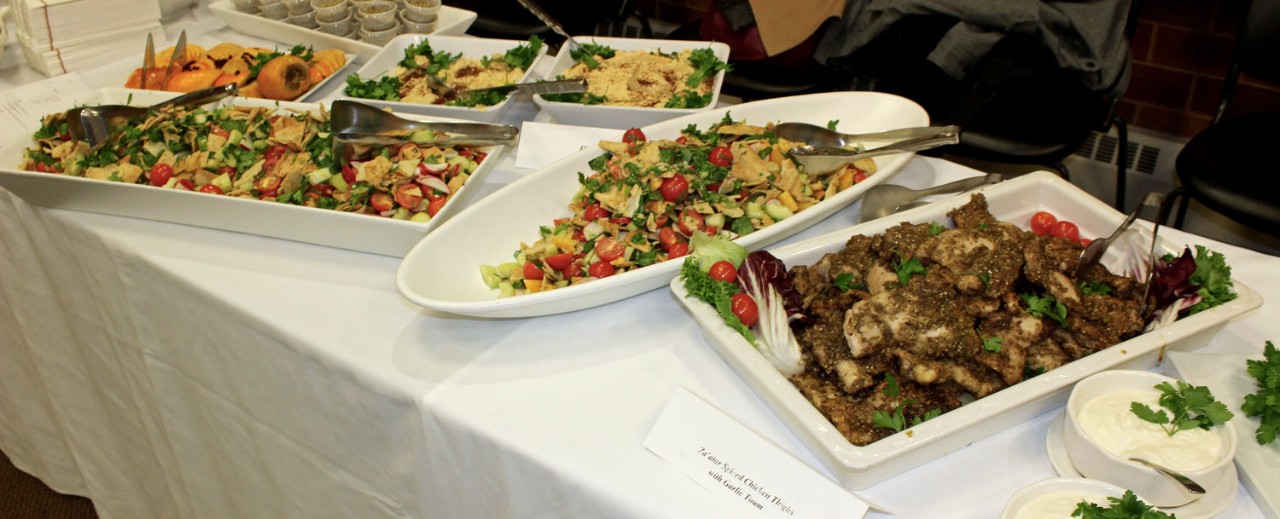 After Nano read his poem, he thanked everybody for attending the event. "In Syria before we eat, we always say 'Tfadlou.' So, I encourage you all to say 'Tfadlou' before eating," he said. And with a resounding "Tfadlou," the tasty Syrian feast ensued. The food was delicious, accompanied by chatter and laughter from new relationships formed by the evening.  

On a blustery February night, this group was fortunate to experience a taste of Syria. And in a time filled with tension and fear for many, the kitchen became a safe haven—a place where Nano's vision of hope can still flourish.


—Sally Philbin '18 | University Communications