The famed BC-BU rivalry usually plays out on the ice but this week, police departments from both schools got in on the action.
Inspired by the popular police lip sync challenge on social media, officers faced off in a Boston-themed lip sync battle, performing fan favorites Shipping Up to Boston, Dirty Water, and Sweet Caroline.
The video, which features more than 30 officers from Boston College, Boston University, and the Boston Police Department, has been viewed more than 650,000 times and shared more than 15,000 times.
The script was written by Boston College Lt. Jeff Postell and BCPD student interns, who were inspired by other departments across the country. Filming and editing was done by the Office of University Communications.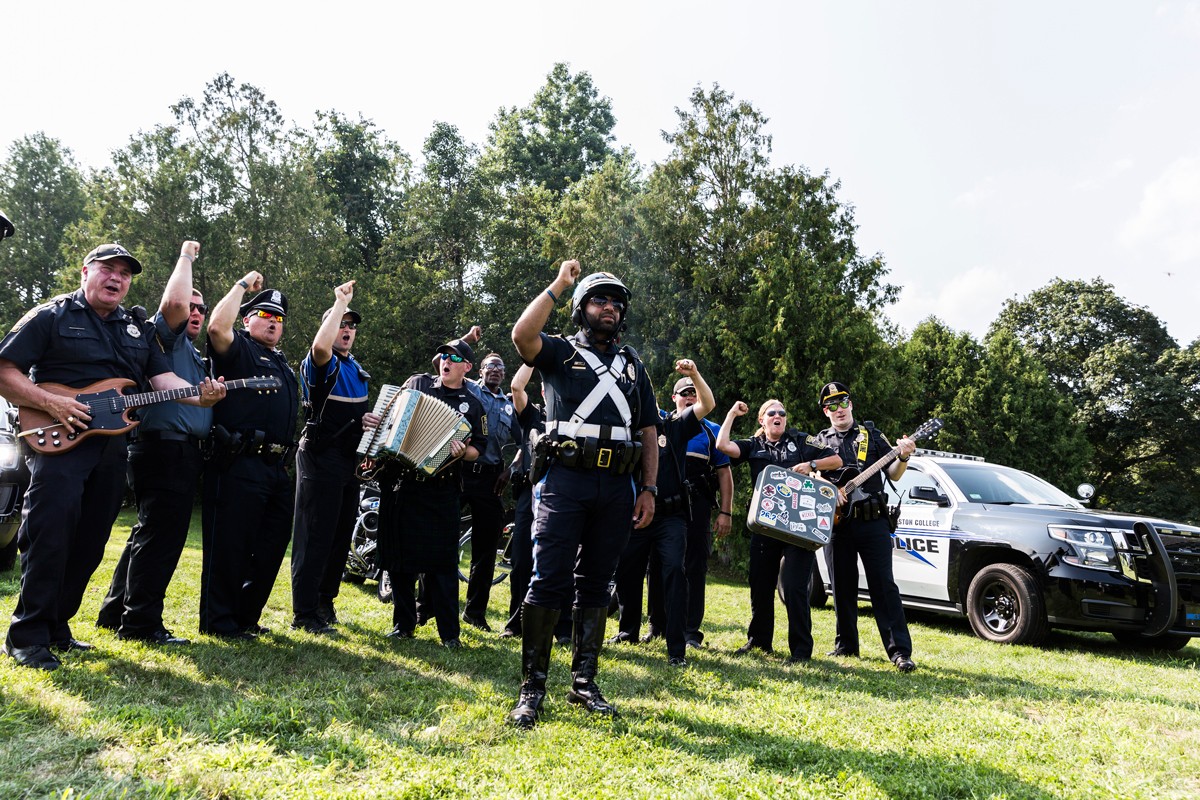 The video is packed with personalities, from BC Chief William Evans and BU Chief Kelly Nee to Rev. Don MacMillan, S.J. and BC Eagles defensive back Will Harris. Middway through, identical twin brothers BC Officer Michael Cabral and BU Officer Richard Cabral face off in a mini-battle of their own backed by mascots from both schools.  
The law enforcement lip sync challenge "offered a unique opportunity for police officers and departments across our country to show a lighter side of our profession and humanize its officers," said Postell, who features prominently in the video's opening scene. "While there was a lot of work and moving parts put into the making of this video, the officers and other volunteers had a blast.
"It is very fitting that we release this at the start of the school year," added Postell. "The video really focuses on our strong partnerships with our institutions, and showcases our pride and love for Boston as a whole."
"When BCPD approached our department, we were excited to collaborate in this effort. This was a way for us to connect with a neighboring department to humanize our departments and welcome back our communities," said BU Sgt. Patricia Murphy.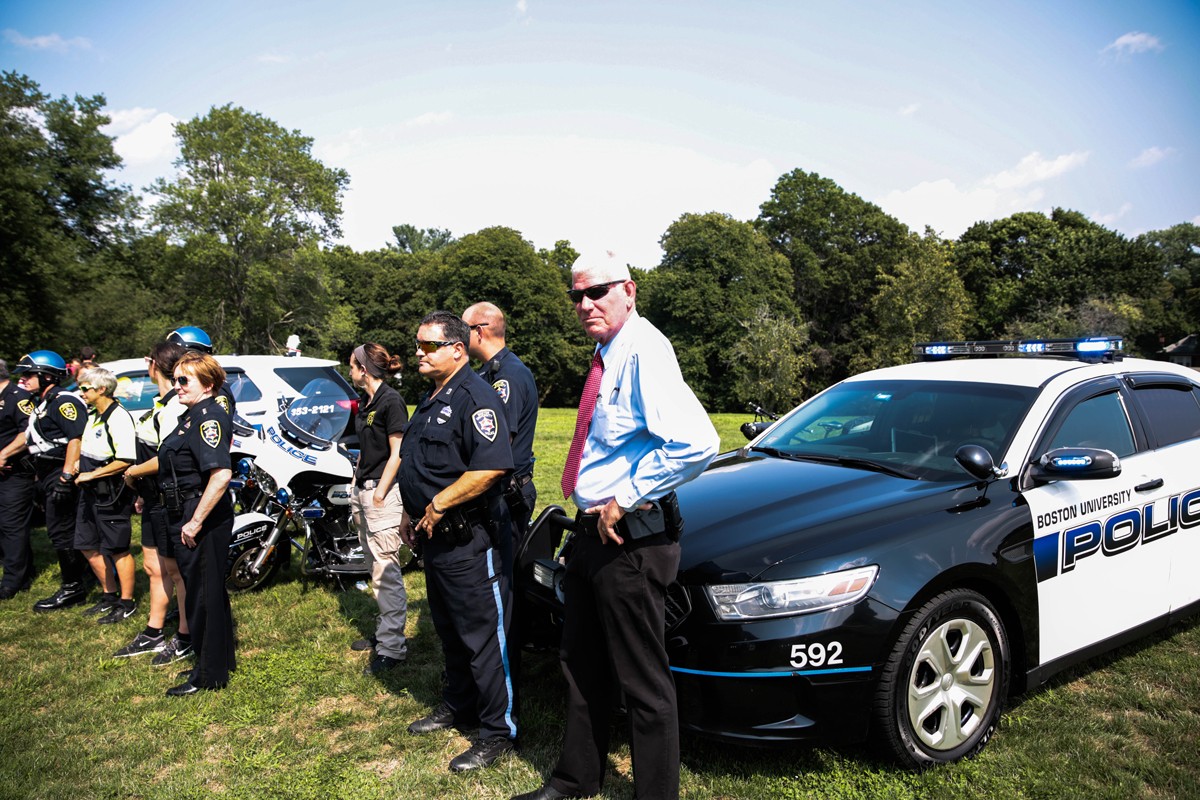 "This movement went viral because before this point, it was unexpected for a police department to have officers singing and dancing," she added. "Police officers are people who enjoy laughing and connecting with their communities. We had a great time making the video and hope everyone enjoys it as much as we do."
The lip sync challenge began earlier this summer when Deputy Alexander Mena from Bexar County, Texas Sheriff's Office recorded himself lip syncing Fuiste Mala by Kumbia Kings. The sheriff's office posted his video on its Facebook page on June 19 and has been viewed more than 1.5 million times. The challenge moved across Texas and then spread nationwide. Hundreds of departments have participated in the challenge.
For more images from the video shoot, visit the Boston College Facebook album.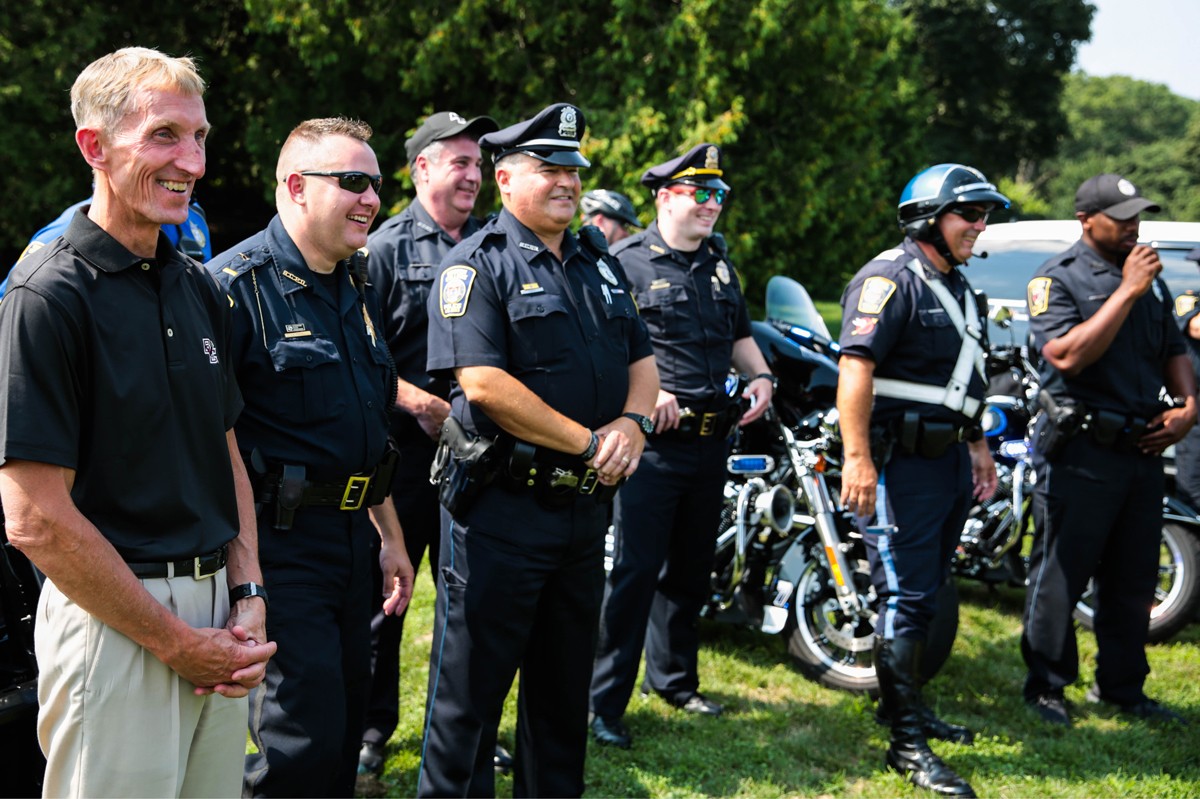 Boston College Police Chief William Evans 
William Evans, a nationally respected police leader with 38 years of experience in law enforcement, was named executive director of public safety and chief of the Boston College Police Department in August. A lifetime Boston Police officer who began his career as a patrol officer in 1982, he rose steadily through the ranks to become the city's police commissioner.
---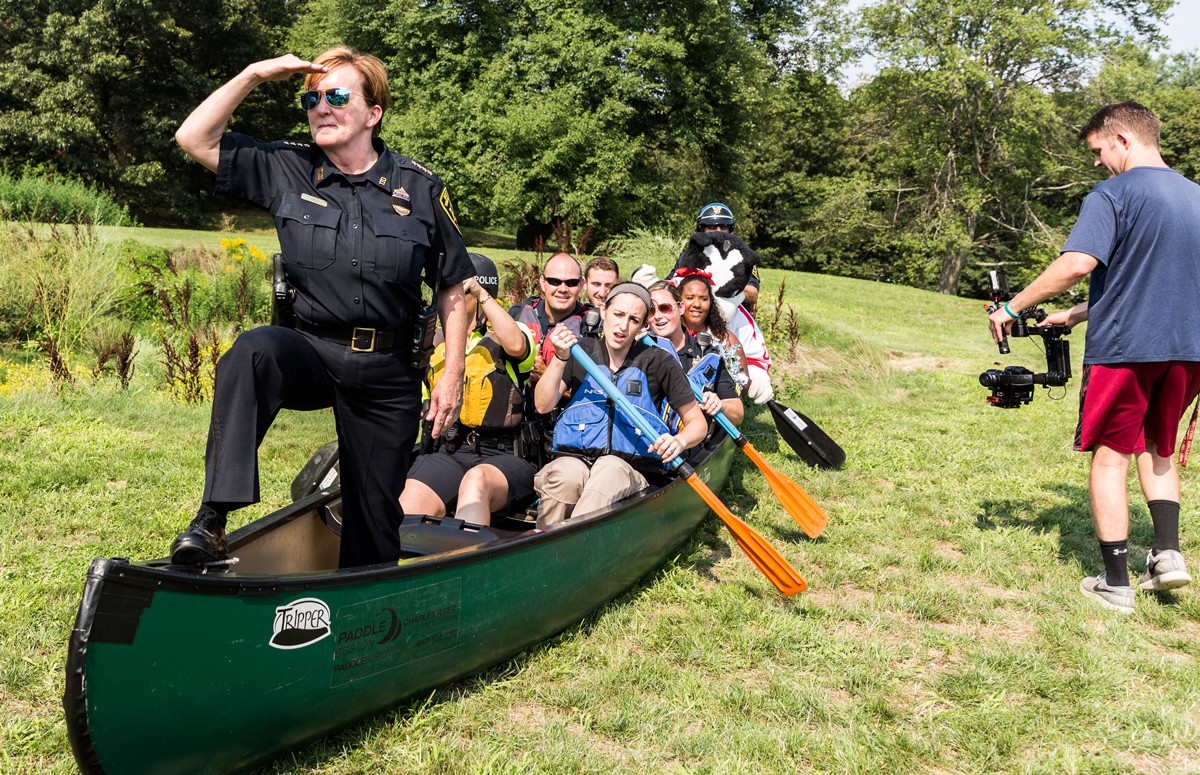 Boston University Police Chief Kelly Nee 
Kelly Nee was named chief of the Boston University Police department in 2017. She was a 33-year veteran of the Boston Police Department and deputy superintendent of its Bureau of Intelligence and Analysis. Chief Nee is the first woman to lead the BU Police Department.
---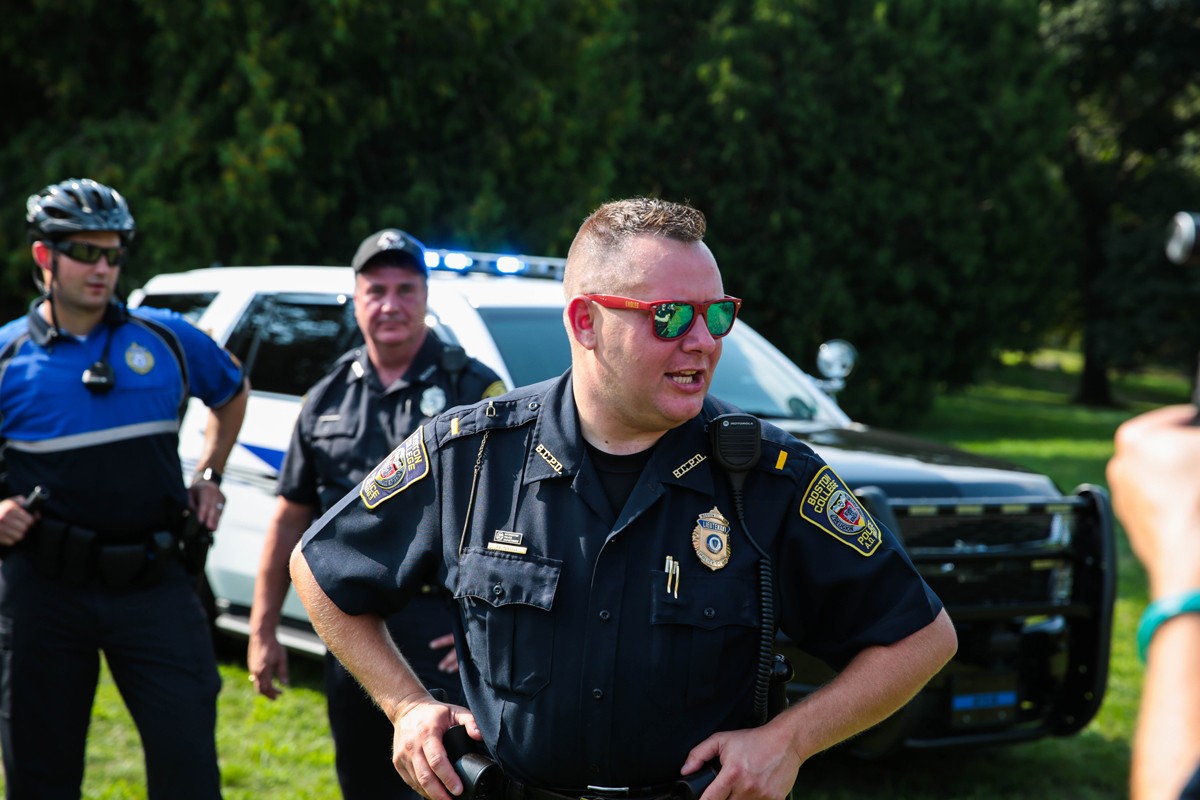 BCPD Lt. Jeff Postell
Jeff Postell joined the Boston College Police Department after nearly 20 years in law enforcement. He was quickly promoted to the rank of sergeant in charge of the department's Community Policing, Community Relations, and Crime Prevention Programming. He was promoted in 2014 to his current rank of lieutenant in charge of the Bureau of Community Policing and Patrol Services. Lt. Postell, a native of North Carolina, is known for his 2003 arrest of FBI Top 10 Most Wanted Fugitive Eric Robert Rudolph, also known as the Olympic Park Bomber.
---
BUPD Sgt. Patricia Murphy 
Patricia Murphy has been with the Boston University Police Department since 2013. She was promoted in January 2018 to sergeant assigned to the Mid-Night Shift. She is also responsible for the BUPD social media outreach.  
---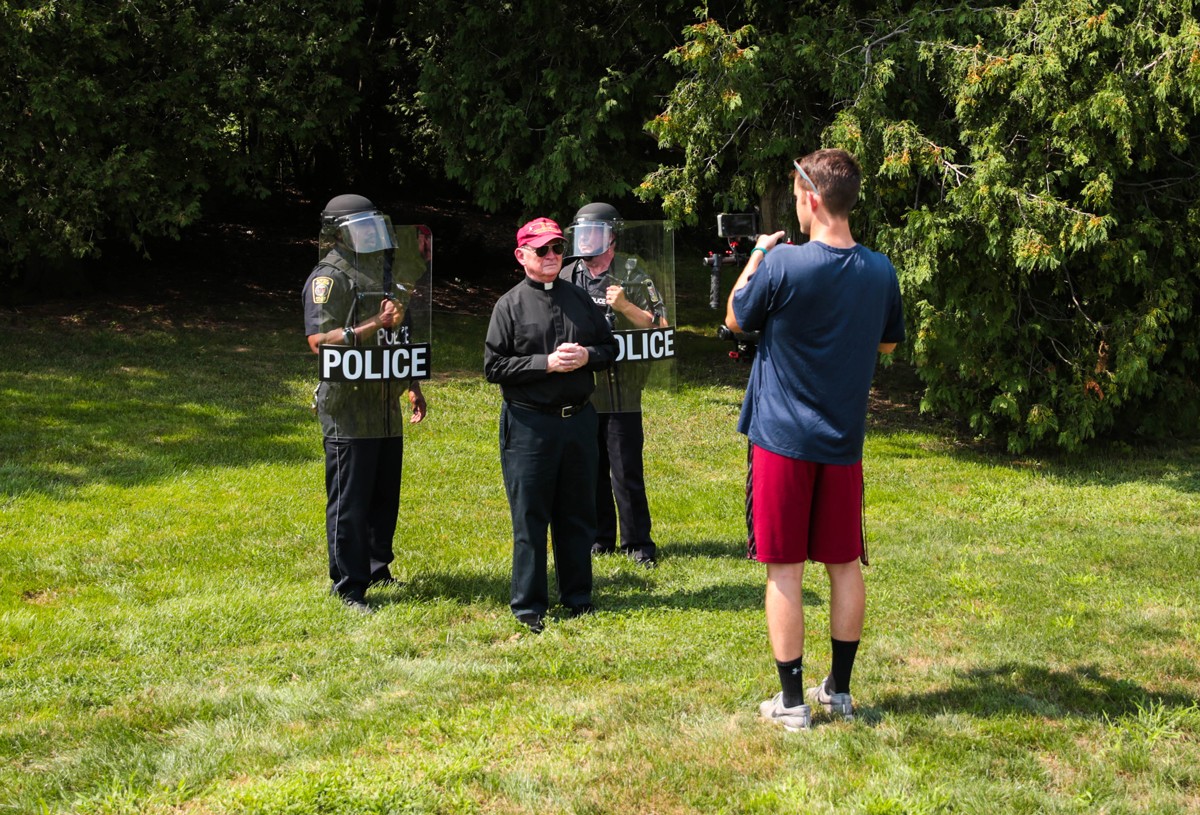 Rev. Don MacMillan, S.J. 
Fr. Don MacMillan has served as a campus minister at Boston College since 1995. A native of Boston, he attended BC High, and Boston College for his undergraduate and graduate degrees, making him a proud triple Eagle. At BC, he coordinates the Urban Immersion Program, a weeklong experience of prayer and service for undergraduates to learn about the lives of those in Boston suffering from poverty and homelessness. He has appeared in many campus skits, including The BC, Jon Bon Jesuits, and St Ignatius Started the Fire.
---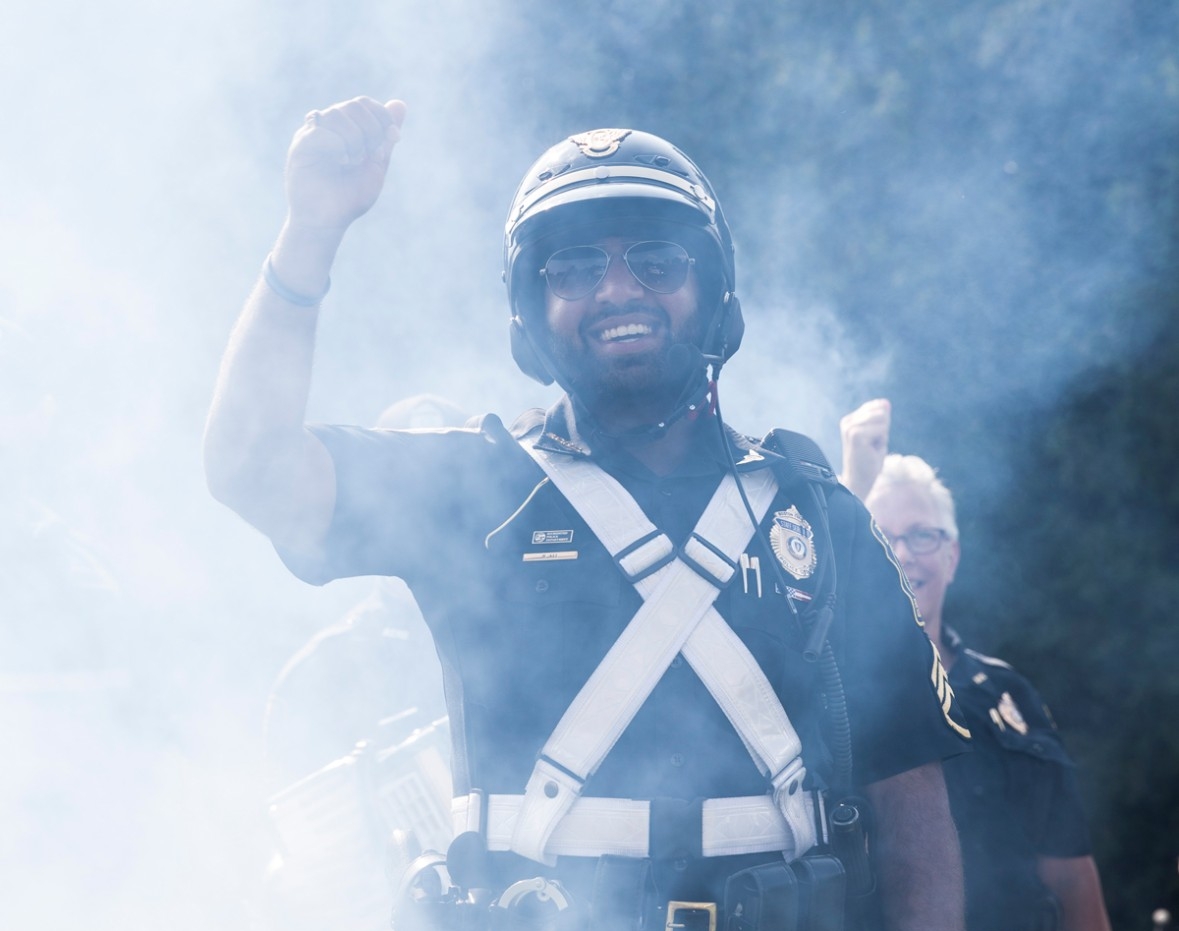 BCPD Staff Sergeant Hasnain Ali
Hasnain Ali joined the Boston College Police Department in 2014. He was promoted to staff sergeant in 2015.
---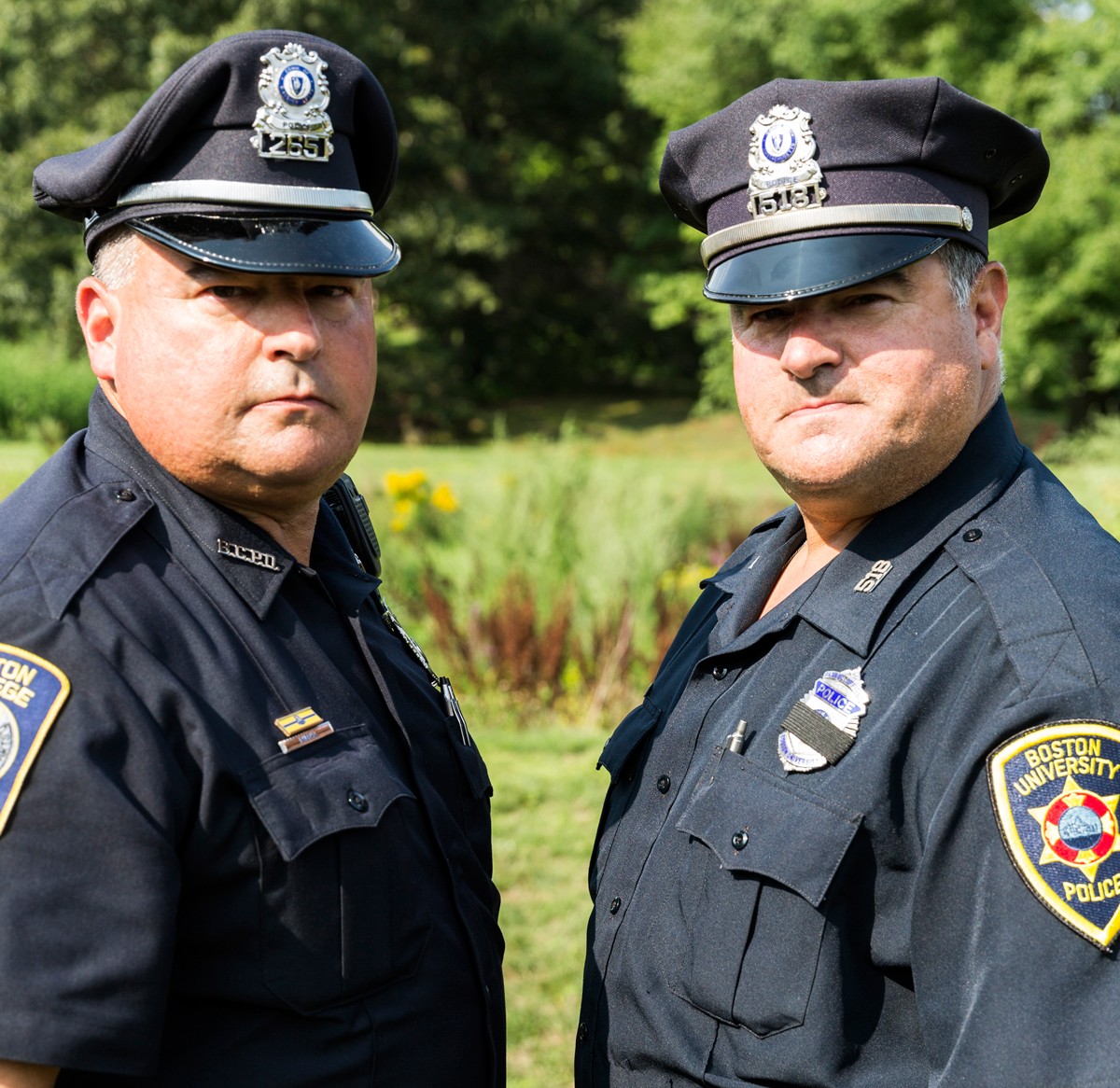 BC Officer Michael Cabral and BU Officer Richard Cabral
Identical twin brothers from the opposite ends of Comm Ave. take sibling rivalry to a whole new level.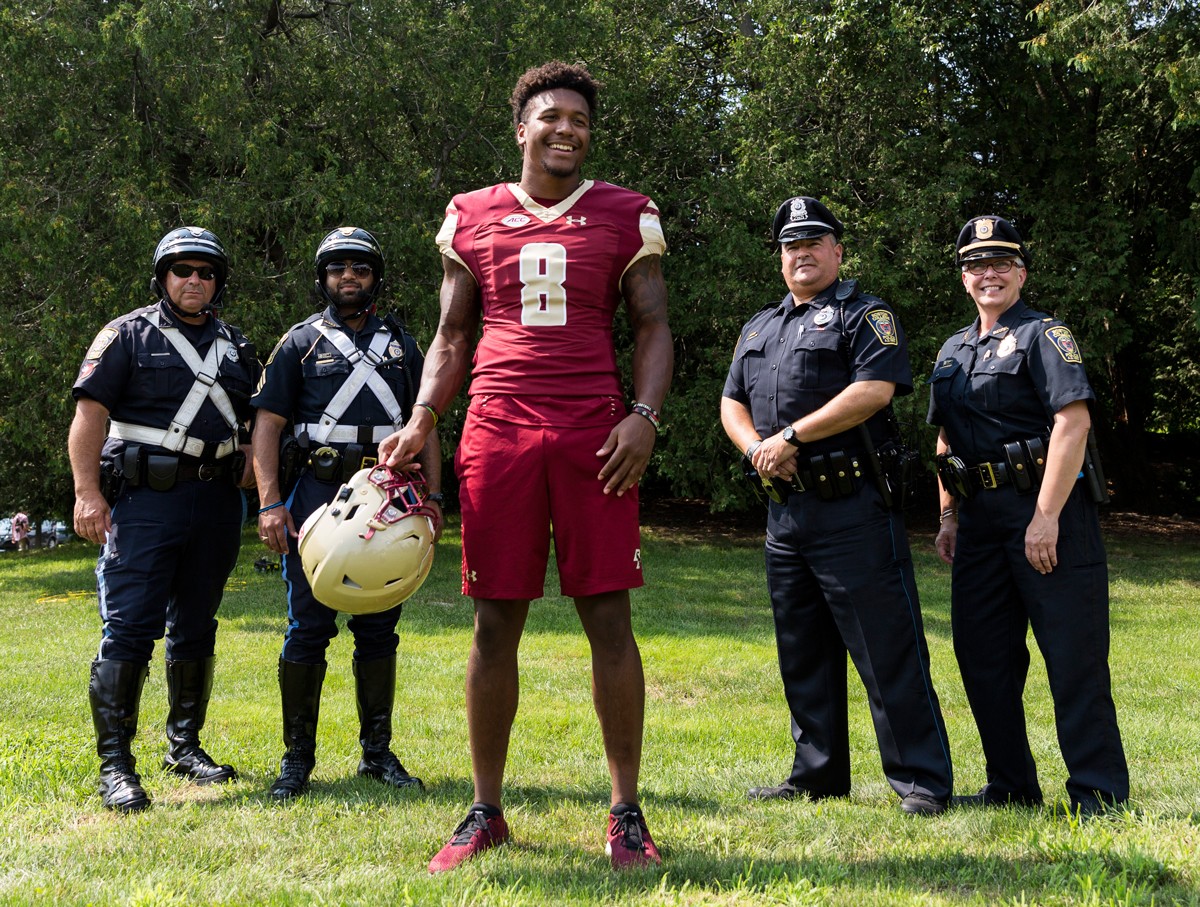 BC Eagles defensive back Will Harris
Will Harris is entering his fourth year as a member of the Boston College football team. A defensive back, he is a part of the Eagles' "No Fly Zone," which led the Atlantic Coast Conference with 12 interceptions a year ago. Harris himself led the nation with four fumble recoveries. Also making appearances from the BC Eagles are graduate student Carmen Giampetruzzi, a left-hand pitcher on the baseball team, Makenzie Morrison, a junior libero on the volleyball team, and the cheerleading team's Charlotte Henderson, Shanel Turransky, and Sierra Dickerson.
---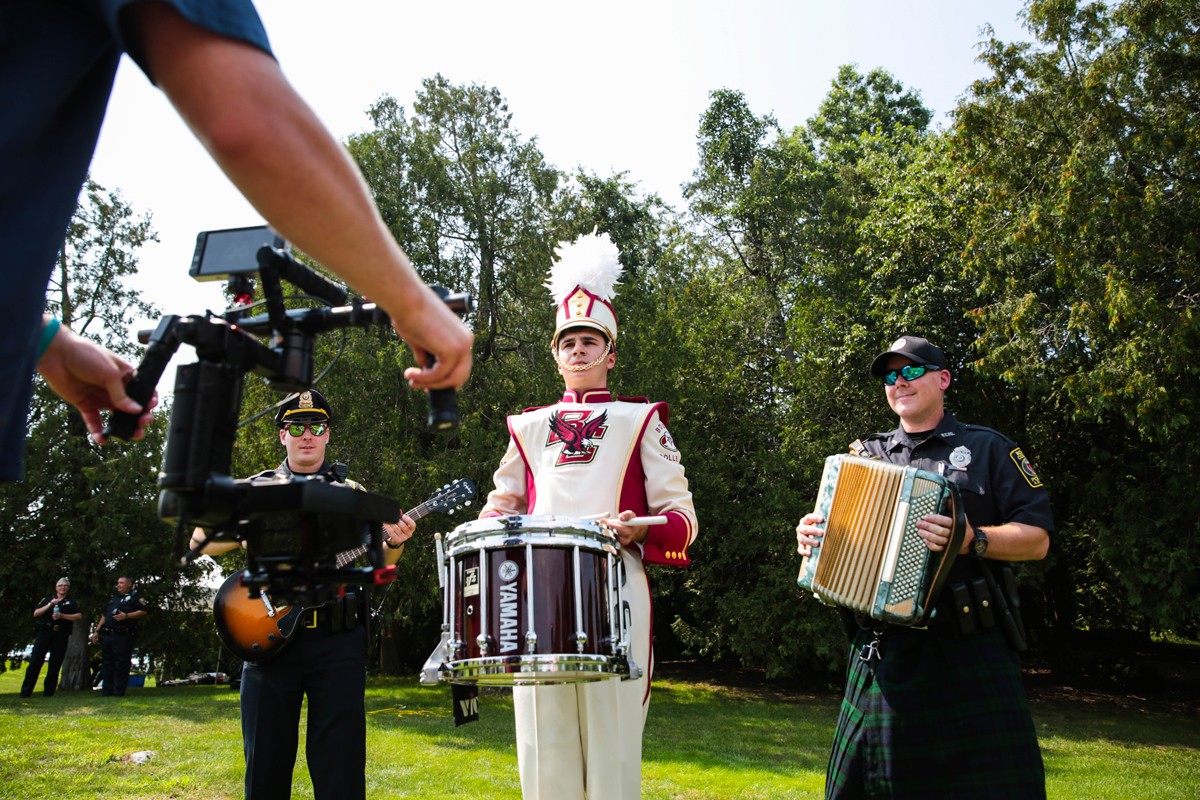 BC Screaming Eagles Marching Band
Drumline section leader Chris Joseph represented the "Screaming Eagles" Marching Band. The band, which will mark its centennial year in 2019, has traveled around the world to represent Boston College at football games, parades, and international celebrations. It has performed for the World Champion Boston Red Sox and Boston Celtics, marched in the Macy's Thanksgiving Day Parade and the Presidential Inaugural Parade, and has performed onstage with the Dropkick Murphys and the Boston Pops Orchestra under the direction of Keith Lockhart. Members of the Screaming Eagles also appeared in Boston College's Harry Potter-themed video, "Special Delivery," dedicated to the admitted Class of 2022.
---
Boston College Police Department:
Chief William Evans
Lt. Jeff Postell
Lt. Laurene Spiess
Staff Sergeant Hasnain Ali
Sergeant Robert Wayne
Sergeant Alex Balonek
Officer Timothy O'Meara
Officer John Ellis
Officer Ronald McGill
Officer Joe Perez
Officer Kim Sirr
Officer Akim Dorn
Officer Michael Cabral
CSO Andrew Chaves
CSO Yasin Adow
Dispatcher John Leary
Courtney Mulvaney
Chrisly Zapata
John Tommaney, Boston College Emergency Management
Boston University Police Department:
Chief Kelly Nee
Lt. Robert Casey
Lt. Peter Didomenica
Detective William Campanella
Detective Denise Smith
Sergeant Trish Murphy
Officer Brett Rand
Officer Nancy O'Loughlin
Casey O'Loughlin
Officer Richard Cabral
Sergeant Michelle Fotev
Boston Police Department:
Jerry Ajemian
Additional Support:
Boston College Undergraduate Admission
Boston College Athletics
Boston University Athletics
Boston College Campus Recreation
Regina Pizzeria
Comella's Italian Food
Paddle Boston- Charles River Kayaks and Canoes