Thomas D. Stegman, S.J., associate professor of New Testament and chair of the Ecclesiastical Faculty at Boston College, has been named dean of Boston College's School of Theology and Ministry. He succeeds Mark Massa, S.J., who will become director of the Boisi Center for Religion and American Public Life.

A highly regarded theologian and New Testament scholar whose research focuses on the interpretation of the Pauline Letters, Fr. Stegman is the author of three books including his most recent, Opening the Door of Faith: Encountering Jesus and His Call to Discipleship.  He also has co-edited two books and written dozens of journal articles and book chapters on theological topics ranging from St Paul's letters to Pope John Paul II's use of scripture.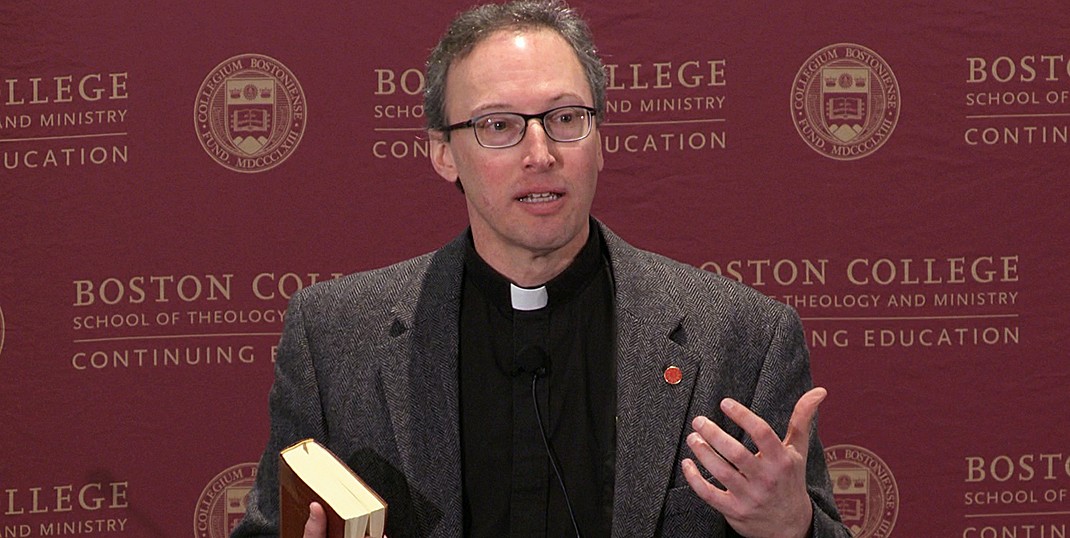 Thomas Stegman, S.J., will be the new dean of BC's School of Theology and Ministry.
In announcing the appointment, Provost and Dean of Faculties David Quigley described Fr. Stegman as an accomplished teacher and scholar and experienced administrator who is well positioned to advance the School of Theology and Ministry.

"The Interview Committee was impressed with Fr. Stegman's candidacy, and in particular his thoughtful reflections on his time as a faculty member and his hopes and ambitions for the School of Theology and Ministry," said Quigley. "I look forward to working with him."

Fr. Stegman said that he is "honored and privileged" to assume the deanship of the school he has served as a teacher and administrator since its establishment in 2008.

 "I very much look forward to serving the STM in our mission to prepare individuals  for ordination and lay ministry in the Church," said Fr. Stegman.  "Thanks to the dedicated leadership of my predecessors, Richard Clifford, S.J., and Mark Massa, S.J., the School of Theology and Ministry is in great shape. The last years in particular have yielded significant growth of our student body, in terms of both numbers and quality. The STM serves the Church—locally, nationally, and internationally—by training our students for learned ministry. That is only possible because of our talented faculty, who combine intellectual rigor with pastoral commitment. I'm delighted to be dean of such a faculty, one that has welcomed a number of promising new members the past few years. Having served as chair of the Ecclesiastical Faculty, I have the advantage not only of knowing the STM faculty but also of working closely with our top-notch administrative team and staff. I will count on their help to ease my learning curve."

Fr. Stegman's teaching career began in 1997 at Emory University where he served as a teaching assistant for his advisor, Dr. Luke Timothy Johnson. He taught at Weston Jesuit School of Theology from 2003-2008, and has held visiting chairs at Marquette and Creighton universities.

A graduate of Saint Charles Borromeo Seminary in Philadelphia, Fr. Stegman holds a master's degree in philosophy from Marquette University, an M. Div. and S.T.L. from Weston Jesuit School of Theology, and a Ph.D. from Emory University.

He has served as a trustee at St. Joseph's University and as co-chair of the Pauline Study Group for the Catholic Biblical Association. A member of the Wisconsin Province of the Society of Jesus, he was elected to the 70th Congregation of Jesuit Procurators in Nairobi in 2012 and will be a delegate from his Province at General Congregation 36, a worldwide meeting of Jesuits convening in Rome in October, 2016 to select the next Superior General of the Jesuit order.

STM, which was founded in 2008 when the Weston Jesuit School of Theology re-affiliated with Boston College, is an international theological center dedicated to forming scholars, ministers, and leaders for the Church. It enrolls students from the United States and more than 30 countries. 

—Jack Dunn | News & Public Affairs