Sure, it's the same building (for now). But inside the Flynn Recreation Complex, new programs and services are making it easier than ever for faculty and staff to have fun and stay fit.
"We have many opportunities for faculty and staff to work out, participate in a recreational activity, and socialize with other members of the Boston College community," said Director of Campus Recreation Caitriona Taylor. "They are our core members that are here year-round and we want to contribute to their lifelong health."
Here are five reasons to swing by the Plex this fall:
1. Outdoor yoga
For days when the weather is too good to stay inside, the Plex is offering outdoor yoga classes. Just bring layers and your mat and meet in the Plex entryway at 6 p.m. on Tuesdays. This and other group fitness classes are free for Plex members, and there's no need to sign up.
2. Intramural sports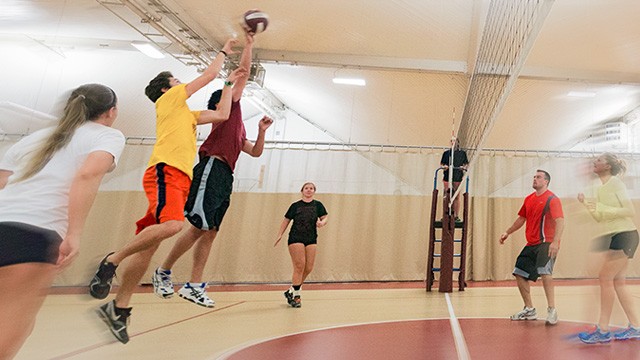 Elliptical not your thing? Intramural sports are a great way to combine exercise and socializing, and they're open to staff as well as students. Options include sports like wallyball (think volleyball and racquetball combined) and softball in both recreational and competitive leagues. "Intramurals are a great way to mix up what you're doing each day," said Andrew Lutz, Assistant Director of Intramural Sports & Instructional Programs. "Running on the treadmill or lifting weights is a great way to work out but everyone needs a recovery day."
3. New instructors with serious street cred
High-energy personal trainer and amateur boxer Petey Peterson will be leading the Plex's newest program offering: Boxing Bootcamp. Participants will learn basic boxing techniques while burning calories and having fun. No prior experience is necessary and equipment can be rented at the Plex.
4. SUP-style workouts
The Plex pool isn't just for swimming anymore. This fall, members can sign up for SUP yoga or fit core classes, which challenge participants to perform poses while balancing on a stand up paddleboard. "It's about balance, coordination, and focus," said Assistant Director of Fitness and Wellness Hilary De Vries. "The idea is to challenge and improve your balance on the water while also challenging and improving your strength."
5. Payroll deductions
Members can now opt to have their monthly membership automatically deducted from their paycheck – similar to parking permits. No matter when you sign up, you'll get the discounted annual rate divided into 12 payments. Extras like locker and towel service fees can be added in as well. "It's been well-received," said Member Sales & Services Manager Sandy Corsi. "We're excited about it."
For membership rates, class schedules, and to sign up for small group trainings visit https://www.bc.edu/rec.
—Alix Hackett | University Communications