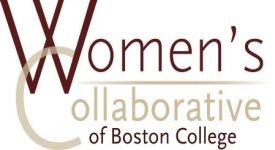 What is the Women's Collaborative
Since 1972, the Women's Collaborative of Boston College has served as a community-centered space dedicated towards the growth of a vibrant network of faculty and staff committed to supporting the women of BC during the course of their professional lives. Through open discussions and creative programming, the members of the Women's Collaborative are joined together in a desire for a collective voice in the community.
Throughout the academic year the "Collab" meets to discuss issues of importance to women in the BC community, organize community action opportunities, and bring informative and energizing speakers to the meeting on a broad range of topics. All current faculty and staff members of the Boston College community are welcome to join the Collab and share suggestions for programming and community partnerships.
BC Affinity Groups
While the Women's Collaborative primarily engages with women's and gender issues, we recognize the multidimensionality of the individual. There are a number of affinity programs on campus that speak towards issues affecting staff and faculty, and no limits to how many groups you may join. For more information, visit Thrive@BC.