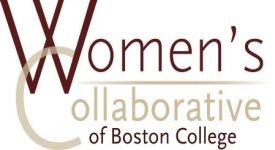 What is the Women's Collaborative
Since 1972, the Women's Collaborative of Boston College has served as a community-centered space dedicated towards the growth of a vibrant network of faculty and staff committed to supporting the women of BC during the course of their professional lives. Through open discussions and creative programming, the members of the Women's Collaborative are joined together in a desire for a collective voice in the community.
Throughout the academic year the "Collab" meets to discuss issues of importance to women in the BC community, organize community action opportunities, and bring informative and energizing speakers to the meeting on a broad range of topics. All current faculty and staff members of the Boston College community are welcome to join the Collab and share suggestions for programming and community partnerships.
BC Affinity Groups
While the Women's Collaborative primarily engages with women's and gender issues, we recognize the multidimensionality of the individual. There are a number of affinity programs on campus that speak towards issues affecting staff and faculty, and no limits to how many groups you may join. For more information, visit Thrive@BC.

50th Anniversary of the Women's Collaborative
The 50th anniversary of the Women's Collaborative came and went during the height of the COVID-19 pandemic. The impact of major crisis are rarely gender-neutral and COVID-19 was no exception. The pandemic has been especially hard on women across the world. In recognition of this, and in observance of the 50th anniversary, we are encouraging the Collab to contribute their personal and professional experiences during the pandemic to the Burns Library's "Tell Us Your Story" project. By lending your unique voices to the archive, students and researchers of the future will have access to firsthand accounts of the effects of the pandemic on the challenges and successes faced by the working women of Boston College.
Your submissions could be anything from journal entries, creative writings, and self-reflections to photographs and movies. Some helpful prompts to help you get started include:
 How did you learn of the University's decisions to close the campus and cancel activities?
 What was your experience of actually leaving campus to stay at home? What were your thoughts and emotions as you sat through your first virtual meeting at home? What kind of help did you have?
 How has technology played a role in your life during the pandemic – either at work, as a way to get and share information, or for entertainment?
 What seemed normal a few years ago that seems strange to you now?
Submissions can be done quickly through an online form or by contacting staff. Your donation, as a primary source, will provide meaningful perspective to future scholars. If you have questions, please consult the Library's frequently asked questions.