FBI Director James B. Comey delivered the keynote address at the first Boston Conference on Cyber Security, held at Boston College. (Lee Pellegrini)
Several hundred experts, industry leaders and officials, and media representatives gathered at Boston College on March 8 for the first Boston Conference on Cyber Security, organized through a partnership between the FBI and the Cybersecurity Policy & Governance master's degree program at the University's Woods College of Advancing Studies.
The daylong conference, which organizers hope will become an annual event, featured a keynote address by FBI Director James B. Comey, whose remarks centered on the cyber threat landscape, what the FBI is doing to stay ahead of the threat, and the importance of strong private sector partnerships.
"The cyber-threats we face are enormous," Comey said. "We need to ensure that cybersecurity is a priority for every enterprise in the United States at all levels; we need to get better and faster at sharing information in appropriate ways; we need to make sure we have the right people on board to help us fight that threat, and we need to build trust between the government and the private sector; but most of all, we need to work this together."

"Boston College is a leader in thinking and educating on these incredibly important issues, so this is a great place to have this; I hope you'll have it many more times," he said. (Read more about his remarks in this FBI news release or view the video of his speech here.)
View a compendium of news coverage by clicking the rectangular icon in the lower right corner of the box above.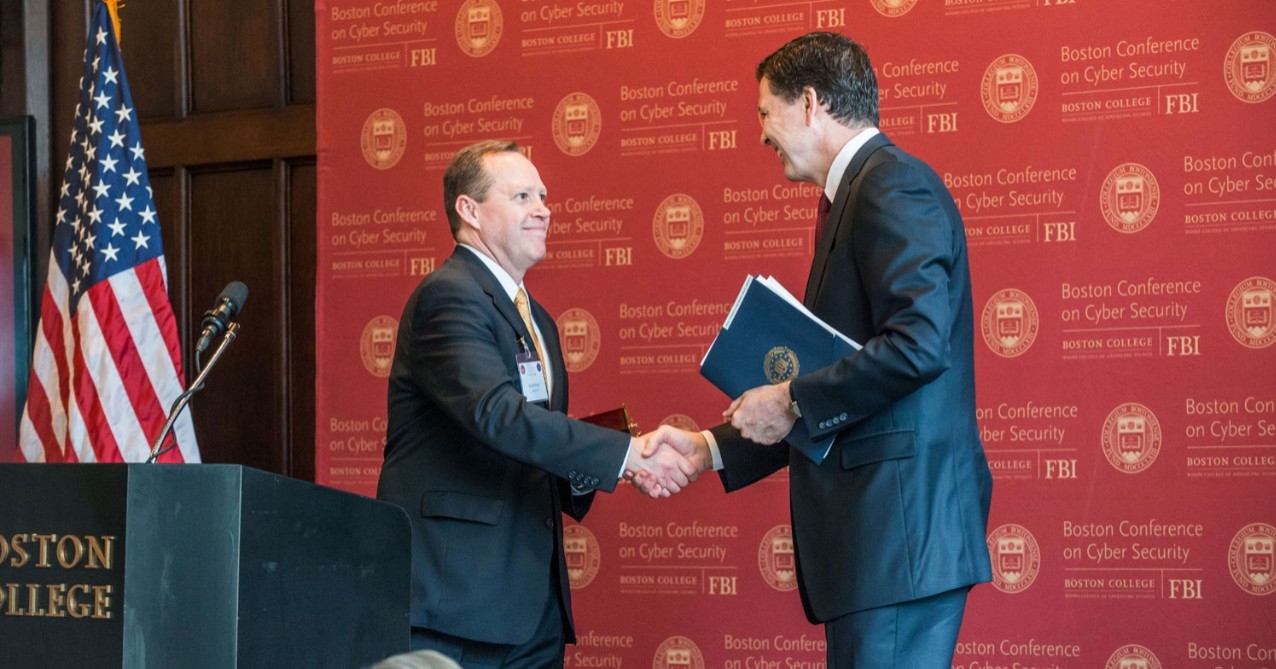 His speech was followed by panel discussions with a who's who of cybersecurity experts from the FBI, Boston College, Department of Homeland Security, Department of Defense, U.S. Cyber Command, IBM Security, Dell EMC, Symantec, Jones Day, PwC, Mintz Levin, Raytheon, Akamai, Draper Labs, State Street, Charles River Associates, National Grid, and the U.S. Naval Academy, among many others.
Topics centered around emerging technologies, best practices, operations and enforcement, and real life cyber- and national security experiences, an agenda designed to help students of the master's program, as well as private industry and government leaders, to address today's cyber-threats.
"Combating cyber-crime is one of the FBI's top priorities because of the direct threat it poses to our national security and economy," said FBI Assistant Special Agent in Charge Joseph Bonavolonta, who oversees the cyber/counterintelligence program for the agency's Boston Division. "The work we do wouldn't be possible without close collaborative partnerships with the private sector," he said, noting his hope that BCCS 2017 would "help everyone get on the same page so we're better positioned to identify threats, share information and ultimately defeat cyber criminals."
"Boston College is a leader in thinking and educating on these incredibly important issues, so this is a great place to have this; I hope you'll have it many more times."—FBI Director James B. Comey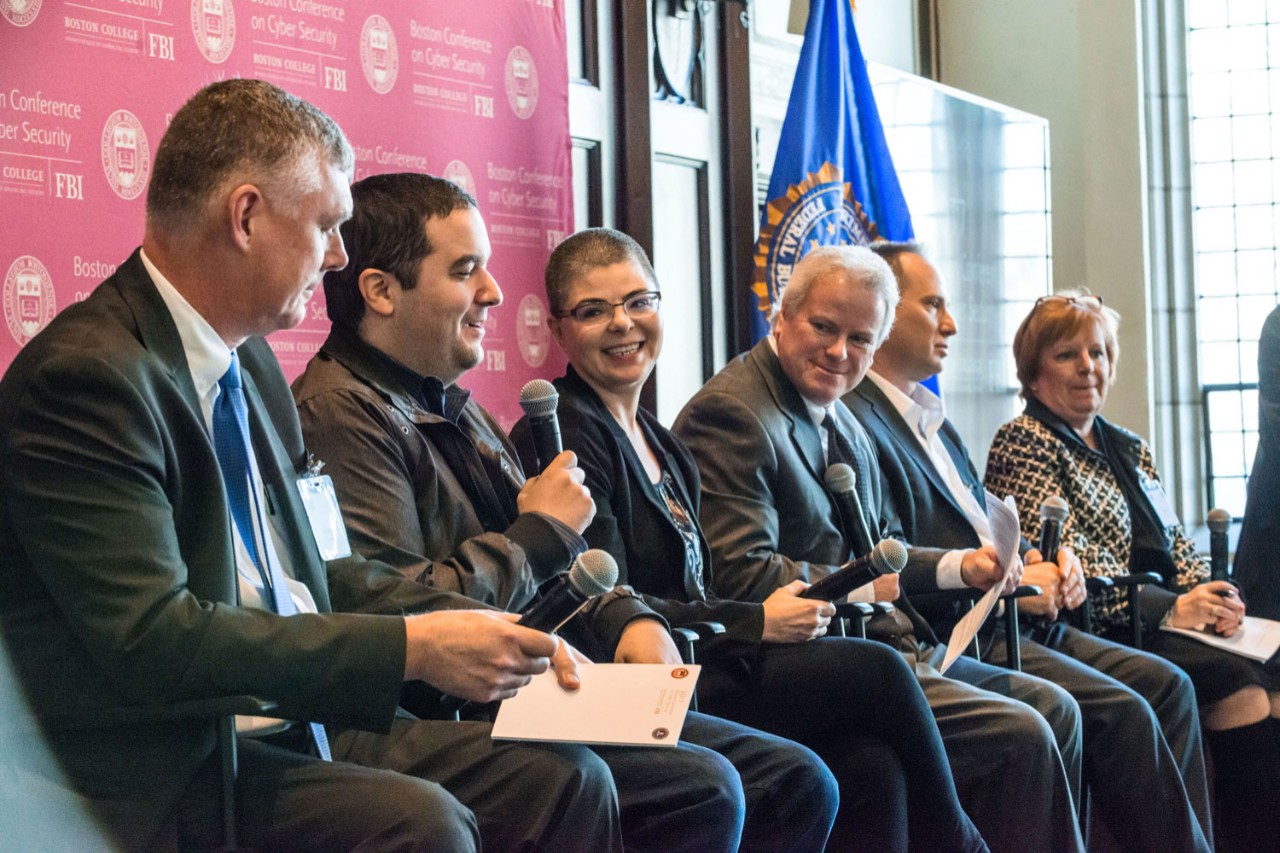 "With cyber-attacks in the news every day, there's a fear out there, but it's causing a 'security fatigue' to it all, because business, government, and consumer users are overwhelmed and sick of being on constant alert," said Kevin Powers, founding director of the Woods College Cybersecurity Policy & Governance program, and a former analyst and attorney for the U.S. Justice and Defense departments and U.S. Navy. The goal of the conference, he said, was "to highlight why it's not only in users' best interests to continue to focus on cybersecurity, but also for the greater good. There needs to be an all-hands-on-deck approach, as the cyber-threats we face today are not going away anytime soon." 
Bonavolonta echoed Powers' remarks. "Most of America's cutting-edge technology and equipment is found in the private sector: manufacturers, contractors and academia. Cyber-criminals continue to exploit these networks to steal information. The FBI is committed to finding the criminals behind these attacks, but we can't do it alone. Conferences like this will help everyone gain a better understanding of the emerging threats as well as our individual roles and responsibilities in defeating them."
The Woods College Cybersecurity Policy & Governance program's partnership with the FBI is one of more than three dozen governmental and business ties it has formed during its first full year of existence. Others include the Massachusetts State Police, Lockheed Martin, PwC, SkyBox Security, Comtrade, GuidePoint Security, Bank of America, Raytheon, Gartner Consulting, Locke Lord, LLP, and the US departments of Defense, Energy, Homeland Security, Justice, and Treasury.
"Our partners collaborate with us by providing guest lecturers, hosting joint panel discussions and networking events, and providing internships and applied research projects to our students," said Powers. "It is a true collaborative effort by government, industry and academia – with BC taking the lead – to address and mitigate these cyber-threats."
–University Communications