After a year in which data breaches in the United States exposed an estimated 174 million confidential records, Boston College and the Federal Bureau of Investigation will hold the second Boston Conference on Cyber Security, BCCS 2018, on March 7, bringing together academicians, private industry, and law enforcement to collaborate on how to best prevent and respond to attacks on public and private information systems.

FBI Director Christopher A. Wray will deliver the keynote address at BCCS 2018. He will focus on the cyber threat landscape, what the FBI is doing to stay ahead of the threat, challenges connected to the digital revolution, and the importance of strong private sector partnerships.

The day-long conference is organized by a partnership between the FBI and the Cybersecurity Policy and Governance master's degree program at the University's Woods College of Advancing Studies. The inaugural BCCS 2017 garnered international news coverage of the speech given by then-FBI Director James Comey.

"Our partnership with the FBI on BCCS 2018 is part of our efforts to build and strengthen the cyber security ecosystem here in the northeast region," said Kevin Powers, director of the Cybersecurity Policy and Governance program. "That's the goal: to bring industry, academia and government together on these issues. We're taking the lead with the FBI in pulling the leaders and experts together so these organizations can work together to enhance cyber security."

FBI Boston Division Special Agent in Charge Harold H. Shaw said the emphasis on collaboration at BCCS 2018 is central to combating an ever-increasing range of cyber threats.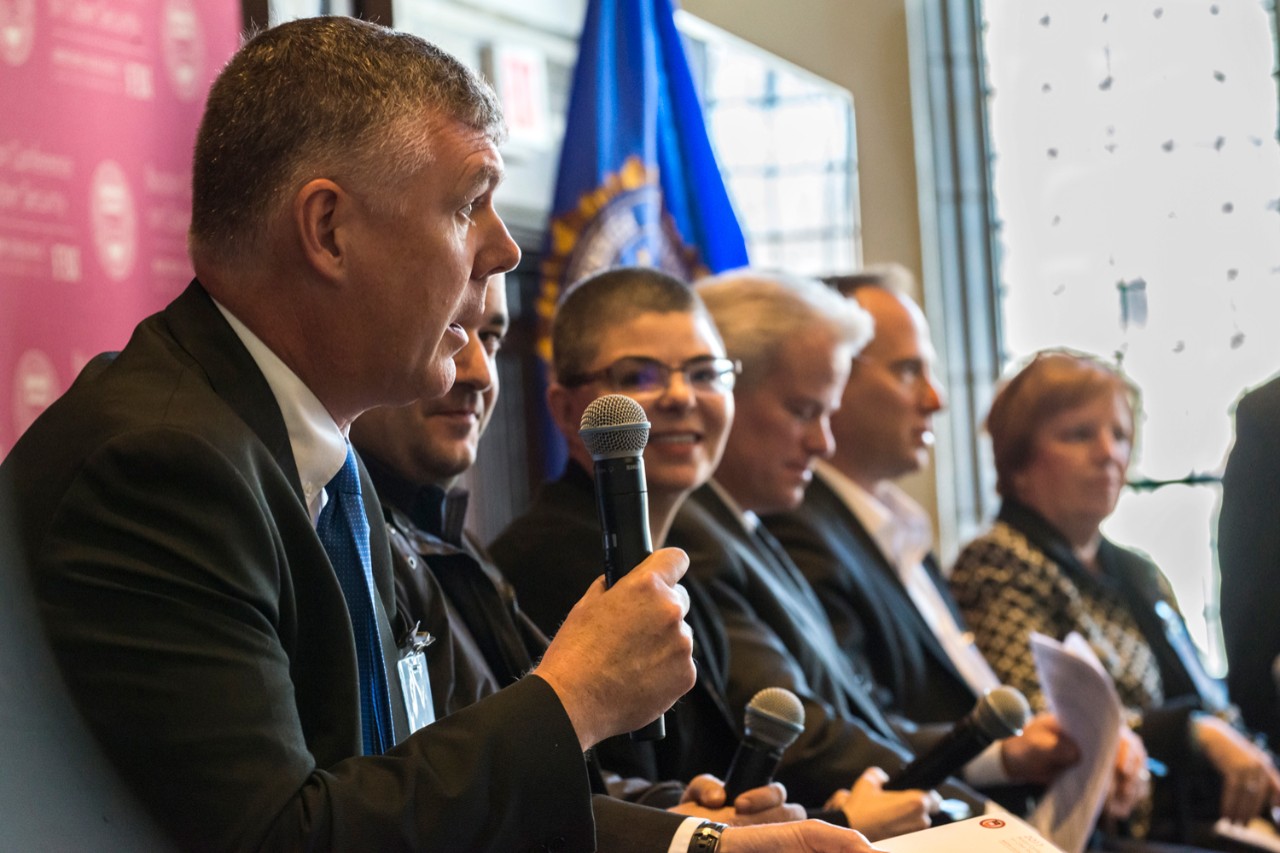 "Based on the overwhelming success of the inaugural conference, the FBI is very excited to partner again with Boston College to address one of the most challenging issues of our time – security needs in today's vast and evolving cyber landscape," said Shaw. "Bringing together law enforcement, academic, and private sector partners has proven invaluable in building a better understanding, not only of the threats cyber adversaries pose to our national security, key infrastructure, and economy, but how the private and public sectors collaborate to counter the risks each of us face."

There were at least 1,293 US data breaches in 2017, exposing more than 174 million confidential records, according to the non-profit Identity Theft Resources Center, noting a 21 percent increase above breaches tallied in 2016.

"With every day that passes, cyber-attacks become more frequent, complex, and destructive, and it will take all of us working together to address the threats of tomorrow," said Shaw. "After all, we have a lot to protect. We live in a target-rich environment, with Fortune 500 companies, hundreds of defense contractors, startups, colleges and universities, many of which have renowned research and development facilities. We firmly believe it's conferences like this that serve as a bridge in finding new and better ways of confronting the difficult cyber challenges impacting all of us."

"The FBI is fully committed to finding the criminals, nation state actors, or hacktivists committing these attacks, and we firmly believe it's conferences like this that serve as a bridge in finding new and better ways of confronting the difficult cyber challenges impacting all of us," he said.

A roster of leading of cyber security specialists will participate at the BCCS 2018, including experts from the FBI's Cyber Division, National Security Agency, US departments of Homeland Security, Defense, Internal Revenue Service, Secret Service, and Securities and Exchange Commission; companies including Arbella Insurance, State Street Bank, Raytheon, Microsoft, Symantec, CrowdStrike, Jones Day, IBM Security, Charles River Labs, Mintz Levin, tcmGlobal, Citrix Systems, Jones Day, Charles River Associates, Dell EMC, Stanley Black & Decker, FTI Consulting, SecureWorks and The MITRE Corp.; and experts from Boston College Law School and Brown University.

"The broad range of participants speaks to our program and working with the FBI," said Powers. "It is something different. You need more collaboration and sharing between private industry and the government. Industry cannot rely solely on the government and government can't leave industry to figure it out by themselves. It has to be a joint response. This conference brings many perspectives together. That is critical to our program as well, where we are training the future leaders in cyber security."

Speakers include former US Department of Homeland Security Secretary Jeh C. Johnson, now at the New York law firm Paul|Weiss; Kevin Mandia, CEO of FireEye; David Wajsgras, president of Raytheon's Intelligence, Information and Services Division; former Department of Homeland Security top lawyer Gus P. Coldebella, of Fish & Richardson; Brig. Gen. Kevin B. Kennedy, USAF, of the Pentagon's CIO office; Thomas J. Curry, of Nutter McClennen & Fish, former U.S. Treasury Department comptroller of the currency; and Christopher R. Hetner, senior advisor for cyber security to the chairman of the Securities and Exchange Commission.

"We are very fortunate to have some of the best minds in cyber security participating in BCCS 2018," said Powers. "Boston is positioning itself to become the hub of cyber security and Boston College is taking the lead in that work."

Ed Hayward | University Communications