Liane Young, an associate professor of psychology at Boston College whose research focuses on the psychology and neuroscience of moral judgment and behavior, has won the 2016 Stanton Prize, awarded annually by the Society for Philosophy and Psychology to a young scholar who has made significant contributions to interdisciplinary research in philosophy, psychology, and/or related disciplines.

This is the second honor from the SPP for Young, who won the society's William James Prize for writing in 2006.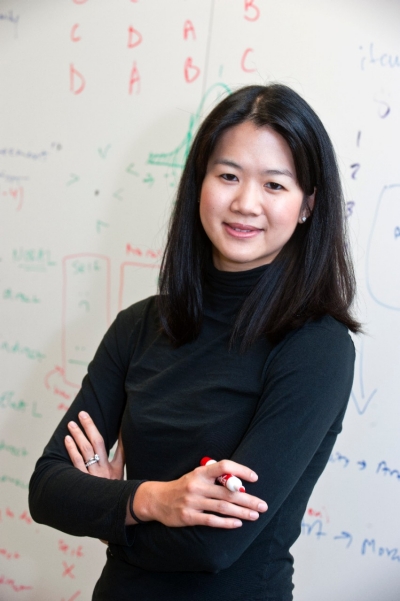 "Liane Young is a leader in the field of moral psychology," said Professor of Psychology Ellen Winner, department chair. "The study of moral thinking was first the province of philosophy and now is being investigated by the tools of psychology. Liane's work is inherently interdisciplinary, bringing moral philosophy together with moral psychology, social psychology, and neuroscience. Her work delves into the fundamental human urge to make moral judgments—the emotional as well as cognitive underpinnings of these judgments, the brain areas involved in this kind of reasoning, what happens when these brain areas are disrupted— and most recently, in collaboration with BC political scientist Peter Krause, how our understanding of moral thinking can inform our response to terrorism.

"Liane is a pivotal member of the Psychology Department, bridging social psychology with cognitive neuroscience," Winner added. " It is fitting that we as a Jesuit institution have among us one of the pioneers in the scientific study of morality."
"Having attended the annual meeting of the Society for Philosophy and Psychology since my first year of graduate school, I am especially honored to receive the Stanton Prize," Young said. "SPP has been my intellectual home base since the start of my academic career, and I'm very fortunate to have the support of my department and the University as I pursue a research program that cuts across multiple disciplines.
"Fundamental questions about human moral cognition are inherently interdisciplinary, as I discovered back when I studied ethics as an undergraduate philosophy major. Now, I very much enjoy discussing these issues with my colleagues all over campus—in psychology, philosophy, political science, education, and the law," she said, adding that she is thankful for a generous 'Research Across Departments and Schools' grant from BC that funds her research with Peter Krause, cited above.

Young has previously been recognized for distinguished scholarship: In 2012, she received a prestigious Sloan Research Fellowship from the Alfred P. Sloan Foundation, an award given annually to early-career scientists and scholars identified as the next generation of leading researchers.

She also was named a Dana Neuroscience Scholar by the Dana Foundation, which awarded her a three-year grant to support her study of brain activity and moral decision-making in individuals with autism, and has received a theoretical Innovation Award from Society of Personality and Social Psychology and an Early Career Award for Distinguished Scientific Contributions to Social Neuroscience from the Society for Social Neuroscience, among other distinctions.

She is principal investigator of the Morality Lab at Boston College, which uses behavioral measures, transcranial magnetic stimulation and neuroimaging to understand moral judgment and social cognition.

Her work has been supported by the John Templeton Foundation and the National Science Foundation; she serves as consulting editor for the journal Judgment and Decision-Making and on the editorial boards of Psychological Science, PLoS ONE and Minds and Machines, and was a visiting scholar in the department of philosophy at MIT from 2008-2011.
—News & Public Affairs