"At the National Institutes of Health, we're moving towards a data driven process of discovery, and the National Library of Medicine is going to be playing a key role in that," National Library of Medicine Director Patricia Flatley Brennan told the audience at the Connell School of Nursing's spring 2017 Pinnacle Lecture. Some 100 CSON alumni, faculty, students, staff, preceptors and invited guests attended Brennan's lecture titled "Driving Discovery from Data at the National Library of Medicine."
The process of knowledge-building begins with data that is transformed into information that leads to knowledge. "For its history, the National Library of Medicine has focused on the information, but now we are moving upstream. We're moving to try to better understand the data," said Brennan.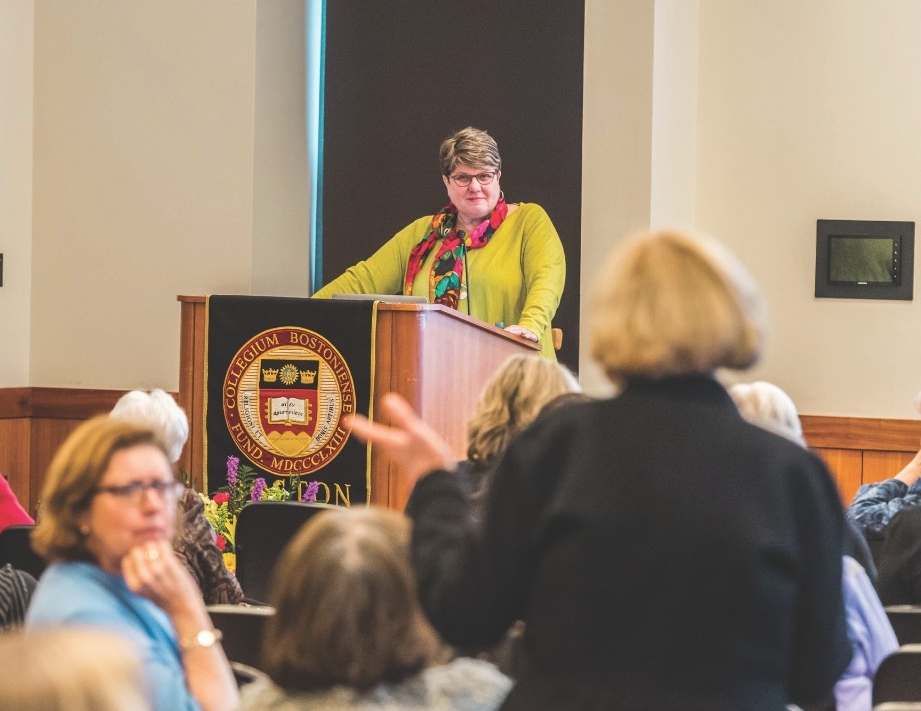 "Librarians collect information and make it accessible. We need to apply these same ideas of organization for data, which is much less well-refined and rawer."
The shift from experimental discovery to data discovery is a significant one that will impact the education, research and practice of nurses, according to Brennan.
"We are doing this to accelerate discovery. There are people out there who need us to be making these discoveries quickly," she added.
Brennan pointed out that data for discovery must possess the FAIR principles: findable, accessible, interoperable and reusable.
"There's too much data, there's too much to read, and if we're not judicious in developing ways to make sure it's safe, accessible and appropriately curated, we will lose an opportunity for discovery," she said.
The National Library of Medicine—part of the NIH—began in an Army field hospital in 1836 and has since grown to become the world's largest biomedical library, providing a vast range of information and resources to millions of people around the globe. Brennan is the first woman and first nurse to direct the NLM, which spans five physical plants and employs more than 1700 people.
Prior to joining the NLM, Brennan was the Lillian L. Moehlman Bascom Professor at the School of Nursing and College of Engineering at the University of Wisconsin-Madison. She holds a master of science in nursing from the University of Pennsylvania and a doctorate in industrial engineering from the University of Wisconsin-Madison. She has held academic posts at Marquette University and Case Western Reserve University. Her clinical practice was in critical care nursing and psychiatric nursing.
Brennan says her background makes her well-prepared to lead the NLM. "I come to the question of health and health information by thinking of the diagnosis and treatment of human response to disease, disability, and development. We [nurses] think about the human response."
The Connell School's Pinnacle Lecture Series brings a widely recognized nursing leader to campus each semester to address issues at the forefront of health care today. Learn more at the Pinnacle Lecture Series website.
—Kathleen Sullivan | University Communications