Connell School of Nursing Professor Ann Wolbert Burgess, a pioneer in the field of forensic nursing and an internationally recognized leader in the treatment of victims of trauma and abuse, has been designated a "Living Legend" by the American Academy of Nursing, the academy's highest honor.
Burgess is one of five nurses being recognized this year by the AAN as Living Legends for their multiple contributions to the nursing profession and society and in recognition of the continuing impact of their contributions to the provision of health services in the United States and throughout the world.
This honor is particularly special to Burgess given that her research career began at Boston College in the 1970s, she said. "Lynda Lytle Holmstrom, then an assistant professor in the Sociology Department, asked if I was interested in joining a research project with her. She said violence against women was going to be a big issue and she was right. The rest is history."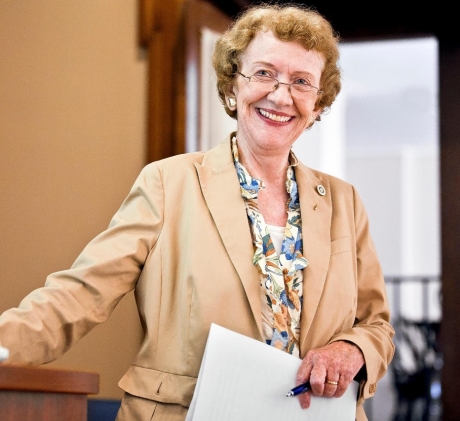 Connell School of Nursing Professor Ann Burgess (Josh Levine)
Burgess' research and books cover topics such as serial killers and rapists, kidnapping, sexual victimization and exploitation of children, cyber crimes, sexual abuse, and elder abuse. She has worked extensively with the Behavioral Science Unit of the FBI, training special agents and developing criminal profiles. Burgess also is a sought-after expert in the courtroom, having offered testimony in many high-profile cases.
Burgess helped to establish a master's specialty in forensic nursing at the Connell School where she has taught courses such as Case Studies in Forensics, Forensic Science, Forensic Science Lab and Victimology.
Currently, she is leading the College Warrior Athlete Initiative, funded by the Wounded Warrior Project, to improve the fitness levels of post-9/11 veterans
Burgess also has been honored as a Living Legend by the New England Chapter of the American Psychiatric Nurses Association. She has been inducted into the Sigma Theta Tau's Hall of Fame and its International Nurse Researcher Hall of Fame. In 2009, the International Association of Forensic Nurses established the Ann Burgess Forensic Nursing Award to honor an individual who has made exceptional research contributions to the field of forensic nursing, through clinical program development, scientific achievement, legislative changes, or educational activities.
The American Academy of Nursing serves the public and the nursing profession by advancing health policy and practice through the generation, synthesis, and dissemination of nursing knowledge. The Academy's more than 2,300 fellows are nursing's most accomplished leaders in education, management, practice, policy, and research.
Burgess will be honored at the AAN conference in October.
—Kathleen Sullivan | News & Public Affairs