On a summer weekend at Boston College, a group of 24 graduate students enrolled in the online Master of Healthcare Administration program were asked to apply their expertise while using their imaginations.
Shedding their current occupations for imaginary roles (patient, payer, employer, primary-care provider, or specialty provider) the MHA students were charged with envisioning a future in which high-quality, affordable healthcare is delivered effectively and equally to all patients.
What would that look like? And perhaps more importantly, how do we get there?
'An amazing experience'
The assignment was the culmination of a three-week hybrid course taught by Dr. Douglas Rosendale, federal chief medical interoperability officer at Deloitte Consulting LLP and a prominent leader in health information technology. It was also the theme of Innovation Immersion Weekend, the on-site portion of the course that brought students together with top healthcare professionals for several days of learning, problem-solving, and networking on the BC campus.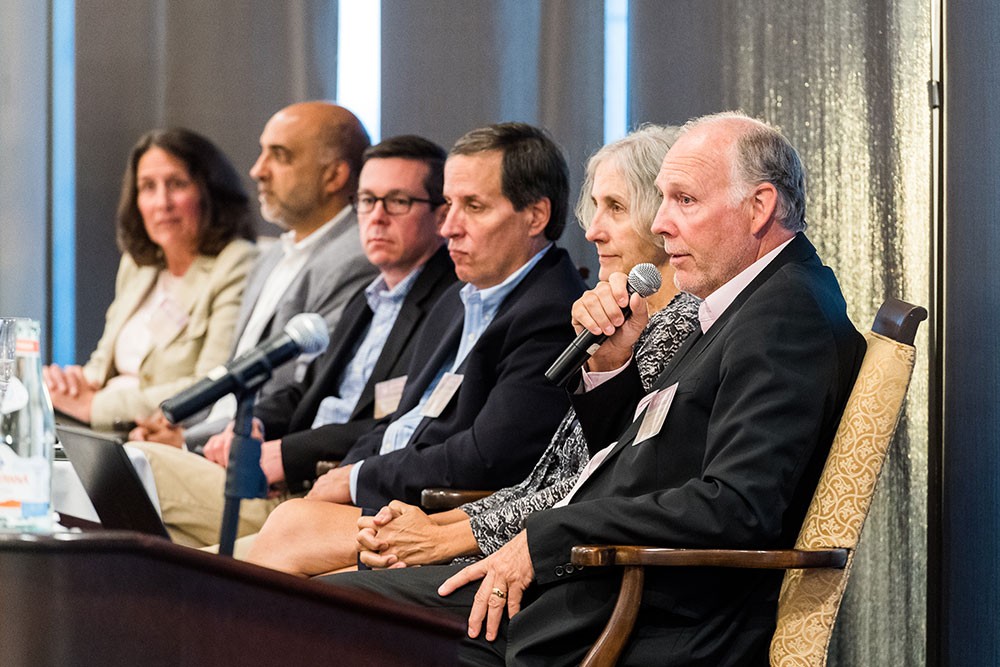 At an opening reception Friday evening, students heard from keynote speaker Dr. Terry Cullen, currently a research scientist at the Regenstrief Institute, and a former information officer for Indian Health Service and chief medical information officer for the Veterans Health Administration. Following the keynote lecture, Dr. Rosendale moderated a discussion with panelists Micky Tripathi, president and CEO of Massachusetts eHealth Collaborative, Ray Campbell, executive director of the Massachusetts Center for Health Information and Analysis, Timothy Driscoll, senior director of technology strategies at Boston Children's Hospital, and Sharon Vitti, senior vice president and executive director of CVS MinuteClinic.
Then, work for the students began. In between lectures, they worked in groups to tackle the assignment, grappling with current issues like rising costs and considering the role of big data and artificial intelligence in future healthcare settings. By Sunday morning, they were prepared to defend their solutions in front of a panel of expert judges.
"It was an amazing experience," said MHA student Fernanda Campbell, Ph.D., who currently serves as a Fellow in Boston Mayor Marty Walsh's office (Walsh is a 2009 graduate of BC's Woods College of Advancing Studies, which administers the MHA).
The project was "challenging, but especially motivating after the intensive readings and discussions we had," Campbell said. "I am convinced after this course that true healthcare reform must be innovative, disruptive, and [empower] patients to become better consumers of health."
Creating Transformative Leaders
Since its launch two years ago at BC's Woods College, the MHA program has intensified its focus on empowering future healthcare leaders to become change agents in their field. Students are encouraged to take risks, think creatively, and challenge industry norms.
"Our goal is not to train leaders to maintain the status quo," explained Emily Raviola, MPH, the MHA's interim program director. "We want to train our students to be savvy thinkers who understand the existing context and the levers that can be used to drive change. We want to create transformative leaders."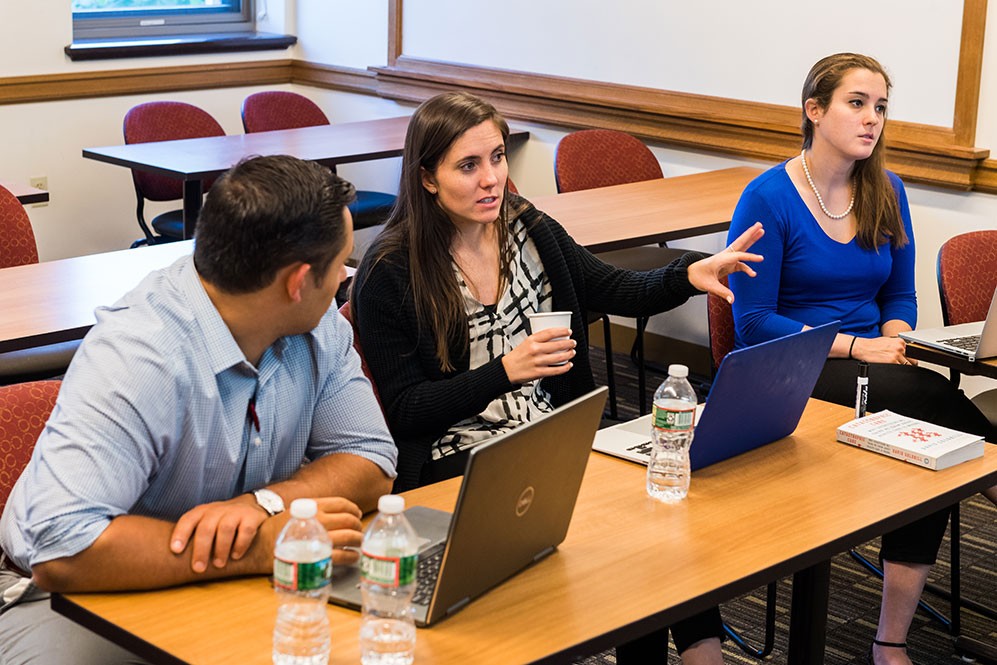 Increasingly, the program has drawn participants from local healthcare powerhouses such as Blue Cross Blue Shield of Massachusetts, Cambridge Health Alliance, and Beth Israel Deaconess Hospital. Nineteen students currently hail from Massachusetts General Hospital, one of 17 healthcare institutions to formally partner with the MHA program.
Participants, all of whom have a minimum of two years professional experience, represent a diverse cross-section of the healthcare field. Thanks to synchronous classes, they interact regularly with one another, forming valuable professional connections.
"Administrators and clinicians don't often get to really dig into the issues together, but they do in our classrooms," said Raviola. "We have nurses, physicians, administrators, people from hospital settings, pharma, insurance providers, startups – in other words, the full gamut. Peer dialogue greatly enhances student learning."
Career Driven
With the healthcare industry expected to account for four million jobs by 2026, many students enter the MHA program hoping to advance their careers or identify positions that more closely align with their values. The program employs a full-time, professionally trained executive coach with a background in healthcare to support them on their journey.
"Our coach really helps our students with personal formation," said Raviola. "She helps them connect with what they're passionate about, what they're good at, and how they aspire to use their gifts in the world."
Raviola has watched this process of self-actualization play out among the program's first graduates, who took part in Commencement exercises in May. In particular, one graduate's story stood out in Raviola's mind as an example of the program's transformative impact.
"She's a surgical nurse, and she said being in this program gave her the language to communicate across her organization with leaders who before she hadn't been able to interface with," said Raviola. "It completely changed her vision of who she was professionally and how far she could go."   
For more information, visit the Boston College MHA website.
—Alix Hackett | University Communications