Philip J. Landrigan, M.D., '63, one of the world's leading authorities on public health—particularly children's health—has been named the founding director of Boston College's Global Public Health initiative, where he will help develop an undergraduate minor and launch new research focusing on the impacts of environmental pollution.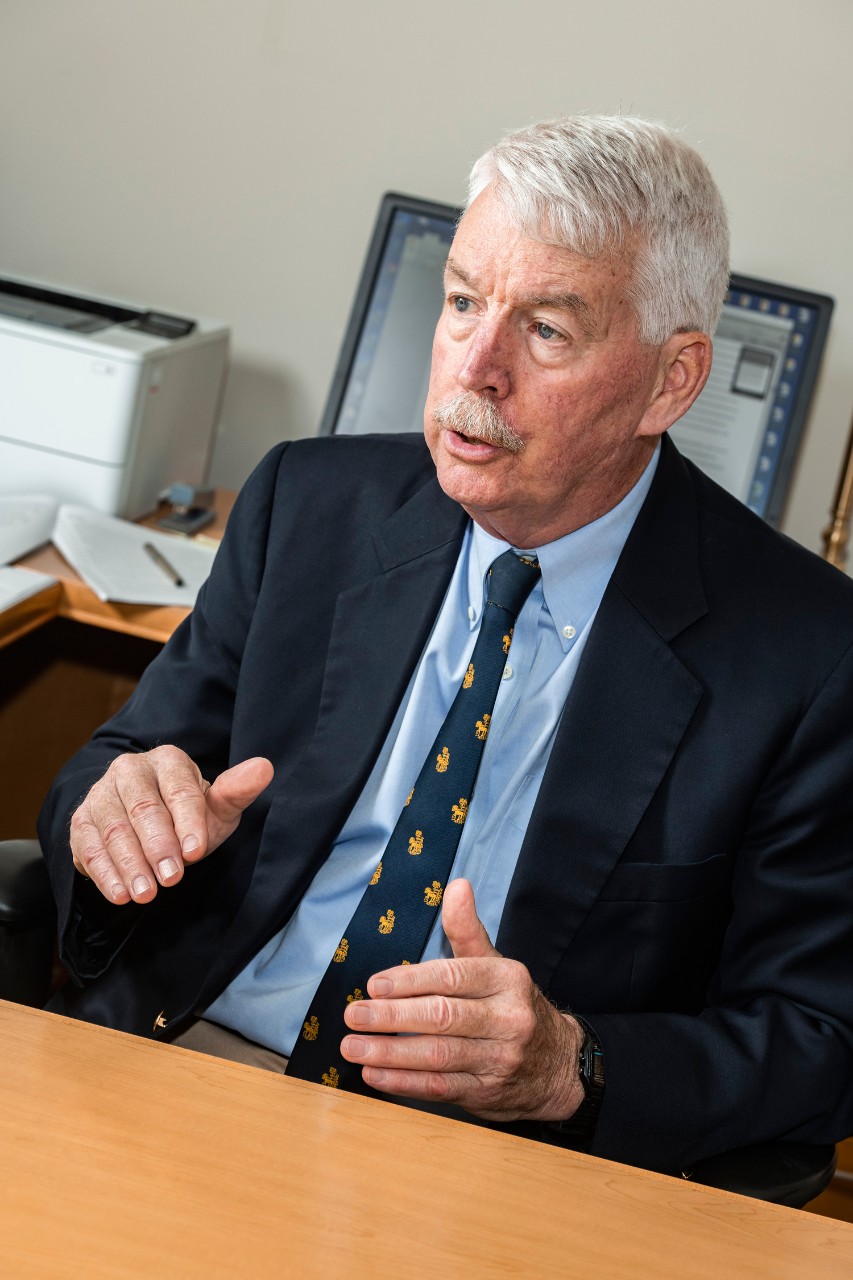 Landrigan returns to his alma mater following a distinguished career at the Icahn School of Medicine at Mount Sinai in New York City. A pediatrician and epidemiologist by training, Landrigan served as the dean for global health and Ethel H. Wise Professor and Chair of Preventive Medicine.
"It is exciting to return to Boston College," said Landrigan, who grew up in Boston's West Roxbury neighborhood and attended Boston Latin School. "BC gave so much to me as an undergraduate. I am looking forward to the chance give back to BC and support both researchers and our undergraduate students."

"In the field of global public health, Dr. Landrigan is one of a handful of internationally recognized leaders on the planet," said Vice Provost for Research and Academic Planning and Deluca Professor of Biology Tom Chiles. "He brings vast experience and expertise to our new initiative in global public health. No one is better suited to lead this initiative on our campus than Dr. Landrigan."

Landrigan, will work with BC faculty who are part of the team that offers the three-course program in Global Public Health as they develop a minor in the subject. He anticipates that the program, to be taught by faculty from schools across the University, will debut as a minor in the fall of 2019.

"Public health excites students at several levels," said Landrigan. "It is exciting intellectually. Many current problems of public health are very complex and require a lot of reflection and careful assessment. Another great thing about public health is that it is rooted in a philosophy of social justice. So, it is a combination of things: intellectually complex, with a social justice component, which appeals to a lot of students, especially at BC, with its tradition of social justice and advancing the common good."

Landrigan will also assist with the planning and programming for the new Schiller Institute for Integrated Science and Society, which is scheduled to begin construction in 2019.

"In the field of global public health, Dr. Landrigan is one of a handful of internationally recognized leaders on the planet," said Vice Provost for Research and Academic Planning and Deluca Professor of Biology Tom Chiles. "He brings vast experience and expertise to our new initiative in global public health. No one is better suited to lead this initiative on our campus than Dr. Landrigan."

Over the years, Landrigan has maintained ties with BC. He worked closely with retired Professor of Biology Robert Wolff, who directed BC's pre-health studies program, to set up summer internships in New York City for BC students. In 2014, Landrigan gave the keynote remarks at the University's inaugural Advancing Research and Scholarship Day.

Early in his career, Landrigan spent approximately 15 years as an epidemiologist with the U.S. Centers for Disease Control. His work with fellow researchers led to the removal of lead additives from gasoline, a sweeping public health victory in the 1970s. His international work has taken him to countries including El Salvador and Nigeria and included his participation in the Global Campaign for the Eradication of Smallpox. His advocacy is credited with leading to the establishment of the Office of Children's Health Protection at the U.S. Environmental Protection Agency.

In the days following the 9/11 attacks, Landrigan and his physician colleagues sketched out a plan to provide care to survivors, first responders, and others in close proximity to Ground Zero to help with the inevitable public health issues,  ranging from exposure to hazardous materials to post-traumatic stress.

Mount Sinai took the lead in assisting more than 22,000 lower Manhattan residents, workers and others who spent time at the site, part of a network of New York initiatives that have aided nearly 60,000 people—including first responders—exposed to the dust, smoke, debris, and toxins unleashed when the World Trade Center towers collapsed.

Landrigan attended Boston College at a time when local students took the bus or subway to campus. "We were known as day hops," he said.

He cites George Drury, S.J., the pre-med advisor during his undergraduate years, as an important figure: "He was a very good guy and he gave me a lot of good mentoring back in the day." Other influential faculty included Professor of Biology Leon Vincent and Professor of English Arthur McGillivray, S.J.

Landrigan had set his sights on medical school when he was in high school, inspired by his uncle, who was a physician, and his family doctor.

His wife, Mary '64, was a chemistry major at BC; they met in class. In August, the couple celebrated their 52nd wedding anniversary. They have three children and seven grandchildren, who live in the Boston area.

Ed Hayward | University Communications