Seventy years ago this month, the Boston College School of Nursing opened its doors with a class of 35 students. To mark this 70th anniversary, the Connell School of Nursing hosted open house for its students, faculty, alumni, and other members of the University community on Jan. 27 at the Conference Center on Brighton Campus.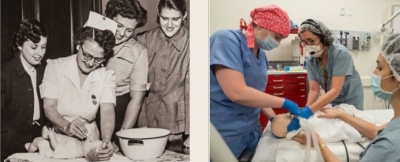 Since 1947, BC has educated more than 10,000 nurses.

The event featured an exhibition of nursing objects from University archives, including uniforms, yearbooks, and photographs, and a brief history of the school presented by Clough Millennium Professor of History James O'Toole.

The milestone is a time to pause and reflect on what the school has brought to nursing over the past 70 years, said Connell School Dean Susan Gennaro.
"BC nurses truly are different," she said. "They are truly skilled, compassionate, well prepared critical thinkers who ensure that their patients receive stellar care. But even more than that, they are leaders whose values make them essential at this time of rapidly changing health care.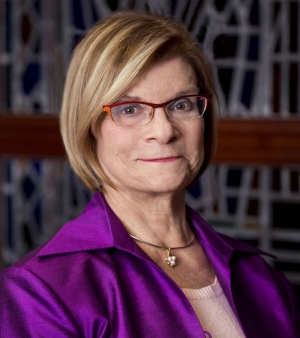 Dean Susan Gennaro
"This birthday celebration gives us a chance to stop and pause and see the path we have taken while we take a deep breath, pause, then plunge into the next exciting challenges." 
The school was founded at the request of Cardinal Richard Cushing, archbishop of Boston, who asked that BC establish a baccalaureate nursing program since no Catholic institution in the Archdiocese of Boston at the time offered such a program. It was the first full-time undergraduate program at Boston College to accept women. In 1988, it launched its nursing doctoral program, the first to be offered at a Jesuit university.
Since 1947, hundreds of faculty members have educated more than 10,000 nurses. Today, the Connell School has the highest-ranked graduate nursing program in Massachusetts. Undergraduate students have the opportunity to practice clinical care not only in Boston but around the world via the school's international programs in Ecuador, Haiti, the Dominican Republic, Nicaragua, Chile, and Switzerland. 
—Kathleen Sullivan / University Communications