While her research focused on tiny cells, molecules and microorganisms, Professor of Chemistry Mary Roberts, who retired this year after 30 years at BC, never lost sight of the big picture.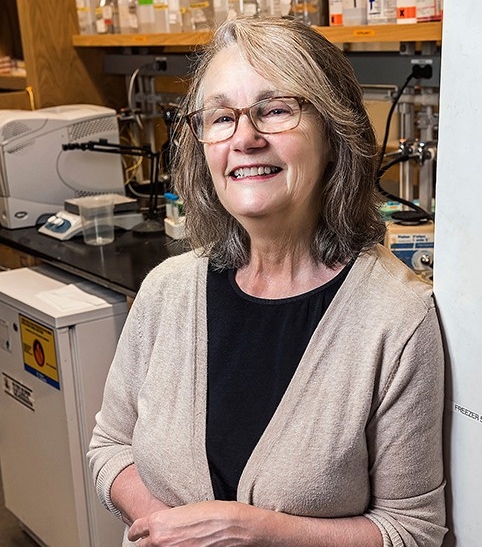 An accomplished researcher and teacher, Roberts was part of the growth of the natural sciences at BC, and worked to increase the ranks of undergraduate women studying in the scientific disciplines and pursuing graduate studies or careers in the sciences and medicine.
"The biggest changes since I got here: Faculty research in science was not a strong priority in 1987," said Roberts.  "Since the early '90s, chemistry has grown in faculty and stature – a wonderful development. As a bonus, good researchers are usually more excited about science and that certainly leaks into the classroom.
Roberts, who earned her PhD in Chemistry from Stanford University in 1974, has focused her research on two primary areas: defining how membrane components control certain enzyme activities and how this affects cell signaling; and understanding how cells and microorganisms respond to stress by adjusting their small molecule pools.
Roberts was named a fellow of the American Association for the Advancement of Science in 2007 and in 2008 received BC's Distinguished Senior Research Award. The National Science Foundation and the Alfred P. Sloan Foundation have also recognized her work.
Teaching, advising, and mentoring students were among the best parts of the job, Roberts said.
"I have loved interacting with the students – undergraduates and graduate students," Roberts said. "Students keep you young."
Roberts served as the faculty advisor to students applying for – and annually winning – some of the most prestigious fellowships in the sciences, including the Goldwater and Churchill scholarships. Recipients routinely cite Roberts' counsel and support on their behalf during the application process.
In 2006, Roberts was among the faculty who assisted in the launch of the Women in Science and Technology program, which brought high school-age female students to campus to study with BC undergraduates and faculty. WST has since encouraged other pre-collegiate initiatives in the sciences.
"Over the years, there has been an increase in female biochemistry and chemistry majors," said Roberts. "This has been wonderful to see. However, we still need more women and minorities in chemistry, particularly at the faculty level. I would like to see a significant increase in the number of female chemistry faculty at B.C., and I hope to see many female BC alums (undergraduate and graduate) occupying top roles in technology companies. Our young women are terrific."
Ed Hayward | University Communications