Lawrenceville, N.J. native and Boston College senior Julia Curley has been awarded a National Science Foundation Graduate Research Fellowship to pursue her doctorate in chemistry at Yale University.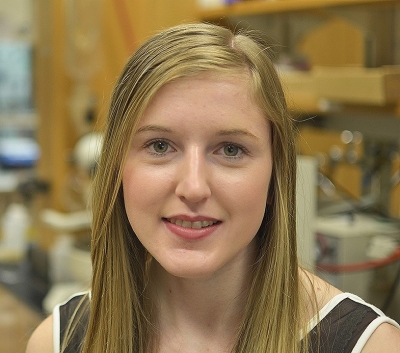 Julia Curley '16. (Ed Hayward)
Curley, who graduated summa cum laude from BC on May 23, majored in chemistry and minored in math. She plans to study organic chemistry at Yale, with a focus on developing alternative energy sources and materials through sustainable, green chemistry innovations.
"I am honored to receive this fellowship from the National Science Foundation to support my graduate research," said Curley. "This fellowship gives me the opportunity to fund the research that I want to pursue at Yale in organo-metallic chemistry with a focus on environmental applications—such as renewable energy sources and biodegradable plastics."
Curley, a 2012 graduate of The Hun School of Princeton, N.J., is the daughter of Edward and Ann Curley, who now reside on Cape Cod, Mass.
"My parents raised me to be respectful of the environment and that is something I feel passionately about, so I am looking forward to combining my interests in chemistry and the environment as part of my graduate studies," said Curley.

The NSF awarded the "pre-doc" fellowships to 2,000 men and women from nearly 18,000 applicants in 2016. The award provides three years of financial support within a five-year period, covering an annual stipend of up to $34,000 and tuition costs of up to $12,000 for graduate study that leads to a research-based master's or doctoral degree in science or engineering, according to the NSF.
Curley focused on organo-metallic chemistry as an undergraduate, conducting research in the lab of Assistant Professor of Chemistry Jeff Byers for the past two-and-a-half years.
"In addition to being a great researcher, Julia was an excellent student," said Byers. "She routinely was at the top or near the top of every class that she took in the chemistry department. She challenged herself with a demanding course load that included some of the toughest classes that we offer at Boston College."
Curley was a co-author on a recently published paper in the respected German academic journal Angewandte Chemie.
"Boston College definitely prepared me very well," said Curley.  "Working in Professor Byers' lab, I learned how to be a scientist and that's where I learned I wanted to pursue graduate studies in chemistry. All of my professors at BC have prepared me well for graduate school."
Curley was one of the co-founders who revived the undergraduate student chapter of the American Chemical Society at BC, serving as its president. Among her academic honors, Curley has been named a Sophomore Scholar, a Dean's Scholar and a Scholar of the College.
She is a member of the Phi Beta Kappa national honor society and the Honors Program of the Morrissey College of Arts & Sciences.
By Ed Hayward | News & Public Affairs