Photographs by Rose Lincoln

Less than a week before the 18th anniversary of 9/11, Assistant Attorney General for National Security John C. Demers recalled for a Boston College audience one of the many long-term effects of the event—for him as well as many of his colleagues.  
"It made me want to go to Washington, D.C., to offer my services," said Demers, now on the front lines of the U.S. government's fight against Chinese cyberattacks, who spoke with law, graduate, and undergraduate students during a one-hour program at Boston College Law School on September 5. The event was co-coordinated by Kevin Powers, director of the Master of Science in Cybersecurity Policy and Governance program at the Woods College of Advancing Studies and assistant professor of the practice at BC Law, and Associate Professor of Law David Olson, faculty director for the law school's Program on Innovation and Entrepreneurship.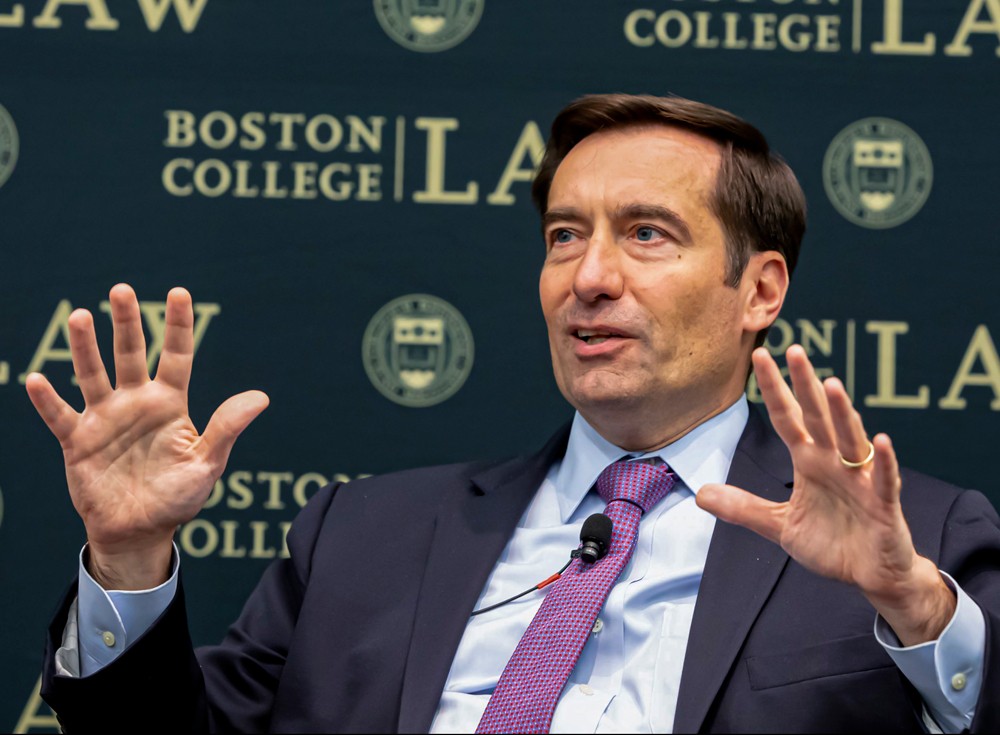 "At the Department of Justice, we learned we weren't well organized," Demers said of 9/11, citing the strict separation among the branches of government, and the belief at the time that it was improper to share information. What was the conventional wisdom, he said, came to be seen as "conventional foolishness."   
As Demers explained, what emerged from the devastation of the 9/11 attacks was the Department of Homeland Security, which combined 22 different federal departments and agencies into a unified, integrated cabinet agency. In 2006, the Department of Justice's National Security Division was created, which consolidated the DOJ's primary national security operations and focused on counter-terrorism, counter espionage/export control, and the Office of Intelligence.  
Last November, Demers joined NSD as assistant attorney general for security and was selected to lead the U.S. Attorney General's China Initiative, established to counter the persistent and aggressive economic espionage, trade-secret theft, hacking, and related crimes conducted by the People's Republic of China.
Since then, Demers has consistently spoken out against China's activities in this area, such as its suspected involvement in the hack of the Starwood hotel chain's reservation system, which exposed the private data and travel details of as many as 500 million people. "The playbook is simple—rob, replicate, and replace," he said at a hearing last December. "Rob the American company of its intellectual property, replicate the technology, and replace the American company in the Chinese market and one day in the global market."
"While all are sophisticated cyber actors, China is the number-one nation state threat, followed by Iran, Russia and North Korea," said Demers at his BC Law talk. "A seminal moment that motivated the launch of the China Initiative was the repeated theft of American companies' intellectual property, which reflected a collaborative effort by the PRC and Chinese companies to drive their economic development. If you examine the government's goals—the development of high-speed rail, artificial intelligence, commercial airlines—it's a guide to what they steal."
"It is fitting that we host a discussion on some of the hottest and most important legal issues of our day," said BC Law Dean Vincent Rougeau in his welcoming remarks, among them "how to preserve national security, provide cybersecurity, and properly use laws and law enforcement as tools to protect our nation and our citizens' interests, while respecting the rule of law, individual rights, and freedom of trade and association."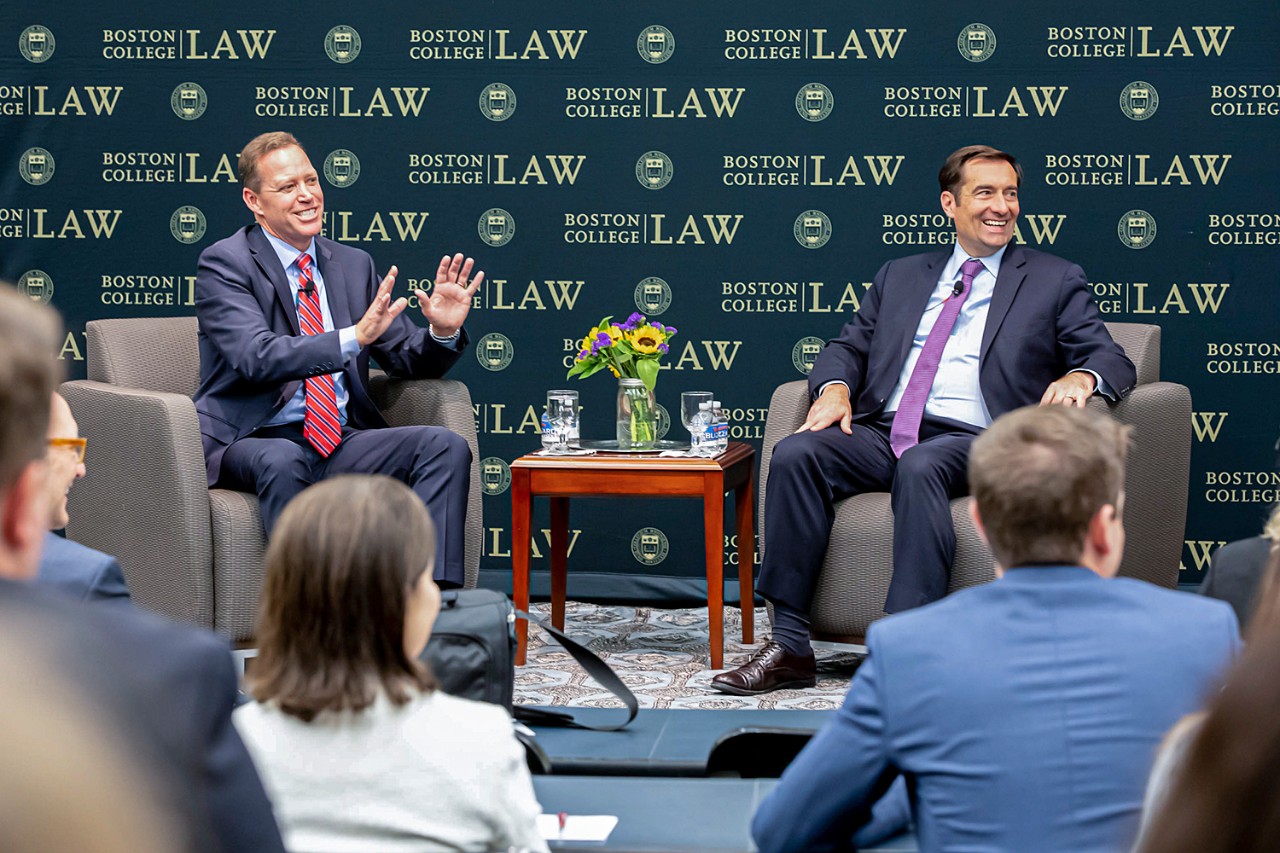 Demers worked at the DOJ as an attorney advisor in the Office of Legal Counsel from 2003-05, then clerked for Supreme Court Justice Antonin Scalia for one year before returning to the National Security Division, first as senior counsel to the assistant attorney general, and then as deputy assistant attorney general for the Office of Law and Policy. In 2008, Demers helped draft an amendment to the Foreign Intelligence Surveillance Act that allows the NSA to collect electronic communications of foreign targets, including those with U.S. citizens.
"This event, like the annual Boston Conference on Cyber Security we coordinate with the FBI, reflects an  ongoing effort to bring together industry, academia, and government around these issues, to help build and strengthen the cybersecurity ecosystem," said Kevin Powers, founding director of the Woods College's M.S. in Cybersecurity Policy and Governance program and assistant professor of the practice at BC Law and the Carroll School of Management. Boston College also offers two online, professional certificate programs in cybersecurity strategy and data privacy.

The Boston College Law School Program on Innovation and Entrepreneurship (PIE), directed by event co-coordinator and law professor David Olson, draws upon the intellectual capital of its faculty and the energy of its talented students to develop activities designed to build strong bridges between BC Law and the innovation and entrepreneurship communities in Boston and beyond.
Phil Gloudemans | University Communications