Wondering what comedian Jim Gaffigan, olympic swimmer Katie Ledecky, and celebrity chef Marcus Samuelsson have in common? All three will be making special appearances at an upcoming virtual gala celebrating the 40th anniversary of Jesuit Refugee Service, a Catholic organization that works alongside displaced persons in 56 countries around the world. 
The celebration, titled "Walking with Refugees for Forty Years," is scheduled for 6 p.m. on Thursday, November 12, and will feature remarks by the United Nations' High Commissioner for Refugees Filippo Grandi, award-winning author and editor Rev. James Martin, S.J. M.Div. '98, Th.M. '99, and Director of the National Institute of Allergy and Infectious Diseases Dr. Anthony Fauci. 
The evening will also include testimonies and performances from refugees, and a musical interlude from Grammy Award-winning opera singer Isabel Leonard. JRS supporters who contribute a minimum of $100 will receive a link to attend. 
Thursday's JRS event is of special interest to Boston College faculty, students, and alumni who have benefited from a long-standing partnership between the two institutions, formalized in a memorandum of understanding in 2019. Over the past 15 years, the relationship has yielded formative field placements for BC graduate students, research opportunities for faculty, and full-time employment for a number of alumni passionate about global service. 
"There's a perfect symmetry between BC's mission and the needs of JRS," said Theology Professor Stephen Pope. "We're not a service organization, but there's a strong commitment at BC to educating people so they are sensitive to and committed to the wellbeing of people on the margins."
Pope has been involved with JRS in various capacities since 2005. Last August, he worked with BC colleagues and JRS staff to develop and lead a faith-based reconciliation and peacebuilding workshop for South Sudanese refugees living in Uganda, drawing elements from his graduate course "Peace, Justice, and Reconciliation." The powerful experience of working on the ground with refugees inspired a case study that he hopes to use in the same class.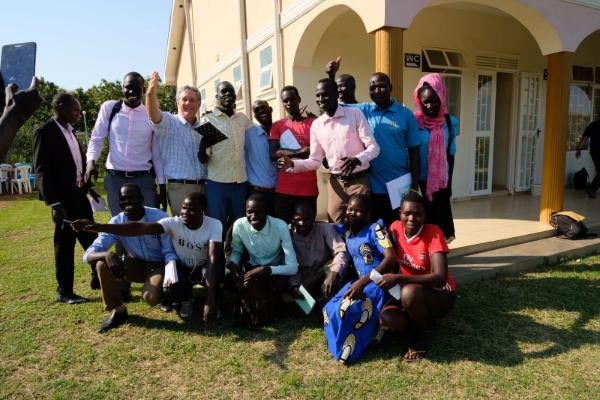 "A lot of things we talk about in class are theoretical and abstract," he explained. "You try to make them real for students by giving some concrete examples about how people live and what they've had to overcome."
From Ecuador to Myanmar, JRS operations span the globe, providing refugees with access to education, legal aid, psychological support, healthcare, and more while also promoting advocacy efforts on their behalf. In 2019, JRS calculated that more than 800,000 people were served through their programs, including more than 240,000 in education and training.
In 2016, JRS turned to the Boston College School of Social Work for help evaluating staff needs across its international offices. The result was a comprehensive employee wellbeing program to reduce burnout and boost retention, as well as a pipeline for social work students interested in global service. Through the Young Professionals Program, BC students work as JRS interns for four to six months, then as full-time staff for a year. 
Kailey Cano '20 MSW credits the program, and JRS, with helping her discover an interest in capacity building—helping an individual gain the skills and tools necessary to do their job more effectively. Now a full-time staff care consultant at the JRS International Office, Cano is overseeing the employee wellbeing programs she helped conceptualize as a BC graduate student. 
"My knowledge of humanitarian staff care and employee wellbeing has grown exponentially since being in this position," she said. "Before it was purely academic, but now I'm seeing it firsthand. I feel really grateful to JRS and BC to have landed here." 
Alix Hackett | University Communications | November 2020