Photography by Ed Hayward. Above, BC faculty members explore the Derinkuyu Underground City of Turkey's Cappadocia region.

The contemporary approach to intercultural learning envisions a vital role for faculty, administrators and other higher education professionals in challenging students to interpret their experiences abroad and in the classroom, integrating them into a deeper understanding of the world and their place in it. To this end, Boston College faculty members embarked on an inaugural Office of International Programs seminar to Turkey in the summer of 2015, one of the many initiatives that are advancing the University's continued commitment to internationalization. What follows is a glimpse of their journey as it happened.
Ephesus, Turkey — Standing on the steps of the Great Amphitheater, Office of International Programs Director Nick Gozik looked south over the Harbor Street, a silvery ribbon of stone slabs worn smooth by the feet of citizens, soldiers, and pilgrims drawn to this settlement that dates to the 10th century BC.
Resting on a fertile plain a few miles inland of the Aegean Sea, near what is now the port city of Izmir, these ruins have borne witness to the empires of ancient Greece and Rome, the early Christians, the Ottoman Caliphate and the enduring confluence of East and West in Asia Minor.

For Gozik and Boston College, this ancient land is new territory.

Gozik led eight BC professors to Turkey last summer for an inaugural faculty seminar that explored the country's rich history and natural beauty, the contemporary issues confronting the Republic of Turkey, and a new connection with its leading university.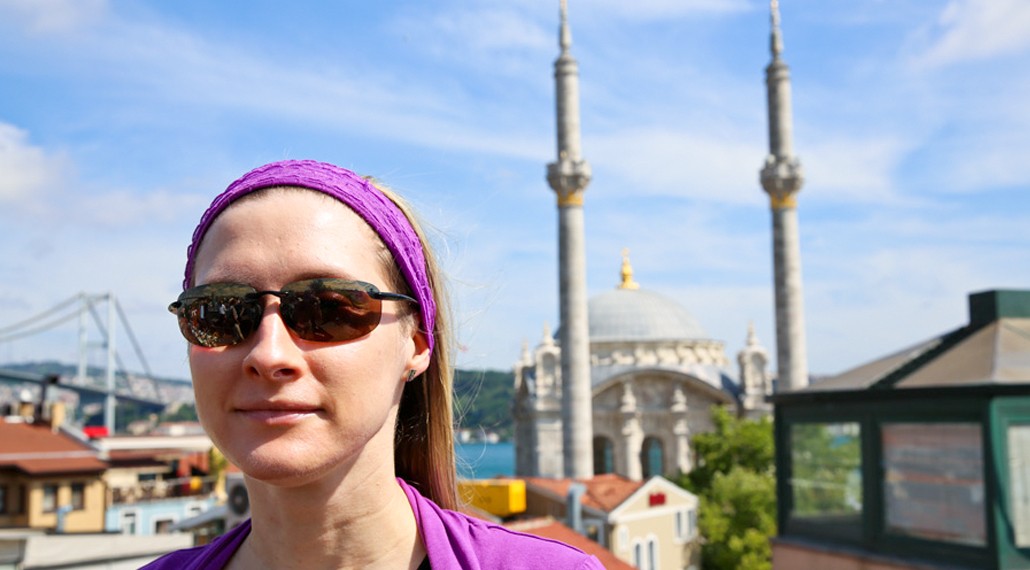 "We're here to look at Turkey on a lot of different levels – historical, cultural, political and religious," said Gozik. "We're also here to allow faculty to meet colleagues at colleges and universities in Turkey, as well as to help us as an institution think about ways to better engage with other parts of the world, including the eastern Mediterranean and Middle East."
With an itinerary that included Istanbul, Izmir and the hill country of Cappadocia, the seminar introduced faculty to academics, journalists, politicians, human rights advocates, and community-based organizations.
"BC has a long history of being international, going back many decades," said Gozik. "We hope to further that tradition by working with a number of units on campus. The faculty seminar here in Turkey is one part of an overall internationalization process."
"Layers of culture"

For most of the early-to-mid career professors, the 10-day seminar marked an introduction to Turkey, but one focused on issues that fit with their scholarly expertise in the fields of music, politics, literature, sociology, economics, theology, communication and educational psychology.

Turkey's grand historic sites – from Istanbul's Hagia Sophia museum and Topkapi Palace to the ruins of Ephesus and Cappadocia's UNESCO World Heritage Site – told many stories.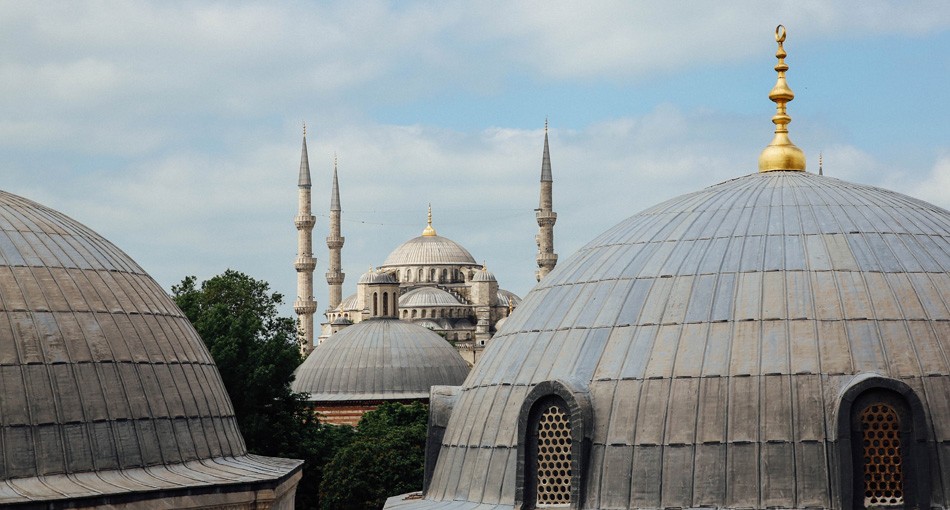 "One of the fascinating things to see in Turkey are the layers upon layers of culture throughout history," said Assistant Professor of Music Ann Lucas, an ethno-musicologist who specializes in Persian and Arab music. "Culture is never destroyed, whether you're talking about Ephesus or the Hagia Sophia. You have structures used by the Byzantines, or the Greeks, or the Romans and they are repurposed. You can see the building up of the culture that Turkey has today."
"A kid in a candy shop"
Associate Professor of Theology David Vanderhooft, a Bible scholar and expert on ancient Israel and the Israelite Kingdoms, marveled at the historical trove that is Ephesus, each stone and script tapping his imagination as an archeologist.
"From the point of view of any archeologist, what gets people interested in antiquity and its remains is the ability to imagine the lives of those who preceded us," said Vanderhooft, the monumental Library of Celsus behind him. "There is a network of human experience in any given artifact that is just mind boggling. When you put that together in a site as massive as this one, it is astonishing. It takes the breath away a little bit."
Vanderhooft didn't try to hide his excitement: "To come to a site like Ephesus… is to be a little bit like a kid in a candy shop."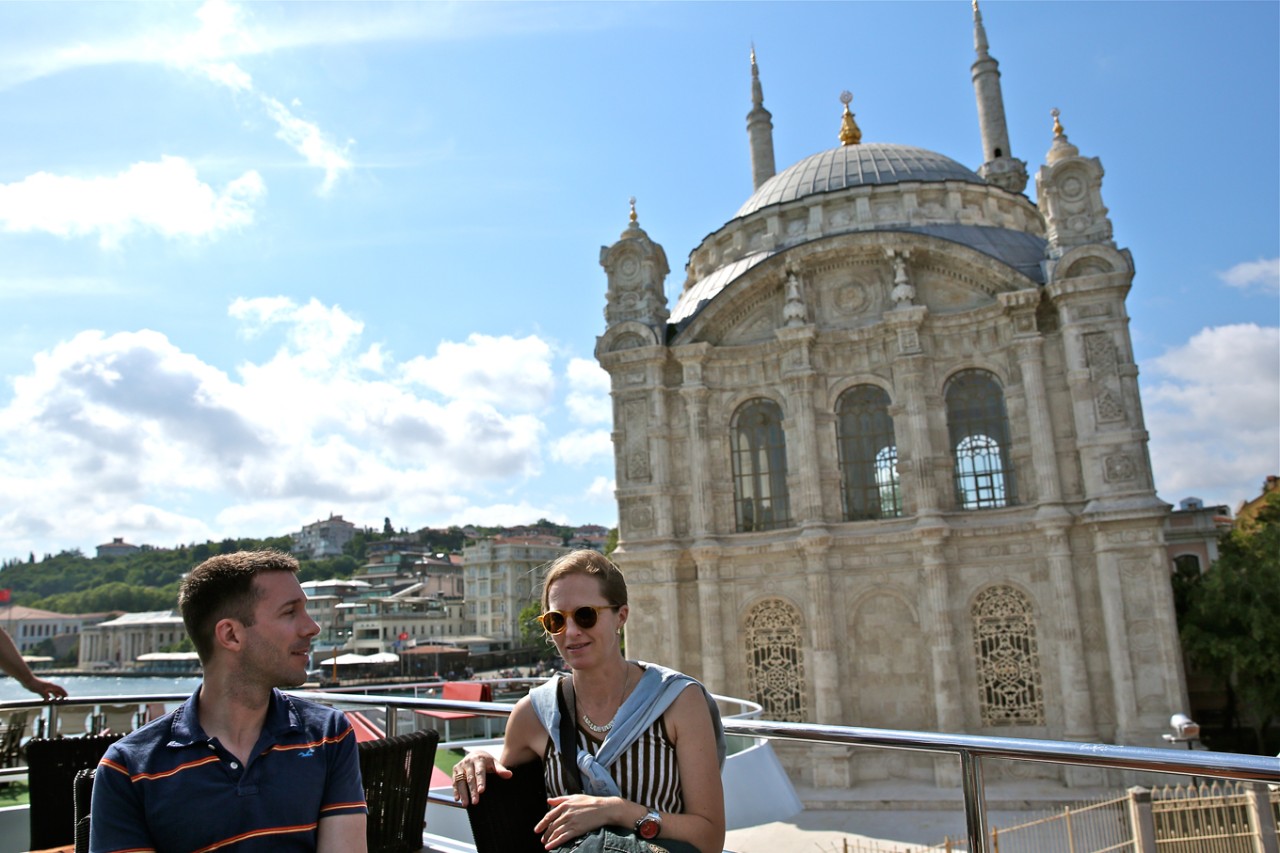 "To gather with God"
About four miles from Ephesus, atop Mount Koressos, sits the House of the Virgin Mary, a brick and stone building where legend holds Mary was brought by Saint John the Evangelist, and lived until the Assumption.
The Catholic Church has not ruled on the authenticity of the legend, but designated the small shrine a Holy Place. It draws thousands of pilgrims and has hosted three pontiffs, most recently Pope Benedict XVI in 2006.
"This site is important out of respect for the people who have been worshipping here for 2,000 years," said Assistant Professor of Sociology Gustavo Morello, S.J., a sociologist of religion. "People have come from all over to share their wishes, their hopes; they have shared their faith with others. The place where Mary lived could be here or there or anywhere. The fact that people have been coming here for 2,000 years to pray to God, to gather with God, is very important."
Outside the building, visitors strolled along tree-shaded paths, stopped to light candles or tucked their prayers, written on paper and cloth, in among the thousands that adorned the site's Wall of Wishes.
"I like being part of this pilgrimage and being part of the crowd that for 2,000 years has been coming here," said Fr. Morello, a native of Argentina. "It is a beautiful place and very moving to join in this tradition of worship in this place."
Boston College faculty outside Istanbul's Blue Mosque. Video by Ed Hayward, edited by Sean Casey.
A formal connection
Building international connections for faculty is central to expanding opportunities for students, said Gozik.
Each year, approximately 1,200 BC students study abroad and the University hosts more than 200 visiting international students, said Gozik, who also directs the McGillycuddy-Logue Center for Global Undergraduate Studies.
Earlier in 2015, BC formalized a future collaboration with Bogazici University, a 152-year-old research university nestled above the 15th-century ramparts of Romelli Fortress, overlooking the Bosphorous Strait in Istanbul. The 11,400-student institution is regarded as the country's top university.
In an ivy-covered administration building, BC faculty met with their counterparts to discuss research interests and potential collaborations.
For Assistant Professor of Communication Anjali Vats, the seminar marked her introduction to Turkish history and society.
"One of the courses I teach is Race, Law and Media," said Vats. "Being in Turkey has forced me to think about how each of those areas works differently in international spaces, particularly in Turkey. Some of the questions that have come up in conversations with Turkish scholars—about race and national identity, and about legal issues such as intellectual property—are of particular interest to me."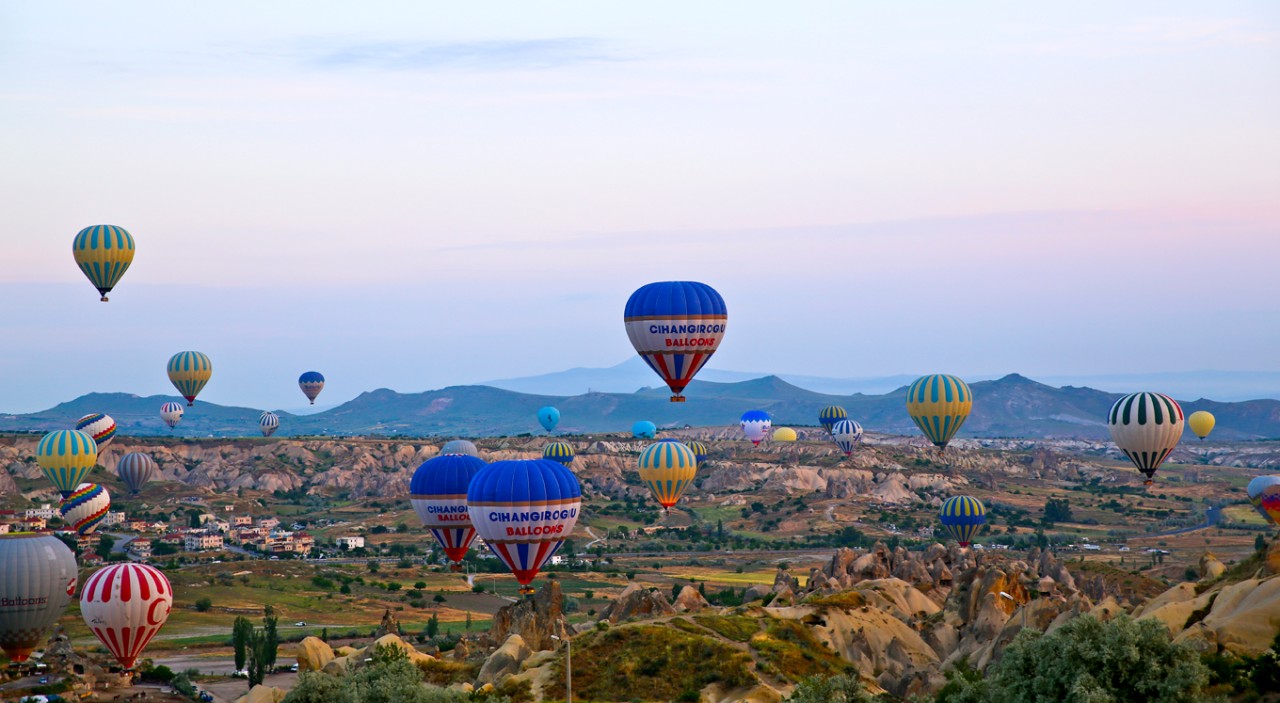 "The streets they walked on…"
On a narrow back street in Istanbul's Galata district, Professor of English Elizabeth Graver entered a small office building. Security staff ushered her and the group through the steel blast doors, then into the ornate offices of Rabbi Itzik Haleve, the chief rabbinate of Istanbul, which is home to a majority of the country's Jewish population of 17,400.

For Graver, the meeting was part of a personal journey. A novelist, Graver will fold the seminar into her research for a book framed around the life of her maternal grandparents, Sephardic Jews born in Istanbul at the turn of the 20th century.

The streets of Galata, home to Haleve's office and the Neve Shalom Synagogue, brought Graver a few steps closer to her grandmother, who left Turkey in 1924, immigrating to Spain – the ancestral home of most of Turkey's Jews – then Cuba and, finally, the United States.

"I think it's really fascinating … that these are the streets they walked on particularly in Istanbul," said Graver. "I'm also interested in all the different cultural and religious intersections that have taken place here over time. The history is incredibly rich.  I'm not thinking about my own project all the time, but (being here) gives me a different sense, particularly when I'm in areas where I know they were."
"The expanse…"
Hand-carved caves, homes and cathedrals dot the hills of central Turkey's Cappadocia region, where ancient societies found safety, sustenance and divine inspiration in the region's unique geology.
The Underground City reaches seven stories below ground, a warren of tunnels, homes and shops that date back to the fourth century. Nearby, rocky spires and caves carved into hills of volcanic dust known as ignimbrite are among the ancient settlements within the Goreme National Park.
Many visitors to the region view these sights from hot air balloons that launch by the dozens just before sunrise, offering yet another perspective on the country.
"That was absolutely breathtaking," Paul Poteat, an associate professor in the Lynch School of Education, said of his early morning flight. "Even though we had only two hours sleep, it provided breathtaking views of this region of Cappadocia and gave us so much to feel and think about. It gives you a visual context of the expanse of the history here."
—Ed Hayward | News & Public Affairs