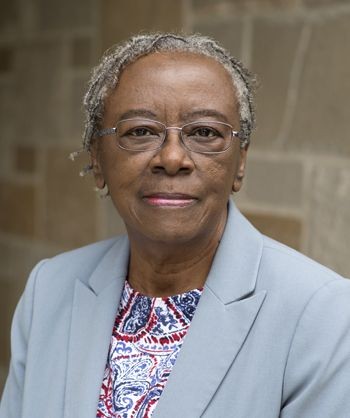 Lynch School of Education Augustus Long Professor Janet E. Helms, director of the Boston College Institute for the Study and Promotion of Race and Culture, received two prominent awards at the American Psychological Association's 125th annual meeting in San Francisco earlier this month.

Helms, a faculty member in the Department of Counseling, Developmental, and Educational Psychology, was presented with a Lifetime Achievement in Mentoring Award in Counseling Psychology by the Society of Counseling Psychology (APA Division 17), and a Lifetime Achievement Award by the Society for the Psychological Study of Culture, Ethnicity and Race (APA Division 45) for outstanding contributions in the promotion of ethnic minority issues over the course of her career.  

Washington, D.C.-based APA is the nation's leading scientific and professional organization representing psychology, with more than 115,700 researchers, educators, clinicians, consultants and students as its members.

"Dr. Helms is a trailblazing producer of scholastic excellence and a wonderful mentor to many psychologists," said Candice Hargons, APA's Council of Representatives member representing the Society of Counseling Psychology division and an assistant professor of counseling psychology at the University of Kentucky. "She is so deserving of this award."

A BC faculty member since 2000, Helms has have been frequently acknowledged for her work and career. Her honors include the national Elizabeth Hurlock Beckman Award for mentoring students; an engraved brick in her name in the Plaza of Heroines at Iowa State University, where she received her doctorate; the Distinguished Career Contributions to Research Award from the Society for the Psychological Study of Ethnic Minority Issues; the APA's awards for Distinguished Contributions to Education and Training in Psychology and for Distinguished Contributions to Research in Public Policy; and the Association of Black Psychologists' 2007 Award for Distinguished Psychologist.  

She also was the inaugural recipient of the Janet E. Helms Award for Mentoring and Scholarship in Professional Psychology, now an annual honor conferred by Columbia University Teachers College, and winner of the 2002 Leona Tyler Award in recognition of an outstanding research career.

"Dr. Helms has the gift of mentoring her students to integrate their personal and professional selves, and envisioning possibilities for themselves that were not even in their awareness," said Alvin N. Alvarez, dean of the College of Health & Social Sciences at San Francisco State University, and a Helms Award for Mentoring and Scholarship recipient. "The fact that she has done this consistently with students across multiple dimensions of identity— race, ethnicity, gender, sexual orientation—makes her without equal.  Many of us, myself included, are indebted to her for helping us to forge a career that we didn't even think was possible."

Helms is past president of the APA's Society of Counseling Psychology, and a fellow in the APA's Counseling Psychology; Culture, Ethnicity and Race; and Psychology of Women (Division 35).  She also is a member of the American Psychological Society, the Association of Psychological Science, and the American Educational Research Association.

—Phil Gloudemans | University Communications | August 2018