"Drinking from the firehose."
That's how John Gallaugher characterizes the learning experience of BC TechTrek, the high-voltage, immersion study initiative that combines intense classroom preparation with field visits to technology hotspots such as Silicon Valley, Seattle, San Francisco, New York, Boston, and Ghana.
Wait, Ghana?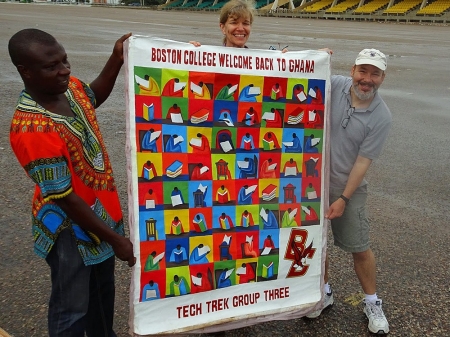 Local bus driver Alex Asare, who has transported BC TechTrek Ghana on each of its three visits, greeted program leaders John Gallaugher and Elizabeth Bagnini and this year's students with a customized welcome banner.
"There is world class, highly impactful industry happening there, and technology such as the cloud and mobile phone are driving massive economic impact, even among the poorest of citizens," said Gallaugher, an associate professor of information systems in the Carroll School of Management.

Early in the summer—following a semester of lectures, seminars, and presentations from visiting experts—21 students accompanied Gallaugher and Carroll School colleague Elizabeth Bagnani to Accra, the newest, and arguably most exotic, BC TechTrek location.

Like other programs under the BC TechTrek umbrella, the experience allowed students to interact and engage with senior managers and entrepreneurs in both established and emerging technology companies. But ISYS3215 Technology & Economic Development—now in its third year, and better known as BC TechTrek Ghana—adds a new element to the equation: the study of how technology is fostering growth and entrepreneurship in the developing world, and the challenges that accompany the effort to harness tech advances.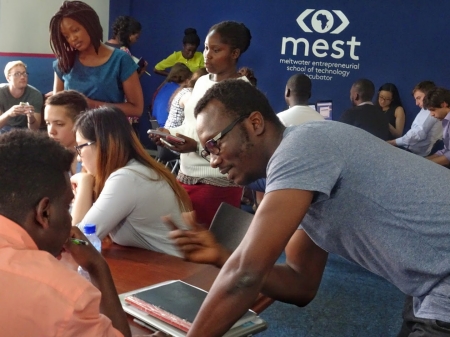 BC students meet with entrepreneurs of the MEST incubator, learning about ideas in progress and firms already launched.
The trekkers spent a significant portion of their weeklong stay at the Meltwater Entrepreneurial School of Technology (MEST), a program for graduates of colleges in Ghana, Kenya, or Nigeria. After a year of study, MEST students are required to pitch a business idea that they can demonstrate has some traction. (Read about MEST's work providing training, investment, and mentoring for aspiring technology entrepreneurs in Africa here.)
"Our students got to see some of these pitches and were so impressed," said Bagnani, an associate professor of the practice in the Carroll School's Accounting Department. "We also heard the MEST students describe the hopeful tech growth in Accra, as well as infrastructure issues and other challenges. We sensed the students' ingenuity and drive to both have a positive impact in Africa and to create sustainable business."
The BC trekkers met with entrepreneurs in the MEST incubator, attended evening panel discussions, and learned about the local business environment and culture. They also fanned out for site visits to emerging tech companies, as well as to the Ghana-based offices of U.S. giants such as Google and IBM.

The Ghana trip is one of a range of Boston College TechTrek field study experiences, offered at varying locations and times of year, which introduce undergraduate and graduate students to tech industry insiders—senior leaders, entrepreneurs, venture capitalists—most of them BC alumni and, in many cases, former TechTrek participants.
"The goal is learning, but students also gain exposure to different career options, firm types, and geographies," said Gallaugher.
The program began in 2005 with a TechTrek West to Silicon Valley for graduate students; undergraduates came on board the following year. Graduate trekkers are chosen randomly among applicants; undergraduates are competitively selected. A total of 23 TechTrek West courses to date have showcased some of BC's best students to alumni in the tech field, and vice versa.

Though its star attraction is the series of some 20 master classes at firms "from Apple to Zynga," Tech Trek is hard work, says Gallaugher, noting that its students fit a full semester's worth of case studies, assignments, and presentations into one half-semester of pre-travel coursework.
"We demand that everyone involved have deep and broad knowledge of the industry, so they can best engage with the executives we're privileged to meet," he said.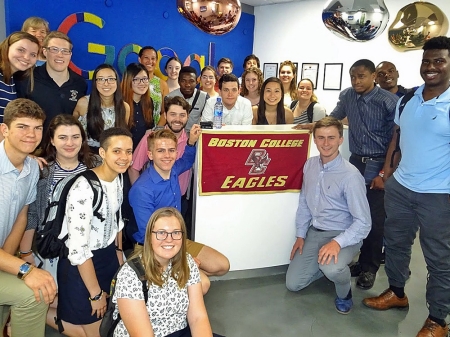 Field visits included the Ghana-based office of Google.
"Grueling" is the word TechTrek alumna Kristie Dickinson '14 uses to describe the pre-travel course. The honors marketing graduate of BC's Carroll School now works in Worldwide Developer Relations at Apple.
"I had never thought of myself as 'a woman in tech,'" she recalls. "I was accepted to TechTrek as a sophomore, and I considered myself much more of a novice in the tech world than my peers." She credits "drinking from the fire house" as a game changer in shaping her future.
Since the program's inception, its horizons have expanded to include a TechTrek for M.B.A. students to Seattle, San Francisco, and Silicon Valley during the first two weeks of January, as well as TechTrek East: weekly TechTrek Boston visits, and a one-day, non-credit TechTrek to New York City each spring for graduate and undergraduate students who board a bus at 4:00 a.m., hit five tech firms, and return to campus at 11 p.m.
And, with the introduction of TechTrek Ghana, the program went global.
In 2012, Gallaugher received a phone call from former student and TechTrek West participant Kevin Schuster, an alumnus of BC's Faith, Peace, and Justice Program who was working at MEST, using a textbook that Gallaugher had written and made available for free. Schuster encouraged the professor to consider a Ghana trek.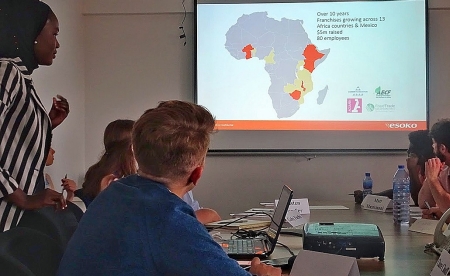 "World class, highly impactful" work is taking place in Ghana, says Gallaugher.
"The Carroll School sponsored me to travel to present at MEST, meet with local firms, and explore the accommodation and transport possibilities of running the program," said Gallaugher. "We went from idea to reality in about 9 months. I really am grateful for the support, encouragement, and low-bureaucracy experimentation that led us to launch."
As plans for TechTrek Ghana were taking shape, Gallaugher learned that, by coincidence, Bagnani was using a reading about MEST in Portico, the ethics-focused foundational course required of all first-year students in the Carroll School.
"The article allowed our class to widen our thinking about social entrepreneurship beyond a U.S.-centric focus," she said.
When Gallaugher invited Bagnini to join him in leading the new venture, he didn't sugarcoat the logistical challenges of extending BC TechTrek to Africa. But she couldn't ignore the coincidence that had led to the opportunity. "I was in," she said. "There was so much to learn."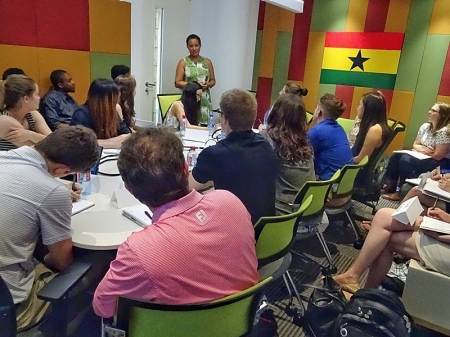 Entrepreneurs in Accra discussed tech growth and infrastructure challenges.
The first trip took place in 2013, with a full schedule of company visits, meetings, panel presentations, and—importantly—socializing with current MEST students. The trekkers' required field journals often cite as a highlight of the experience "just having a conversation with a MEST student about life," said Bagnani. "To me, that's the beauty of field studies: they provide the kind of wide learning that comes through connection with people and through all senses. They help us sense tensions and challenges and, perhaps, help us consider some of our own tensions and actions."
BC students also must submit a final project following their return from the trip, capping an adventure that is both fun—the group squeezed in some time to sample local cuisine and traverse the hanging bridges of a canopy walkway in Kakum National Park—and challenging.
It's rigorous for the faculty, too. "I'd estimate TechTrek Ghana takes ten times the prep time that TechTrek West requires," Gallaugher said. "But it's worth it."

Students of the Ghana trip—and of BC TechTrek in general—uniformly praise the initiative.

"The TechTrek program has been a remarkable complement to my business education at Boston College," said Carroll School student Branick Weix, a sophomore who has already been on TechTrek Ghana, TechTrek NYC, and some TechTrek Boston visits. "Not only do we get an in-depth classroom learning experience, but we get to take what we learn and see it in action in the real world. I'm amazed at the companies we're able to meet with and learn from first hand," he said.
For Justin Gregorius '18, a history and philosophy major in the Morrissey College of Arts and Sciences, serving on the executive board of BC's Information Systems Academy (the club that facilitates the Teck Trek trips) and participating in some nine TeckTrek Boston excursions has influenced a personal venture: he and his brother have recently launched StoryTime, an app that allows parents, family members and friends to read to children from anywhere in world. "Tech Trek has given me the unique opportunity to actually talk to people who are using technology to positively impact the world," Gregorius said, an experience that inspired him to follow his passion and work to realize a business idea with a socially responsible mission: to allow children to explore new ideas and stories with loved ones who may be away from home due to hardship or other commitments.

While Weix—who recently was named among "25 local talents aged 25 and under" by The Improper Bostonian for his SkyLink Productions company, which uses drones to collect visuals for purposes ranging from marketing to tracking endangered sea turtles in Costa Rica—believes the field study is a crucial element of TechTrek, he considers the cornerstone of the program to be BC's alumni, who have a strong presence at many of the major tech companies the program visits, often spurred by their own TechTrek experience. "It's inspiring to see the commitment and dedication of alumni who meet with us and tell us about their companies."
Josh Coyne '14, an alumnus of both TechTrek West and TechTrek Ghana, agrees.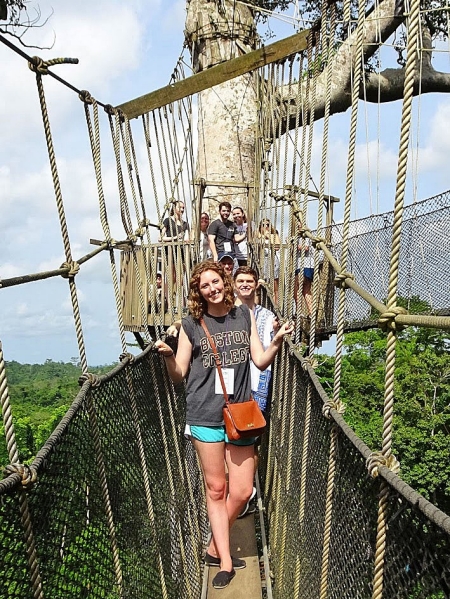 Trekkers had a bird's eye forest view from Kakum Canopy Walkway.
"Applying for TechTrek was one of the best decisions I made at Boston College," said Coyne, who now works at Qatalyst Partners, a boutique tech investment bank that advised LinkedIn during its recent sale to Microsoft. "It gave me a new perspective on what's possible in technology—both in Silicon Valley and in Ghana—and fueled a lot of the curiosity that has led me to where I am today working in the Valley."
Though Gallaugher and Bagnani will not be participating in TechTrek Ghana in 2017 due to previous planning conflicts, they're hopeful that the program will continue with other faculty leaders. As for BC TechTrek as a whole, Gallaugher credits the cycle of program participants graduating into program supporters as the recipe for growing strength.
BC Tech Trek "provides rocket fuel for our best and brightest," said Gallaugher. "Much of it is built on the brains and commitment of our alumni. There are so many Eagles reaching out, pointing directly to the benefits they've received from our program and asking how they can help more. Our resources are getting stronger with each iteration," he said.
"When student becomes teacher and I learn from them, it's absolutely the best round-trip an educator can have."
Learn more about BC TechTrek at the Carroll School of Management website.
—Siobhan Sullivan; Patricia Delaney | News & Public Affairs