There were just three teams remaining on the morning of April 21, but despite its onlne setting, the Boston College Corcoran Case Competition was a virtual NCAA "Final Four" in its intensity.

Focused on the theme "The Future of Housing," the second annual competition drew 24 teams of undergraduates from across the University's schools and programs. Each team was faced with the challenge of formulating a realistic, comprehensive, and well-conceived housing proposal for an actual geographic location in Greater Boston. This year's specific task: Transform a parcel, a current parking lot in Beverly, Mass., into a mixed-use, affordable housing development.

Besides bragging rights, the victorious teams netted cash prizes—$5,000 for the winner,  $2,000 for the runner-up, and $1,000 for third place—but all 100-plus participants walked away with valuable experience, said Neil P. McCullagh '91, executive director of the Carroll School of Management's Joseph E. Corcoran Center for Real Estate and Urban Action, which coordinates the competition.

"Educating and inspiring BC students from all disciplines is part of our mission. We want students to understand how real estate can positively impact marginalized and vulnerable communities, how it can transform neighborhoods and improve peoples' quality of life," he said.  "This competition provides the opportunity for students to learn from experts, develop their knowledge, and then engage is the analysis of an urban action-focused real estate case."

While other universities stage similar real estate case competitions, the Corcoran Center Case Competition is distinctive because of its focus on challenging students to work on a project that develops economic value while simultaneously addressing social value creation, said Assistant Director Taylor Perkins, who managed the case competition.

"This competition mirrors BC's mission, and it's clearly a reason why students respond with such passion," said Perkins.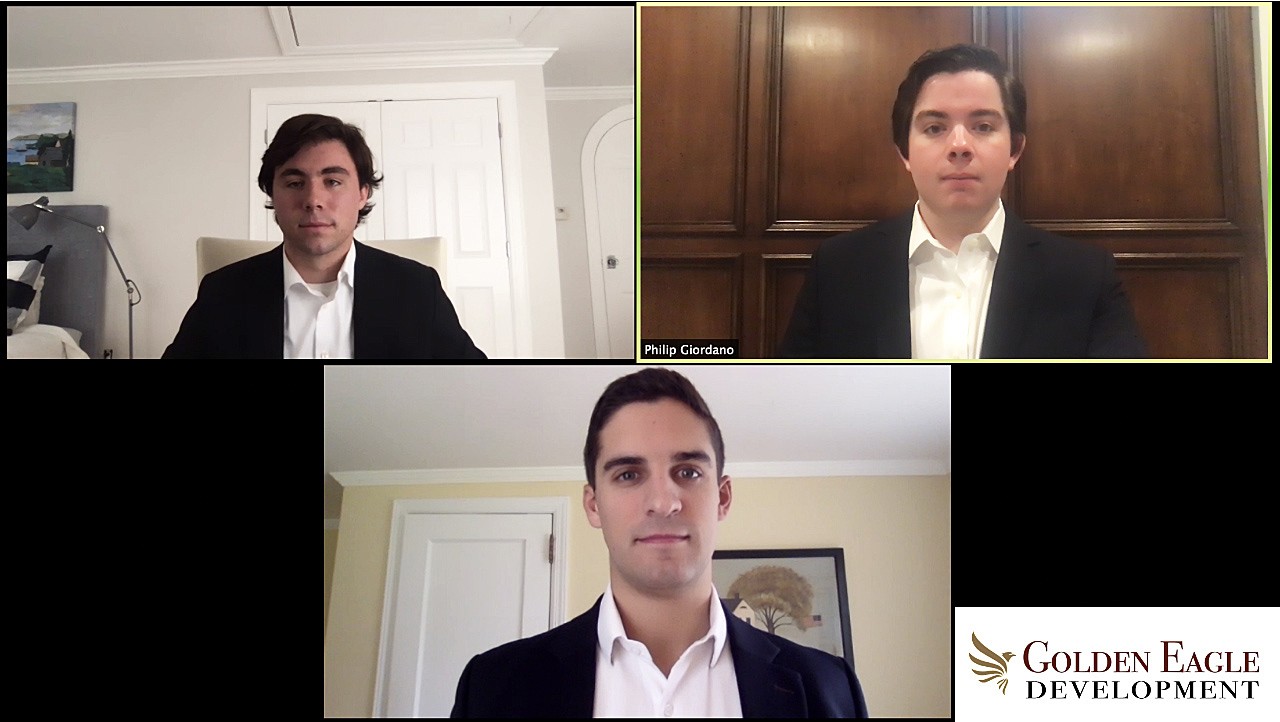 The Corcoran Center was established in 2014 through a gift to Boston College from Joseph E. Corcoran '59, H '09, founder and chair of Corcoran Jennison Companies.  A Dorchester native and a former BC trustee, Corcoran taught a course in the Carroll School that eventually grew into the Corcoran Center. According to McCullagh, Corcoran wanted students to understand real estate and to work with hands-on projects in connection with the city.  Today, the center introduces undergraduates to the real estate industry and urban action through courses, experiential learning opportunities, and engagement with the community.  

The Corcoran Case Competition was launched in 2019 with the support and advice from Darin Davidson, president of the Spokane-based Inland Group, which specializes in the development and construction of multifamily residential communities, and Boston Capital, a multifamily housing investment company.  Davidson sought to provide the chance for students to understand the tremendous need and opportunity that affordable housing offers while simultaneously pursuing a rewarding and successful career, noted McCullagh. Likewise, Boston Capital provided technical support and counsel throughout the workshop and the case development phases.

"It was important to collaborate with 'real world' industry organizations that share the vision and the desire to prepare students with business skills, and to provide them with the opportunity to practice what they've learned," said McCullagh.

Given the profound shortage of affordable housing in America, a key objective of the competition is to build awareness of its need and to build a pipeline of students with skill and interest in the field, he said.

This year, all 24 teams participated in one in-person workshop on real estate development in February, and following the University shutdown of on-campus classes, a virtual session on real estate underwriting.  Subsequently, 11 teams submitted proposals on March 30 that were reviewed by judges and industry experts Dayna Hutchins '96, J.D.'05 of Holland & Knight LLP, Joan Falvey '90 of MMA Capital Management, and Rodger Brown '77 of Preservation of Affordable Housing Inc.

The judges' verdict: Boston College Group (with seniors Billy Kan and Wendy Yang and juniors Ivan Ip, Kelly Jiang, and Gordon Chang); Urban Planning Partners (sophomore Yuxin Bai and juniors Yu Chang, Zhanhao Liao, Xinyue Niu, and Mingze Zhang), and defending champions Golden Eagle Development (juniors Philip Giordano and Max Cohen and senior Michael Morretta) would advance to the finals.
"

Given the shift to online collaboration midway the competition, they did not miss a beat. The quality of presentations was excellent, and the judges were very impressed with the caliber of the finalists' work.

"
Each of the three teams participated in a one-hour consultation with alumni advisor Tara Mizrahi '95 of Affirmative Investments to assist them in refining their proposals and presentations.

Championship Tuesday tipped-off at 10 a.m. via Zoom, with Corcoran Jennison Companies President Michael J. Corcoran, State Street Bank & Trust Managing Director Adam Galowitz, and MassHousing Executive Director Chrystal Kornegay serving as judges. Each team was allotted 15 minutes for their presentation and 15 minutes for questions and answers.

The winner and still champion: Golden Eagle Development.

"As a team, we probably had 15 to 20 video conference calls to discuss our proposal.  We spent a lot of time thinking about demographic trends and the needs of the city," said Morretta, a Golden Eagle Development newcomer. "Through the case, we learned that developing affordable housing is much more complex than developing market-rate housing. The low-income housing tax credit is a key element in financing these projects; without it, no private developer would take on an affordable project because the lower rents don't justify the cost of construction."

Giordana remarked on the "interesting challenges" in this year's competition, which required his team "to pull on our experiences from the classroom, our internships, and from outside research to deliver a final product that really met the needs of the City of Beverly."

A key piece of research, he added,  was the city's Community Housing Plan, which noted that a significant portion of the senior citizen population is extremely rent-burdened "and the majority of the affordable senior housing is outdated and nearly fully occupied, plus the market-rate senior housing units are very expensive.  Meanwhile, the senior population is growing, demonstrating that the demand for senior housing will persist for years to come. With all of this in mind, we determined that we should focus on providing affordable rental units for Beverly seniors."

Cohen—who expressed gratitude to Perkins and McCullagh, and this year's judges, for their commitment to the competition "under such unique circumstances"—cited his team's breadth of expression and passion for certain aspects of the case as important factors in their success. "I really enjoy the market research and development planning aspects. However, I think that our ability to have our specialties, while still working together, made our proposal stand out, and enabled us to form a proposal that would help the city continue to grow in the direction that they outlined in their comprehensive plans."

"I was very impressed with the students' proposals," said McCullagh, "Given the shift to online collaboration midway the competition, they did not miss a beat. The quality of presentations was excellent, and the judges were very impressed with the caliber of the finalists' work.  We are committed to `scaling-up' the competition going forward."

Phil Gloudemans | University Communications | April 2020