The arrival of Allison Curseen and Jonathan Howard to the Boston College faculty this academic year reflects the University's commitment to strengthening its African American literature teaching and research.
Curseen and Howard were jointly appointed to the English Department and African and African Diaspora Studies Program, each bringing an interdisciplinary approach with fresh perspectives to examine African American fiction and non-fiction – and the African American experience – in larger contexts.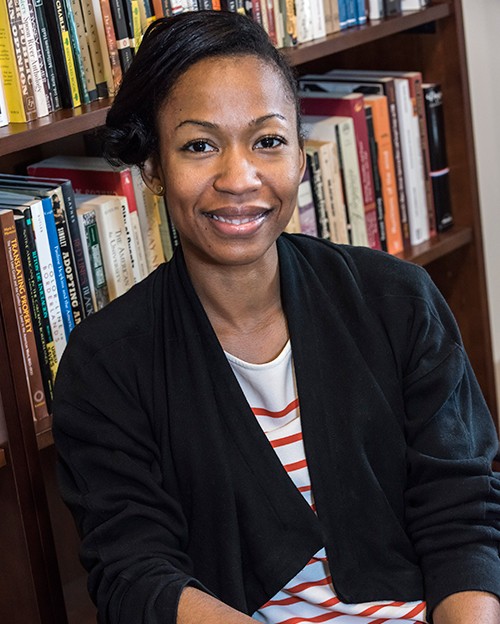 Curseen – who will formally begin teaching at BC next fall after her Woodrow Wilson Fellowship at Princeton University this academic year – said she was drawn to BC because the University had shown commitment to growing African and African Diaspora Studies and diversity in the faculty. BC's Jesuit tradition was another plus, she added.
Specializing in African American and 19th-century American literature and culture, Curseen has a particular interest in performance and performance studies, child studies, and theories of fugitivity and unruliness. 
"African American literature from the 19th century is my first love," said Curseen, whose most recent work appears in the collection Saving the World: Girlhood and Evangelicalism in the Nineteenth Century. "I love the way language works in that period, where words are still the primary communicator for both the individual and public imagination."
Curseen likes to encourage students to be attuned to nuances and details in literature – such as the way a character's movements are depicted – that might not ordinarily capture one's attention. This means sometimes being less focused on linear plot development, she said.
"Reading a text is like entering a conversation; you can join in at various points and in various ways and for various reasons, but that doesn't mean that the whole conversation conforms to your point and manner of entry.  You still have to find a way to discover, understand, and address what you missed and how that affects the way you view things."
Curseen earned an MFA from American University, a bachelor's degree from Oberlin College and her doctorate from Duke University. Her honors include two Professional Staff Congress-City University of New York awards, a Berggren Enrichment Fund Grant from Baruch College, a Duke Summer Research Fellowship and the American University Thesis Award.
"Allison Curseen's current research on movement and constraint of the black child's body in 19th-century American literature, along with her future project on truancy in political and social movements, are smartly conceptualized and theoretically sophisticated," said Associate Professor of History Martin Summers, who directs African and African Diaspora Studies. "They are poised to make important contributions to African American literary studies, childhood studies, and performance studies."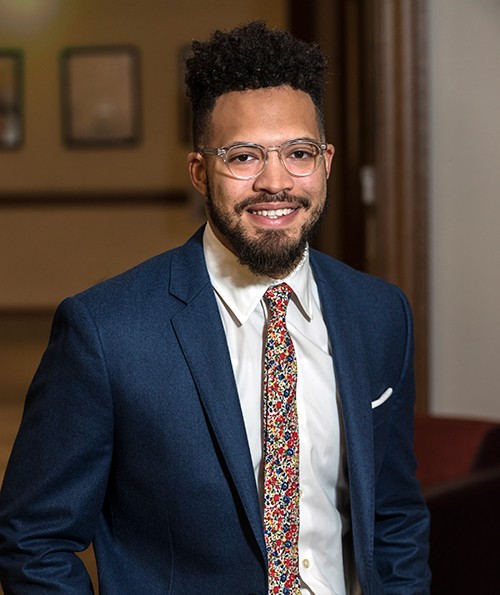 Howard holds a doctorate and master's degree from Duke, and a bachelor's degree from the University of Pennsylvania. He has earned several noteworthy academic awards, including a Fulbright Research Grant to Brazil, a Mellon Mays Undergraduate Fellowship and a DeWitt Wallace-Reader's Digest Graduate Fellowship.
"Coming to BC enabled me to pursue two areas – literature and African American studies – that have been a big part of my training," said Howard. "I liked the fact that there is institutional support for and commitment to this kind of scholarship."
 Howard's scholarly interests center on environmental humanities as related to African Diaspora literatures, as reflected in his current book project, The Blueness of Blackness – a study of the trope of water in African Diaspora literature – and in his undergraduate course Black Nature: Race and Ecology.  
"The idea is to consider fully the black experience in the natural environment," he said. "If race is a social construct, nature is as well – how do these two feed into another? For example, elements of nature might be commonly associated with serenity and peacefulness, but in African American history, nature can be hostile, traumatic: We think of slaves thrown into the ocean from the ships, or trees used in lynchings. 
"My class addresses the myth that African Americans 'don't care' about nature or pastoral writing. We look at how blackness creates a window for imagining how we exist within nature, from oppression to consent to resistance."
Howard notes that the interdisciplinary dimension to Black Nature could be of interest to undergraduates majoring in natural sciences, especially environmental studies. 
"I have found BC students to be thoughtful, and very open to exploring connections between subjects that may seem unlikely but which can tell us a lot about the human condition." 
Summers praised Howard's work. "His use of water as a trope to reimagine the age-old questions of 'What does it mean to be black?' and 'What does it mean to be "a problem?"' is bold and innovative. His research – as well as his current course, Black Nature: Race and Ecology – speaks to the broader question of black people's ethical relationship to the land. 
"Both Curseen's and Howard's arrival nicely complements our current core faculty, Rhonda Frederick and Regine Jean-Charles, who teach and do research in African Caribbean literature."
Professor of English Min Song, who chaired the search committee that interviewed Howard and Curseen, said that in reviewing applications, "I was thoroughly impressed by how accomplished the candidates were – it's clear to me that the study of African American literature is an exciting, vital field full of accomplished scholars and brilliant scholarship. Both Jonathan and Allison rose quickly to the top of this very competitive pool of applicants, and I couldn't be happier that they are now members of the English Department." 
-Sean Smith / University Communications