The Catholic Theological Society of America honored three Boston College theologians at its convention earlier this month, most notably Professor of Theology M. Shawn Copeland who received the prestigious John Courtney Murray Award in recognition of a lifetime of distinguished theological achievement.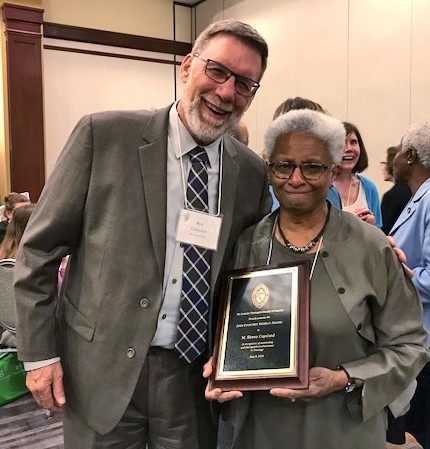 Named for an influential American Jesuit theologian (and Boston College alumnus), the John Courtney Murray Award is the highest honor bestowed by the CTSA, the principal association of Catholic theologians in North America and the largest professional society of theologians in the world. Copeland is the first African American recipient of the award.
"Like others who have received the John Courtney Murray Award, I am acutely aware that there are many other theologians who should be so honored," said Copeland. "I experienced the occasion as a moment of grace and urged the members of the CTSA to commitment to the recruitment and education of black Catholic scholars for theological studies."
The CTSA described Copeland as a "prolific, profound and pioneering scholar" who has "contributed generously to the academy, to the pastoral life of the church and to the community."

Also honored at the convention were School of Theology and Ministry Associate Professor Nancy Pineda-Madrid and Assistant Professor of the Practice of Theology Elizabeth Antus. Pineda-Madrid received the Ann O'Hara Graff Memorial Award from the Women's Consultation in Constructive Theology of the CTSA. The award recognizes Pineda-Madrid for her scholarship, clear and prophetic voice, and many ministries with and on behalf of women. Antus received the Catherine Mowry LaCugna Award for new scholars for the best academic essay in the field of theology within the Roman Catholic tradition. She was recognized for her article "'Was it Good for You?' Recasting Catholic Sexual Ethics in Light of Women's Sexual Pain Disorders," forthcoming in the Journal of Religious Ethics.
Copeland is well-known for her research and teaching on theological anthropology and political theology as well as the African and African American intellectual history and religious experience. She is the author and co-editor of several books, including the forthcoming Knowing Christ Crucified: The Witness of African American Religious Experience (Orbis 2018) and more than 125 articles, book chapters, and reviews.
Copeland earned a doctorate in systematic theology from Boston College, where she has taught since 2002. She has also taught at Marquette University, Yale Divinity School, and Xavier University of Louisiana.  Copeland has received six honorary degrees. She is also a recipient of the Marianist Award, which honors a Catholic scholar, author and theologian who has made an outstanding contribution to the intellectual life; the Yves Congar Award for excellence in theology, and the Elizabeth Seton Award, which recognizes distinguished women in theology. She is a past president of the CTSA and former convener of the Black Catholic Theological Symposium.
 
-- Kathleen Sullivan | University Communications | June 2018