The past year has seen the Institute for Advanced Jesuit Studies at Boston College forge new partnerships—on campus and around the globe—to advance its mission to deepen the appreciation and knowledge of the history, spirituality, and pedagogy of the Society of Jesus, according to University Vice President and IAJS Director Casey Beaumier, S.J.

Fortified by these collaborations, the institute recently released a new digital bibliography and in June will host its fifth annual International Symposium on Jesuit Studies.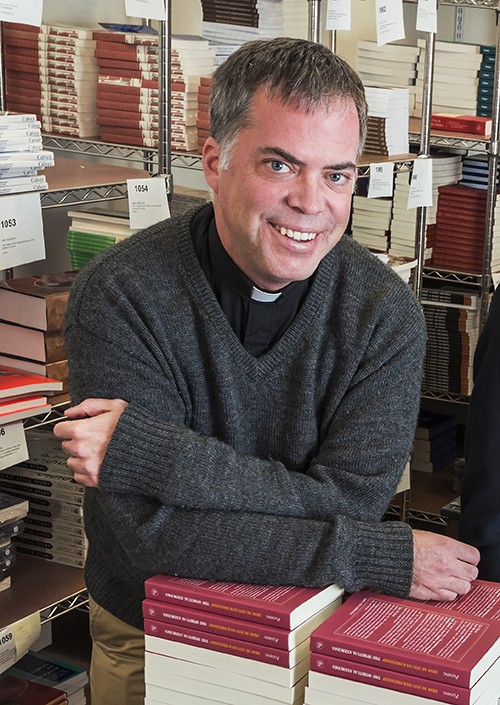 The Jesuit Online Bibliography [jesuitonlinebibliography.bc.edu] is an open-access, searchable database of 21st-century Jesuit Studies scholarship that provides the records, abstracts, subject categories, and direct links to books, chapters, articles, reviews, dissertations, and other materials related to the study of Jesuit history, spirituality, educational heritage, and pedagogy. Developed and hosted by Boston College Libraries, the Jesuit Online Bibliography is a joint project among three founding institutions: the IAJS, the Archives of the Jesuit General Curia in Rome, and the Jesuitica Project of the University of Leuven, Belgium. Additional Jesuit archives, institutions, and research centers are joining the project as well.
The bibliography is an example of IAJS' renewed spirit of collegiality in a global context, noted Fr. Beaumier, who also serves as University Secretary. "Jesuit history centers, Jesuit colleges and universities, and Jesuit high schools feel invited to be a part of this important work that the institute does through Boston College." 

"In joining together with Belgium and Rome, this curated collection is better able to magnify and amplify scholarship, while also reducing overlapping work," said IAJS Associate Director Seth Meehan, who serves as executive editor of the bibliography and oversaw the bibliography project with IAJS Research Scholar Cristiano Casalini.
A previous version of the database was housed by an outside publisher, but this new bibliography resource was designed and customized by staff from BC Libraries using open source technology—a significant project that took some 600 hours to complete.
Fr. Beaumier and Meehan had high praise for the talent and expertise of BC Libraries' digital scholarship team that created the database. Led by Senior Digital Scholarship Librarian Anna Kijas, the team included: Jesse Martinez, Ben Florin, Sarah DeLorme, John O'Connor, and Margaret Critch.
According to Casalini, the bibliography will serve researchers looking for secondary source materials and conference papers as well as publishing houses and institutions seeking an outlet for their scholarship. Researchers will be able to use the database citations to connect with other researchers in the field.
"

BC is collaborating with institutions around the world to foster the opportunity for scholars to encounter and support one another. It is making global opportunities and possibilities for scholars a reality.

"
This year's International Symposium on Jesuit Studies, "Engaging Sources: The Tradition and Future of Collecting History in the Society of Jesus," which runs June 11-13, has drawn the greatest number of submissions ever for this series. Crossing thematic, chronological, and disciplinary boundaries, the event has featured scholarly presentations on topics such as the distinctiveness of Jesuits and their ministries and the encounters between Jesuits and Protestants in Africa, Asia, and the Americas.
According to organizers, since its founding, the Society of Jesus has emphasized the importance of record-keeping—of corresponding, circulating, and preserving Jesuit materials from around the globe. As a result, this distinctive archival mentality has yielded immensely important source materials that have contributed to the ongoing collective history of the Society of Jesus and its self-understanding as a religious order. Thriving over time, a multitude of Jesuit sources stand today as unique perspectives, or Jesuit windows to history.
Some 70 scholars from around the world will present at the symposium, examining this engagement with sources, both its continuing tradition and its preservation and dissemination.
Simon Ditchfield, professor of Early History at the University of York (U.K.), will deliver the keynote address. Burns Librarian Christian Dupont will chair a plenary session on "Jesuit Libraries of the Past, Present, and Future."

In addition to Fr. Beaumier, Meehan, and Casalini, other BC-affiliated participants will include: Claude Pavur, S.J., Aislinn Muller, and Elisa Frei of IAJS, and André Brouillette, S.J., of the School of Theology and Ministry.
Casalini said the international symposia and the new online courses offered this past year through the institute promote Jesuit scholarship with an emphasis on a global perspective.
Other recent bridge-building IAJS endeavors include the Jesuit Studies Café, a monthly event that features a scholar presenting on a topic, followed by a Q&A with audience members. While attendees can come to the institute's library to take part in the café, many presenters and audience members participate via Zoom video conferencing. Meehan noted that café presenters and participants have represented the U.S. and beyond, including Africa, Asia, Europe, and South America.
For Meehan, all IAJS projects are rooted in a "dynamic collaboration" that has had a major influence on the institute's outreach and mission of advancing Jesuit studies.
"BC is collaborating with institutions around the world to foster the opportunity for scholars to encounter and support one another. It is making global opportunities and possibilities for scholars a reality," said Fr. Beaumier. He added that during a recent visit to Rome he had several conversations where he found that people had "confidence in, and appreciation of, the efforts of the University on behalf of the Society."
For more information, visit the Institute for Advanced Jesuit Studies website.
Kathleen Sullivan | University Communications