In a historic meeting at Boston College, more than 40 theologians from Latin America, Spain, and the U.S. will discuss ways to unite both the practice and theology of the Catholic Church to complement Pope Francis' vision of a "poor church for the poor."
According to organizers, this week's Ibero-American Conference of Theology is the first-of-its-kind gathering of Hispanic theologians in the U.S. and scholars from Latin America and Spain, who will address three key topics: globalization, social and economic exclusion, and the challenge of interculturality or the integration of different cultures living in the same place.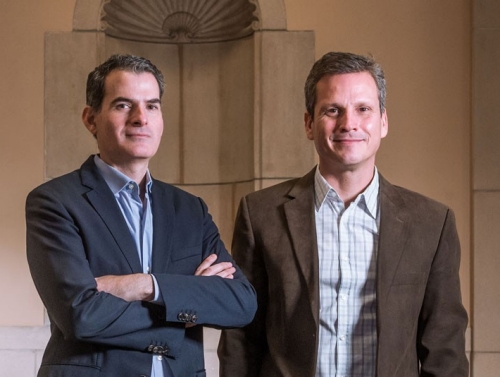 The conference – which will be held at the BC Connors Center in Dover, Mass. – is being attended by two papal delegates, Cardinal Baltazar Enrique Porras Cardozo of the Pontifical Commission for Latin America and Bishop Raúl Biord Castillo, S.D.B., who together will present the group's work to Pope Francis.
"The theologians will be reflecting on the contribution of Latin American theology to Pope Francis' reforms," said School of Theology and Ministry Visiting Associate Professor Rafael Luciani, one of the conference organizers.
According to Luciani, Pope Francis believes in a ministry and theology that follows Argentine liberation theology, or so-called theology of the people, which places great emphasis on the lives of the poor. "He sees that the Church – both the pastoral and the academic – must be in the midst of the poor, serving them and being committed to their struggles and hopes, which is a very Latin American theology.
"This theological perspective, assumed by Pope Francis, has met with resistance in Europe and opposition in the U.S.," continued Luciani, who noted that more than 65 percent of Catholics live in the Global South.
A highlight of the conference will be a public forum on Feb. 8 at 5:30 p.m. in Robsham Theater featuring University of Notre Dame John Cardinal O'Hara Professor of Theology Gustavo Gutiérrez, O.P., the founder of liberation theology, and Juan Carlos Scannone, S.J., a seminary instructor of Jorge Bergoglio (Pope Francis) and founder of the philosophy of liberation. The panel discussion, titled "Present and Future of an Ibero-American Theology in Times of Globalization, Interculturality, and Exclusion," will be moderated by STM Professor Thomas Groome, director of the Church in the 21st Century Center.

"This is not a new theology, but a way of doing theology in dialogue with other cultures and people, from the reality of the excluded in every society and with a respect for differences and identity. It is about integrating diversity instead of separating people and cultures."—Rafael Luciani
The panelists will highlight some of the insights from the gathering of theologians and illuminate how Latin American liberation theology shapes Pope Francis' teachings and pastoral actions, as well as discuss the current process of Church reforms.

Theology and ministry can work together to alleviate poverty and inequality in Latin America and around the world, said Jesuit Superior General Arturo Sosa, S.J., in a video welcome to international theologians participating in the Ibero-American Conference of Theology, hosted by the Boston College School of Theology and Ministry from Feb. 6-10.

Luciani added, "This is not a new theology, but a way of doing theology in dialogue with other cultures and people, from the reality of the excluded in every society and with a respect for differences and identity. It is about integrating diversity instead of separating people and cultures."
The conference will conclude on Feb. 10 with a Mass at 6:20 p.m. at St. Ignatius Church. Local members of Hispanic religious and social groups have been invited to the Mass, which will be celebrated in Spanish by Cardinal Porras. The outreach involves different people and organizations, some Catholic, others not, who are all working on behalf of the Hispanic community and immigrants in Boston.
Other conference organizers are STM Visiting Associate Professor Felix Palazzi, Carlos Maria Galli of the Pontifical Catholic University of Argentina and Fr. Scannone, a professor emeritus at the Jesuit Seminary of San Miguel in Argentina. 

In addition to Luciani and Palazzi, BC theologians participating in the conference are Flatley Professor of Catholic Theology Robert Goizueta and STM Associate Professor Nancy Pineda-Madrid and Assistant Professor Hosffman Ospino. Cardinal Sean O'Malley, O.F.M., Cap., archbishop of Boston, will also meet with the conference participants.

Luciani says it is most appropriate that Boston College, and in particular the School of Theology and Ministry, takes on the pivotal role of hosting this international theological discussion.

"As a Jesuit university, Boston College is committed to building bridges," said Luciani. "STM is a place of many cultures and a place where people work together to respond to Pope Francis's call to action."

Added STM Dean Thomas Stegman, S.J.: "The School of Theology and Ministry is delighted to be a co-sponsor of this important gathering of so many top theologians in the field. This is theology being done in service to the Church. To host such an illustrious group of scholars is a real feather in Boston College's hat." 

Luciani says he sees evidence of the interest in this topic from his own teaching. This past fall, he and Palazzi taught an online course in Spanish through STM titled Theological and Social Aspects of the Pontificate of Francis. The course attracted more than 3,000 students. The upcoming 'Apocalypse - Terror or Hope for Humanity?' course taught by Palazzi will address the current climate of fear in the lives of Hispanic communities in the U.S.

The Ibero-American Conference of Theology is co-sponsored by the BC's School of Theology and Ministry, Office of the President, Institute for the Liberal Arts, and Theology Department.

—Kathleen Sullivan | University Communications