One hundred students from 18 states and 59 high schools—including a contingent of 31 students from Japan—gathered on campus in early August to learn about Jesuit spirituality and education through the inaugural Ever to Excel program established by the Institute for Advanced Jesuit Studies at Boston College. The weeklong program had a special focus on formation, discernment, and service.
"I've never been involved in anything related to the Jesuits, so I wanted to come and find out what it was all about," said Ever to Excel participant Julia Miller, a rising senior at Xavier College Prep, an all-girls Catholic school in Phoenix.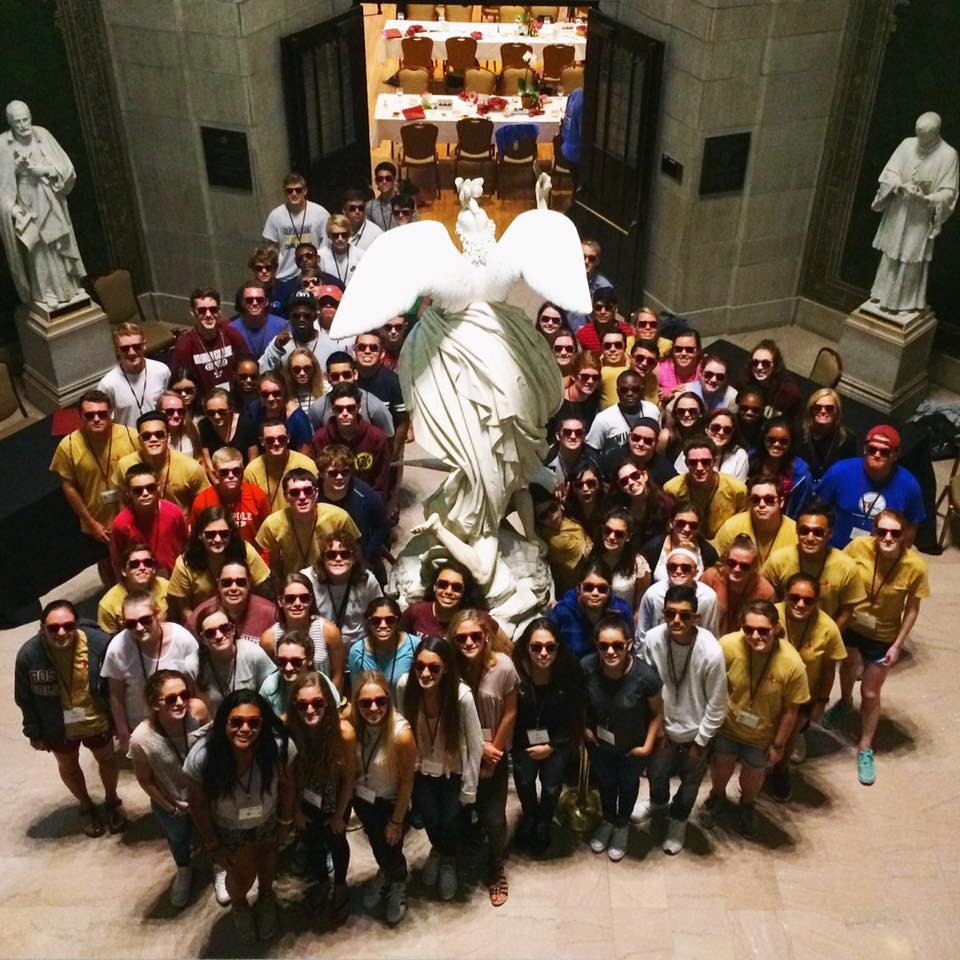 Inaugural participants in Boston College's Ever to Excel program pose in Gasson Hall rotunda with their BC mentors at the start of the 2016 program.

The participants heard presentations on topics such as Ignatian spirituality, discernment and pilgrimage, mission and service, formation and voice, and foundation and identity. The schedule allowed for small group discussions, journaling, and reflection and was capped off with nightly Candlelight Mass at Saint Ignatius Church.
"We wanted to engage the hearts and minds of high school students through an intensive experience of Jesuit spirituality, leadership, service, and education."
"We are so pleased with the success of the inaugural Ever to Excel program," said IAJS Director Casey Beaumier, S.J. "We wanted to engage the hearts and minds of high school students through an intensive experience of Jesuit spirituality, leadership, service, and education. The participants left with an amazing experience and I'm absolutely delighted with how the program went.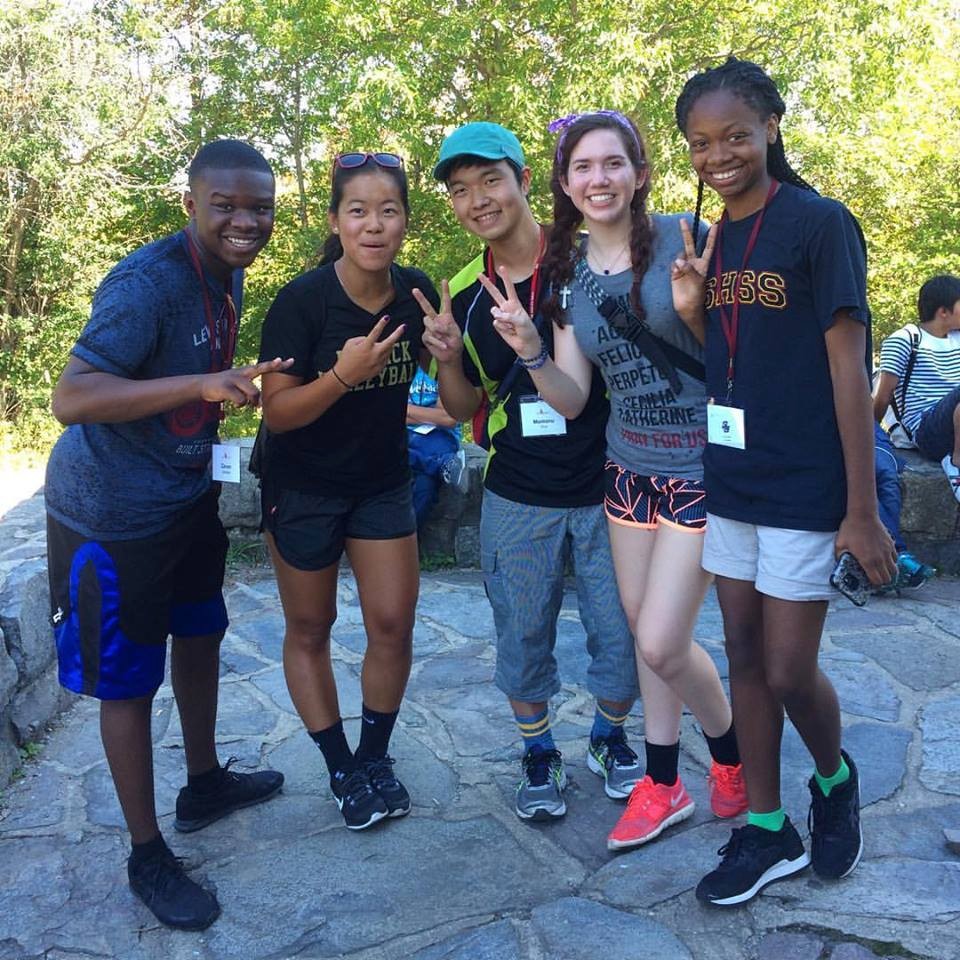 "The Institute owes special gratitude to Church in the 21st Century Center Associate Director Karen Kiefer, who offered us guidance in getting Ever to Excel up and running. She is a master programmer," he added. "Additionally, we were able to benefit from the expertise of Arrupe Program Director Margaret Nuzzolese. Ever to Excel was truly a team effort."
In one of the presentations, BC Professor pf Philosophy Jeff Bloechl spoke about a two-week pilgrimage he made with a dozen BC students along the Camino de Santiago in Spain. Free of distractions from technology, the pilgrims could focus on the physicality of the journey, he said. That included observing the sights and sounds of the walk, but also the physical challenges of walking 15 or 20 miles a day.
"Physical vulnerability can be a place where we can open up to God," said Bloechl, who has also done the pilgrimage with his family. "The physical and the spiritual are very connected on the Camino."
The takeaway message for pilgrims, summarized Fr. Beaumier, was to focus one's journey in life "not on the pursuit of happiness, but the happiness of the pursuit."
Other members of the Boston College community also presented during Ever to Excel, including Vice President for University Mission and Ministry Jack Butler, S.J.; Associate Vice President of Alumni Relations Joy Moore; Undergraduate Admission Director John Mahoney; Center for Student Formation Director Mike Sacco; Volunteer and Service Learning Director Dan Ponsetto; Lonergan Institute Associate Director Kerry Cronin; and PULSE Program instructor David Manzo, as well as Kiefer and Nuzzolese.
Participants learned about the art of mentoring through a panel of Boston College leaders, including Office of the President's Director of Business Affairs Raymond Rivera; Office of First Year Experience Assistant Director Ali Bane; Thea Bowman AHAHA and Intercultural Center Associate Director Andy Petigny; and Office of Undergraduate Admission Associate Director Steven Koo. Alumni Pete Trainor '15 and Megan Krakowiak '12, M.A. '15 also spoke to the group. Lisa Hastings of University Advancement set the tone for the program each day with morning prayer.
The presentations had an immediate and profound impact on the high school students.
"One of the speakers said 'Your everyday life should be affected by service,'" said Miller. "That has really inspired me to work-in service around me with people I meet every day."
Ever to Excel participant Zavon Sample, a rising senior at St. Joseph's Prep in Philadelphia, said he was quite moved by a video about BC alumnus and 9/11 hero Welles Crowther. "It was the first time I heard his story. It shows we are all capable of doing good actions for others. When I look at other people, I will see more than just a person; I will see someone capable of doing something extraordinary."
The high schoolers were placed in small groups, each led by Ever to Excel Mentors—Boston College undergraduates—who served as role models for the participants, and, being young people close in age, as peers who could easily encourage conversation and sharing.
Sarah Hansman '18 said she signed up to be an Ever to Excel Mentor so she could share her passion for Jesuit education and Ignatian spirituality with younger students. "I went to a public school and I was never exposed to these ideas and this level of reflection until I got to college."
Hansman said there were many things the participants learned, but she thought the most important one was "to be attentive to what brings them joy and what they are passionate about and to pursue that. These high schoolers are in such a time of discernment. I think many have been inspired by this week to live a life of love and service."
The Ever to Excel program was made possible by a $600,000 grant from the Lilly Endowment Inc., part of Lilly's High School Youth Theology Institutes initiative, which seeks to encourage young people to explore theological traditions, ask questions about the moral dimensions of contemporary issues and examine how their faith calls them to lives of service.
-- Kathleen Sullivan | News & Public Affairs