Woods College students Maggie Joyce and Darren Li share a congratulatory moment at the school's inaugural Undergraduate Research Conference. (Justin Knight)

Scholarship across the disciplines of philosophy, psychology, literature, politics, energy dynamics, natural sciences, and faith was in the spotlight at the inaugural Undergraduate Research Conference hosted by the Woods College of Advancing Studies.
More than a hundred attendees gathered in Gasson Hall on March 23 for the daylong event, which included faculty panels and student poster presentations, as well as a keynote address on the importance and use of research in law enforcement by Boston College Chief of Police and Executive Director of Public Safety William B. Evans.

The conference, sponsored by the Woods College's new applied research department, reflects the school's signature commitment to formative education that prepares students for citizenship, service, and leadership in a global society. In addition to the multiple opportunities the Woods College provides for undergraduates' personal reflection and discernment, its growing emphasis on scholarship encourages students to deepen their thinking and level of inquiry.

To research is to go about seeking the truth, said Woods College Interim Dean David Goodman in his welcoming remarks at the event; it provides a more informed guide with which to consider—and challenge—ideas, which is especially important in a contemporary society beset by diminishing attention spans and viral "fake news."
The Woods undergraduate research conference, he said, is designed not only to showcase student achievements but also to enrich participants' ability to converse with one another and to think deeply about the world.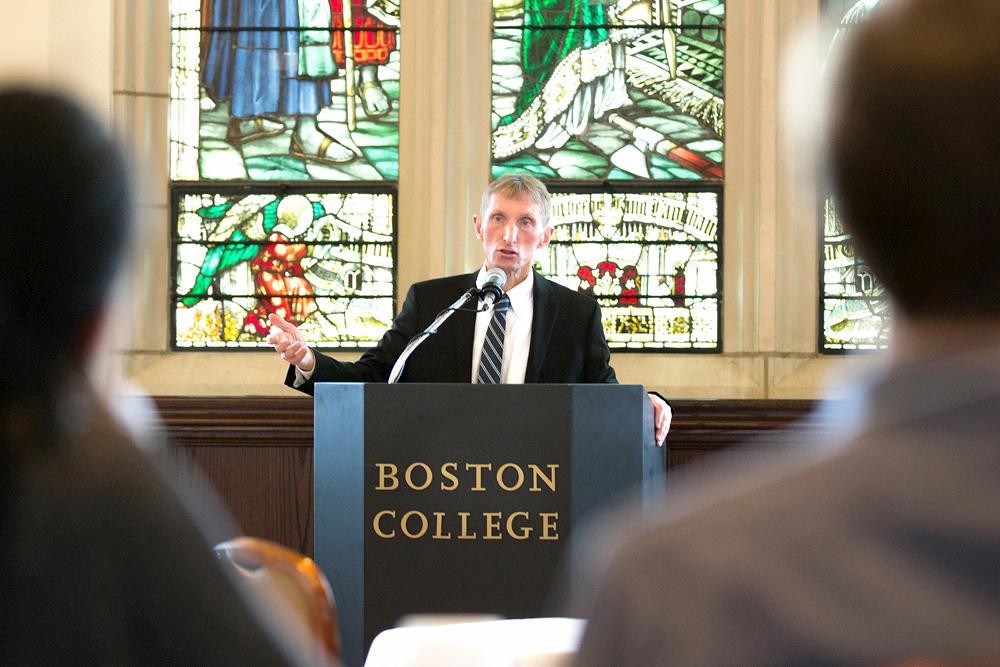 In his keynote address, Evans, a nationally respected leader in law enforcement who joined Boston College in 2018 following a tenure as police commissioner for the City of Boston, shared a number of examples of how research has been, and continues to be, of critical importance to his work.
On a daily basis, he said, studying crime statistics, including patterns and trends, was key to determining assignments for the 2200 officers on the Boston Police force. "We needed to know where crimes had been occurring or were likely to occur," he said. "Data drives deployment."
Research influences and supports policy decisions and initiatives, he said, noting that he relies on studies and statistics when preparing to address legislators regarding issues ranging from the need for universal gun laws to the effects of marijuana use on young people.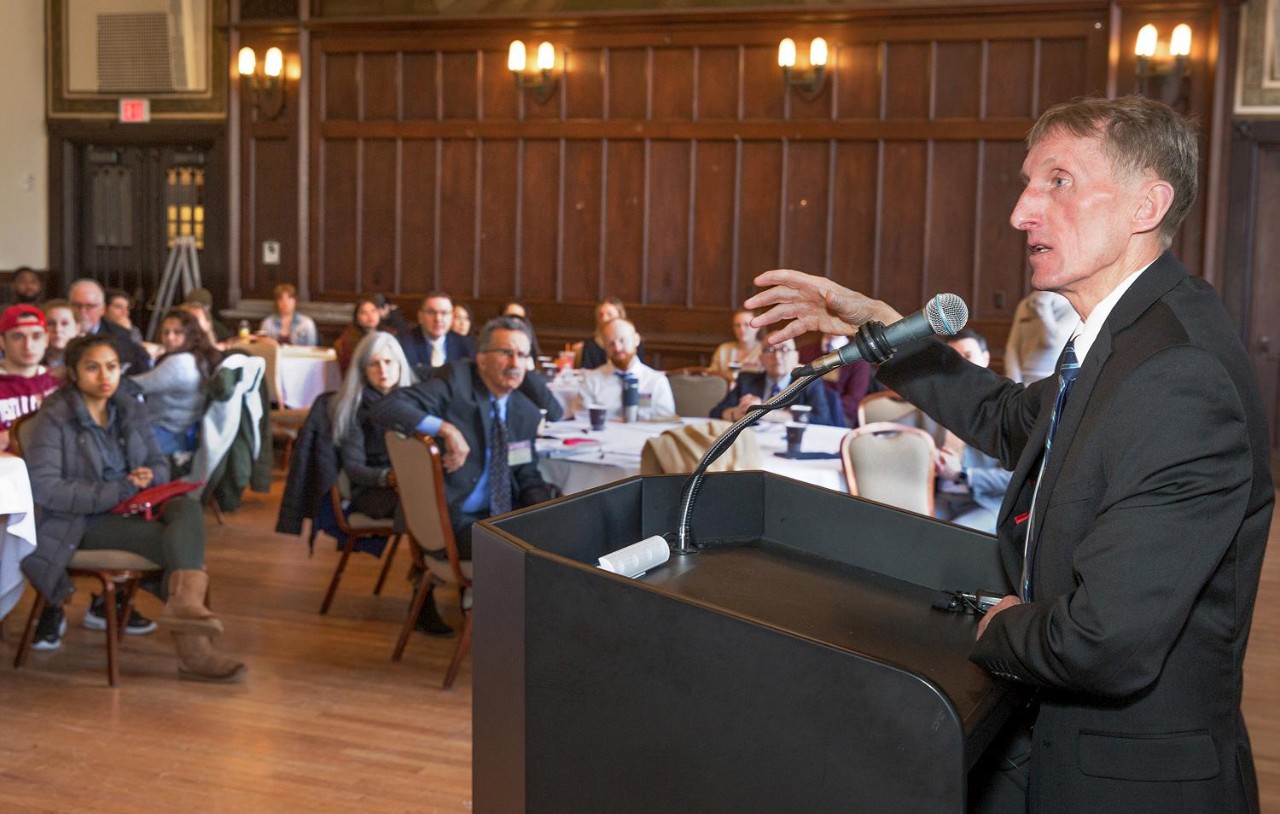 In addition, he said, it plays an important role in the solving of crimes, not only in the effort to identify perpetrators, but also in helping police to understand why the crime took place. "When we look at gang violence," he said as an example, "it's valuable to look at the family life of the members as well as the crimes themselves, to learn more about why it happens."
Evans, who recently returned from advising law enforcement officials in Hong Kong on terrorism preparedness strategies, stressed the need to be continually researching developments in best practices, especially given the increasing complexity of contemporary police work. Modern research techniques such as DNA identification, he said, are enabling investigators to solve cases that have been cold for decades.
Evans' remarks also reflected the Woods College mission to make a formative Boston College education accessible to non-traditional students. A lifelong resident of South Boston and the youngest of six, he lost both his parents at a young age. It was a local priest, he said, who helped him to enroll in Saint Sebastian's, a Catholic secondary school in Needham, Mass., which he describes as a turning point in his life.
"Folks need someone to give them an opportunity," he said, and education can make a big difference.
Woods College student poster presentations focused on a wide range of subjects, including an assessment of the impact of satire in generating political change; an examination of The Apollonian and Dionysian in Tolstoy's The Death of Ivan Ilych; a comparative study of two U.S. Army nurses, both immigrants, who were killed while serving their adopted country in separate conflicts; and an analysis of Haitian religious communities, to cite a few.

Boston native West Price-Ashby '19 said he welcomed the opportunity to work with Woods College faculty member Jennifer Cole on his project, which related to the viability of ocean thermal energy. "My family is very committed to conserving energy at home," he said, which is what prompted the psychology major to take Cole's course in energy dynamics and reducing carbon footprints, to learn how he personally might have more of an impact on the environment. "The course," he said, "was amazing."
The day also included two faculty panel discussions on the role of research across the areas of law, business, English, history, philosophy, theology, psychology, and the natural sciences. Participants also highlighted  significant findings that recently have emerged in those fields.

The Woods College Applied Research Department, which organized the conference, was launched by the school last fall to support and advance scholarly exploration among its faculty, research fellows, and students. Its current areas of study correspond to the school's master's programs in leadership and administration, cybersecurity policy and governance, applied economics, and sports administration.

Projects under way focus on how the experience of fear affects leadership across personality types; transitions in business leadership; the efficacy of mindfulness programs in U.S. police departments; the impact of participation in sports for midlife athletes; cyber warfare, international cyber crime, and cyber risk management in nation-states; and new measures of labor market restrictiveness.
Patricia Delaney | University Communications