English major Aaron Anderson talked about his thesis, which is an exploration of myth, family history, and identity. (Photos by Lee Pellegrini)
An air of celebration, accomplishment and pride filled the O'Neill Library Reading Room April 20, as 32 seniors presented their theses to peers, professors and other members of the Boston College community.
The Fifth Annual Senior Thesis Poster Session showcased the hard work and interesting research of students nominated by faculty in their respective departments and programs. Projects in the social sciences, humanities and cultural studies were presented on poster boards that filled the room.
Many theses were inspired by students' experiences studying abroad, the work they did as an undergraduate research fellow, or by passions they discovered in the classroom.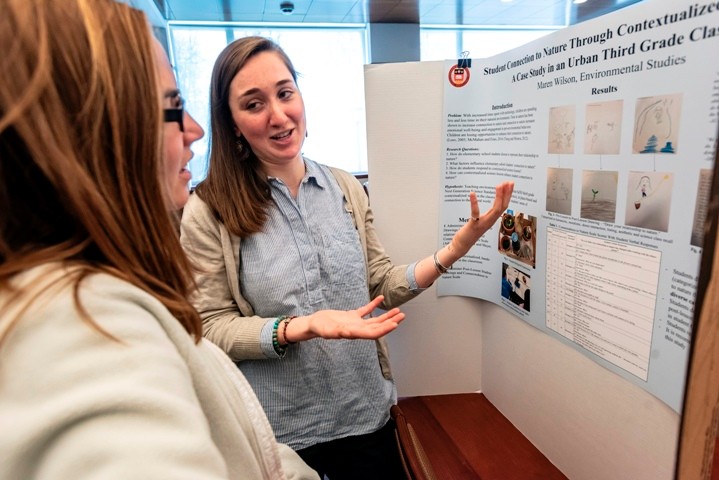 Maren Wilson combined her two majors, elementary education and environmental studies, into her thesis, "Student Connection to Nature through Contextualized Science Lessons: A Case Study in an Urban Third Grade Classroom." Wilson conducted a case study to see how teachers can help connect students to their natural environments.
"I grew up in schools that helped me explore my natural environment," said Wilson. "My high school acquired farmland when I was a freshman and I got to work there during the school year, and as an intern during the summer as it became a fully operating organic vegetable farm. I learned so much by getting my hands dirty and getting to know the natural landscapes around where I lived."
With this experience as inspiration, Wilson decided to survey students before and after teaching a series of lessons on plants to evaluate their connection to nature.
"While this was a limited study in duration and sample size," said Wilson, "I am hopeful that I'll continue to do this kind of work in my future classrooms, testing out the best ways to teach students — particularly in urban environments — in ways that enhance their connection to their natural environment."
English major Aaron Anderson said, "I have been nurturing a deep appreciation for reading, studying, and most importantly, writing poetry. My thesis, 'Anatomy of Origin,' is an exploration of myth, family history, and identity that hopes to combine traditional form and meter with new structural and poetical innovations."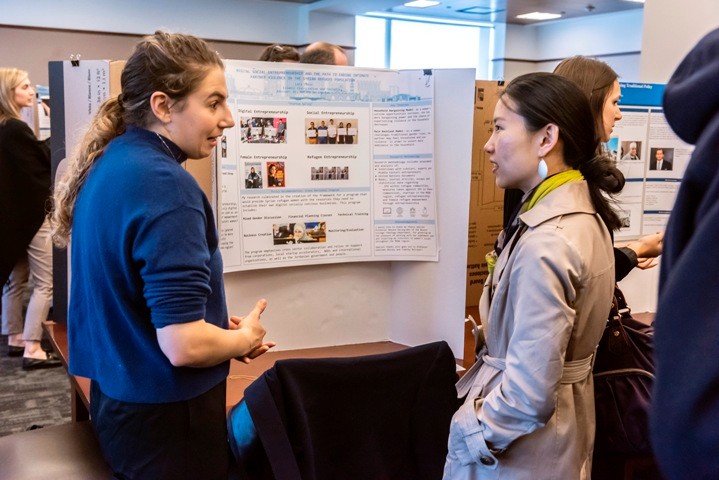 Lara Lasic, a student in the Islamic Civilization and Societies Program who presented her thesis "Digital Social Entrepreneurship and the Path to Ending Intimate Partner Violence in the Syrian Refugee Population," decided to participate in the poster session because "I have been working on this project for a year and I wanted to be able to share my results with the BC community."
Political Science faculty members Associate Professor Jennifer L. Erickson and Assistant Professor Lindsey O'Rourke, who co-organized the poster session, echoed Lasic's sentiment.
"It's so important for students — most of whom have been working on their project largely with only one other person, their advisor, all year — to get a chance to share their thesis research with a larger community, engage in conversations with experts and non-experts alike, and celebrate their hard work," said Erickson, who also teaches in the International Studies Program.
Added O'Rourke, "We hope everyone left as energized and inspired by the depth and breadth of BC senior thesis research as we did."
The session was sponsored by the Office of the Dean of the Morrissey College of Arts and Sciences and Boston College Libraries.
—Christine Balquist | University Communications