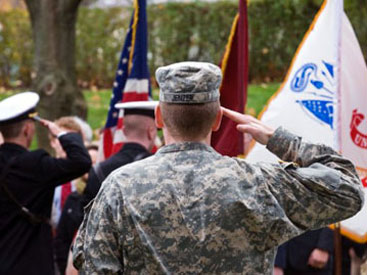 The Boston College Student Veteran Association will conclude a promising year of growth by participating in a pair of events organized by BC Baseball.
BCSVA members will join veterans from the Wounded Warrior Project and the Home Base Project in a softball game on May 3, and will be on hand for the May 5 "Military Appreciation Game" between BC and Louisville.
The group, which seeks to bolster communication among graduate and undergraduate student U.S. military veterans, had its official launch in September 2017 with the support of the BC Veterans Alumni Network, Veterans Affinity Group and BC ROTC. Since then, the BCSVA has selected a new slate of leaders while continuing to explore ways to become more involved with BC and veteran communities in the area.
"We are aiming to be a more visible and active group at BC, strengthening the ties between our group and the University community," said William Kelley, who spearheaded the founding and development of the group along with fellow students Matthew Goggin, Max Palumbo, Hayley McElroy and Lisa Smith — all of whom will complete their degrees this spring.
"The interpersonal relationships formed within the BCSVA, as well as with the alumni and affinity groups — the three pillars of the BC veterans community — have been extremely valuable, and rejuvenating."
Kelley expressed confidence in the ability of the BCSVA's new leadership team of Cody Queen '19, Aidan Walsh '20 and Michael Leone '21 and graduate students David Cote and Alexander Richer to "strengthen the connectivity" between student, alumni, faculty and staff veterans.
For information about the BCSVA, contact walshux@bc.edu.
—University Communications | April 2018