Riley Soward (top), at BC with his brother Stephen. The two co-founded the millennial- and Gen Z-focused market research company Campus Insights when Riley was a freshman.

Launching a start-up while you're a college student isn't for everyone. But it worked for Riley Soward.

Soward, a senior at Boston College's Carroll School of Management, and his older brother, Stephen, have sold their three-year-old market research company Campus Insights to Harvard Student Agencies, a student-run company based in Cambridge, Mass.

Campus Insights solicits the opinions of tech users in the Gen Z and Millennial demographics through user interviews in the U.S. and internationally. Soward, who has finished his degree requirements and will graduate in May, was a freshman when he founded the company with his brother, a student at the University of Michigan.  
Ameet Kallarackal '18
During the past three years, Soward served as CEO as they built the company into a respected market and user experience, or UX, research firm. They started with two used video cameras, visiting college campuses and recording students' reactions to mobile apps.

Over time, they grew their team of researchers to include BC Carroll School classmates Ameet Kallarackal and Kelsey Bishop, plus four students from the University of Michigan and Cornell University. The company has worked with companies like Airbnb, Chegg, GoFundMe, Venmo, and other Fortune 50 companies.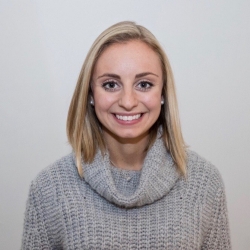 Kelsey Bishop '18
The sale to HSA made sense since the organization has 60 years of experience managing successful student-run endeavors and is closely connected to the demographic groups College Insights mines for opinions, Soward said. During the past six months, HSA and Campus Insights worked closely on the transition in ownership. The Soward brothers will remain involved as advisors.

Soward admits it was a challenge to balance college life with the work of a tech entrepreneur.

"We've learned so much from founding and building a startup while at BC," Soward said in an interview. "It's been both incredibly challenging and fulfilling at the same time. It's not for everyone, but as someone who's a very hands-on learner who loves building something over an extended period of time, I'd highly recommend it."

Soward credited the support of Carroll School Associate Professor of Information Systems John Gallaugher.

"Professor Gallaugher played a major role in helping us grow Campus Insights into what it is today," he said. "He's introduced us to many companies who became clients of ours and has continually cheered us on and supported us over the past three years."​
The sale was facilitated by Boston College Law School student Chad Ozbeki '18 and the school's Entrepreneurship & Innovation Clinic (EIC), which was brought on as legal advisor to represent the company leading up to the deal. "I went in [for my first meeting with Ozbeki], and on the table was a printed agenda and a bottle of water, and we shook hands," Riley Soward said. "I knew immediately I was in good hands." (Read more in BC Law Magazine.)

Now that he's done with college and has sold his company for undisclosed terms, Soward isn't sure what's next, other than attending Commencement Exercises in May and a likely move back to California's Silicon Valley, where he grew up.

"I don't know for sure, but after graduation in May, I'll probably move back to the Bay Area," he said. "I know I definitely want to be involved in another early-stage startup, since I've enjoyed the last three years at Campus Insights so much."

Ed Hayward/University Communications