Maria Meyer's undergraduate years at Boston College reflect an outstanding record of academic achievement coupled with significant leadership and service. In recognition of her many accomplishments, BC President William P. Leahy, S.J., presented Meyer with the Edward H. Finnegan, S.J., Award at the University's 143rd Commencement Exercises on May 20. The award is given annually to the graduating senior who best exemplifies Boston College's motto "Ever to Excel."
"When I was notified I was the Finnegan recipient, it was so awesome. I had wonderful people reaching out to me. It's been so special and I'm humbled," said Meyer, who graduated summa cum laude from the Connell School of Nursing.
In addition to being a top student, Meyer served as president of the Connell School Senate and held leadership positions with the Massachusetts Student Nurses Association and the Boston College chapter of Sigma Theta Tau, the international honor society for nursing. She also served as a student representative on the school's educational policy committee.
Her leadership extended beyond the Connell School, as well. She was the president of the Boston College chapter of Alpha Sigma Nu, the honor society of Jesuit colleges and universities, and served on the society's board of directors.
"I've been so blessed with leadership opportunities at BC, and each has given me a new experience and new perspective on leadership," said Meyer, who recently traveled to Utah as a delegate to the National Student Nurses Association convention.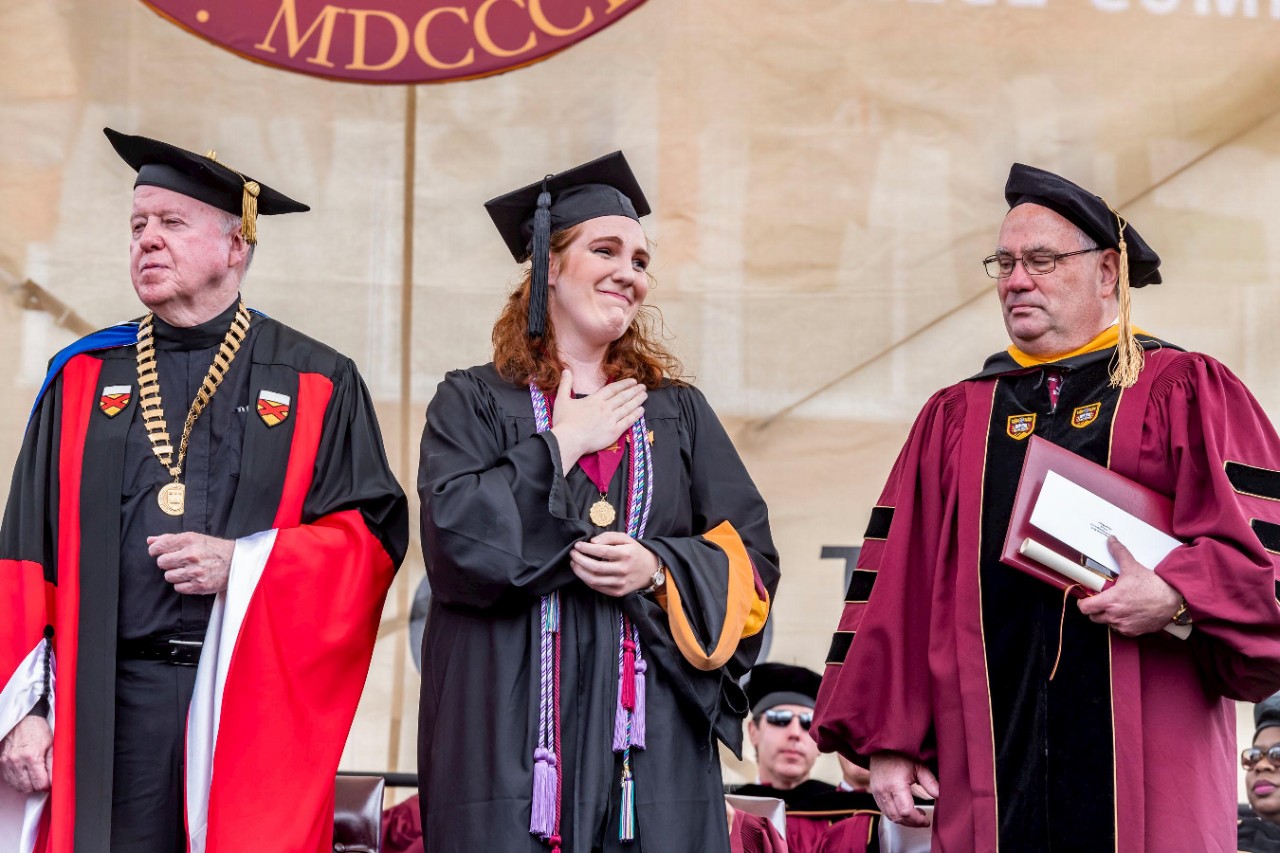 A resident of Bellevue, Penn., Meyer "demonstrates energy, creativity, and dedication in her leadership activities," according to Connell School Associate Dean for Undergraduate Programs Colleen Simonelli, who nominated the senior for the Finnegan Award.
"Maria's record of service and volunteerism demonstrate her commitment to improving the lives of others," Simonelli added.

Meyer considers her BC 4Boston placement at Samaritans, the suicide prevention organization, her most meaningful volunteer experience. For three years, she answered crisis calls during the overnight shift. "I felt so good about the work we were doing," she said.  
Meyer also mentored Boston-area girls in grades 3 through 8 through the Strong Women, Strong Girls program throughout her four years at BC. Her many other activities include preparing high school students for the SAT, tutoring BC students through the Connors Family Learning Center, and serving as a nutrition health coach in the Office of Health Promotion.
Through the Connell School, Meyer was able to partake in two international nursing experiences. Last summer, she traveled to Switzerland and participated in training in disaster nursing with the Swiss Army via the International Committee of the Red Cross. Earlier this year, she went to Chile,  where she provided health care and education to rural populations and completed seminars on international health care through the Pontifical Catholic University.
Meyer cites her PULSE course with Associate Professor of the Practice of Philosophy Mary Troxell as her most formative experience. "Mary Troxell is the most phenomenal educator. She never tells you what to think, but she gives you all the sides so you can form your own opinion. That is a class I am going to take with me.
"As a nursing student, theology and philosophy can seem abstract. You already know what you are going to do after graduation and you wonder how they're going to play a role in that. But after some reflection, I realized that's kind of an arrogant thought. Now, I realize theology is something that frames my whole nursing career. [Troxell] spoke about the 'Five Faces of Oppression' and about all of these things that are so important when we care for patients. It's not always going to be beautiful hospitals with VIP patients. There are going to be patients who come in really broken, who've had it rough."
In addition to Troxell, Meyer credits Connell School faculty members Simonelli and Associate Professor Catherine Read, who served as her advisor, as being important mentors for her.
"Cathy Read has been with me since day one. She has helped me every step of the way and has encouraged me. She is a great model for work-life balance," said Meyer.
"Colleen is a great educator. She's not only knowledgeable about maternal and child health, but is also able to convey that knowledge and passion to students. Everyone who leaves her classroom, even if they are not going to be a labor and delivery or postpartum nurse, has a strong basis in maternal health."
Meyer plans to be a women's health nurse practitioner and has already begun taking classes in the master's program at the Connell School. Though she won't be leaving BC, she knows things will change for her after graduation.
"I know my friends will always be my friends, but it won't be the same. We're all going to incredible places, but it will be hard because we aren't all in same dorm. I'll miss the late night conversations or just sitting together in the Quad."
—Kathleen Sullivan, University Communications