Archbishop Oscar Romero Scholarship winner Steven Guerrero '18 shares a laugh with Boston College President William P. Leahy, S.J., and Guerrero's father, Pablo. (Christopher Huang)

The Boston College experience of this year's Archbishop Oscar A. Romero Scholarship winner has been enlivened by leadership, international study, service, and baseball. Carroll School of Management student Steven Guerrero '18, a leader in the BC student group Organization of Latin American Affairs, received the award at a ceremony on campus last month.

The scholarship, which covers a portion of senior year tuition, is given annually to a BC junior who has demonstrated superior academic achievement, extracurricular leadership, community service, and involvement with the Hispanic/Latino community and Hispanic/Latino issues both on and off campus. Also recognized at the March 25 ceremony hosted by the Romero Scholarship Committee were award finalists Adonis Bonilla '18 and Jenny Sacha Hauc '18, as well as alumnus Juan Lopera '99, winner of the Rev. John A. Dinneen, S.J., Hispanic Alumni Community Service Award.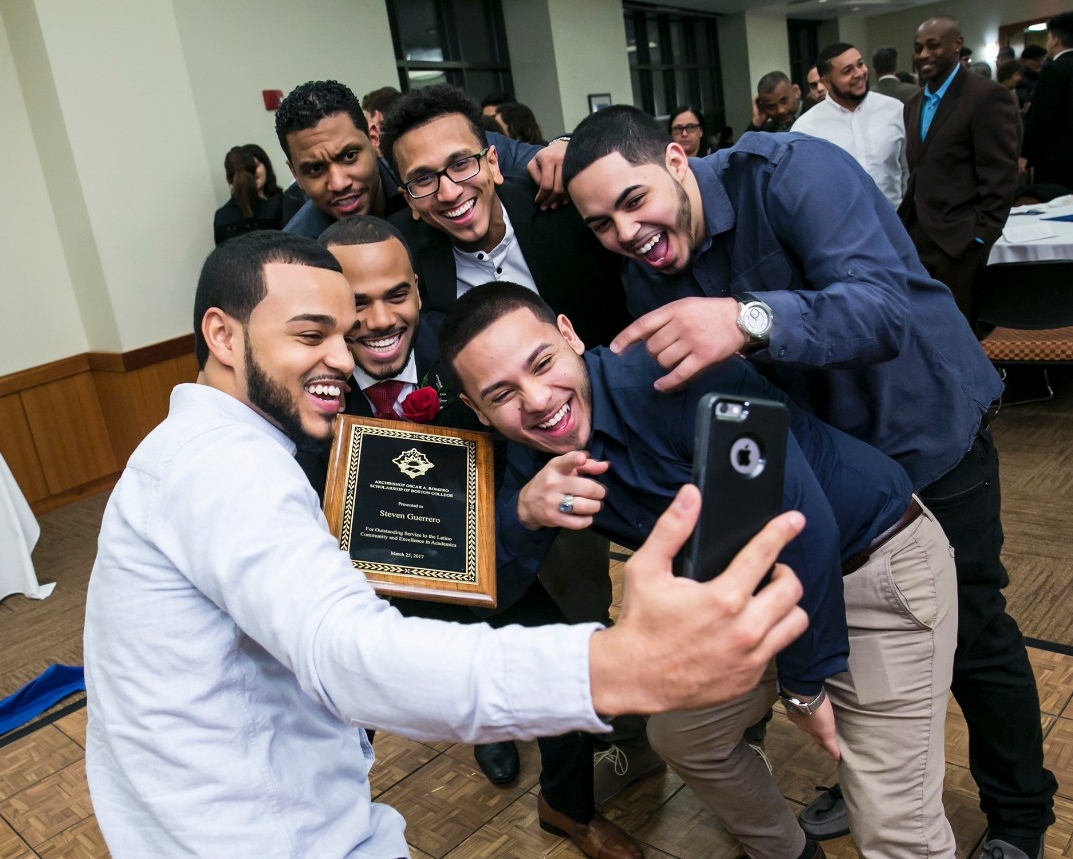 Guerrero is a first generation college student whose parents are immigrants from the Dominican Republic. A finance major with a minor in African and African Diaspora Studies, Guerrero is spending the semester in Brazil, studying at Pontifical Catholic University of Rio de Janeiro. He chose to study in Brazil in order to explore one of the so-called BRIC (Brazil, Russia, India and China) emerging economies, specifically looking at the economic impact of the recent Olympic Games. He also chose Brazil as a destination, he said, for the language challenge. A native Spanish speaker, Guerrero is taking a class to learn Portuguese.
When Guerrero returns to campus in the fall, he will serve as co-president of the Organization for Latin American Affairs (OLAA), a student group he has been involved with since freshman year. "It has a special place in my heart," said Guerrero. "I like the space they have created for Latinos on campus."
Among other programming, OLAA sponsors the annual Latino Family Weekend, a three-day event in celebration of Latino heritage that includes a culture show featuring music, dance, and poetry from Latin America, a banquet, Mass, and a brunch. Last year's event was particularly special for Guerrero because his parents attended. "It was neat to be able to share our culture together at my university and for [my parents] to be able to see that students, administrators and others hold that culture very closely to them," he said. "They were very proud and very excited to be there."
Service has been a big part of Guerrero's BC experience. As a PULSE student, he volunteered at Nativity Prep, an all-boys Jesuit school in Boston. "I really enjoyed it. It serves underrepresented kids from the inner-city. A lot of kids from my background, Dominican, Hispanic, Cape Verdean, are getting a chance to get a good education."
He also volunteered on a service trip to the Mississippi Delta, where he assisted students in an underfunded elementary school.
According to Guerrero, one of his more formative experiences while at BC was the Jamaica Magis trip, sponsored by Campus Ministry. As a teaching assistant at an elementary school in Kingston, Guerrero encountered a young student, a rambunctious boy who was often a challenge for the teachers. The young boy didn't talk to Guerrero, but would sit next to him whenever he got the chance. Guerrero noticed the student was quietly observing him.
At the end of the week, the teacher told Guerrero that the young boy was behaving the best he ever had and wondered what Guerrero said to him.
"That was a key moment for me," recalled Guerrero. "My simple presence, being engaged and being at one with my Jamaican brothers and sisters, that was enough. It taught me a lot about how to approach things in social settings, especially when children are around. Children see a lot."
Guerrero credited current and former BC faculty members and staff for serving as mentors for him, including Amy LaCombe in the Carroll School, Rev. Michael Davidson, S.J., coordinator of the Jamaica Magis trip, and Erin Wecker, formerly of the English Department and now at the University of Montana. "Their generosity and kind-heartedness has helped make my BC experience very memorable and very manageable."
Guerrero has been playing baseball since he was four and is currently an outfielder on the BC Club Baseball. A self-described "inner-city kid" from Boston, Guerrero says he found an important outlet in sports, particularly baseball. He participated in The BASE, a program that combines an elite baseball league with academic tutoring and enrichment programs to create pathways for success for urban youth.
In the future, Guerrero says he would like to open his own business, perhaps a mechanic shop. He also would like to start a nonprofit, similar to The BASE. "I want to take the Heights to the streets."
--Kathleen Sullivan | University Communications