Renowned geologist James W. Skehan, S.J.—founder of Boston College's Geology Department, long-time director of the University's Weston Observatory, and a dedicated researcher who was honored for his contributions to earth science by the naming a half-billion-year-old genus of trilobite after him—died on November 1 at the age of 97.

Fr. Skehan's scientific work focused on the geology of the Northeastern United States and the Avalon terrane, which extends from Belgium to the southern Appalachians. He wrote the Roadside Geology of Massachusetts, a 400-page illustrated guide to the geological history and makeup of the Commonwealth, and followed that with Roadside Geology of Connecticut and Rhode Island.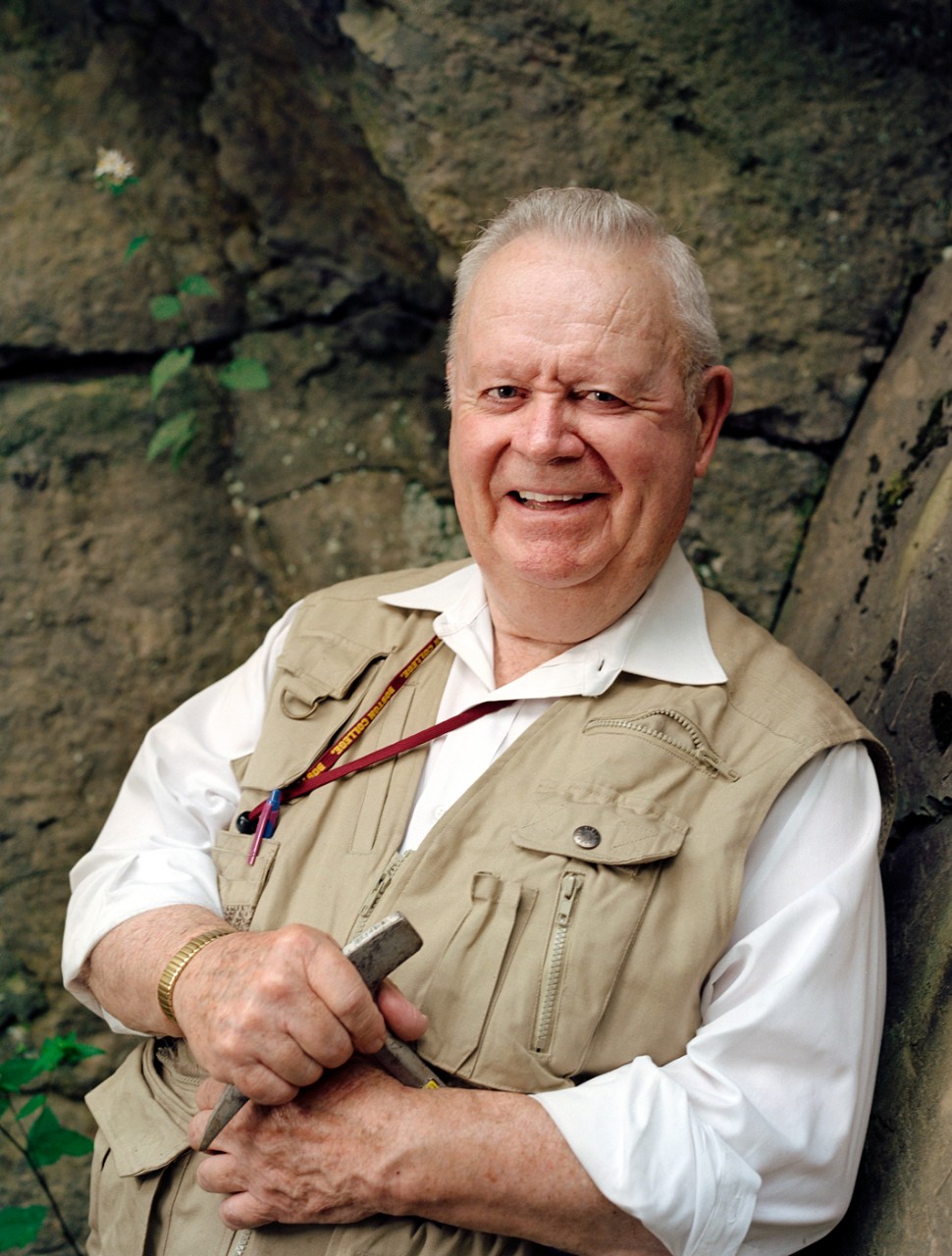 Fr. Skehan founded the Boston College Department of Geology (now Earth and Environmental Sciences) in 1958 and served as its first chairman. From 1973 to 1993, he directed Boston College's Weston Observatory, a geophysical research observatory that monitors seismic activity across the globe and a frequent resource for the media in their coverage of earthquakes. He was named 1976 Teacher of the Year by the National Association of Geology Teachers.

Among his other service to the University, Fr. Skehan was acting dean for the College of Arts and Sciences from 1972-1973, and for some years was the announcer at Boston College's Commencement Exercises, providing narration for the processional and other stages of the event.

A man of faith and science, his roles as priest and geologist were perhaps never more dramatically intertwined as when he co-organized a 1970 expedition to Surtsey, a new island that had formed off the coast of Iceland in the wake of a volcanic eruption. Funded by Boston College and NASA, the exploration provided dozens of scientists with a rich, living laboratory for observation. It also gave Fr. Skehan the opportunity to celebrate the first Mass ever on the island.

Fr. Skehan never saw conflict in his devotion to both science and faith, once telling the Boston College Chronicle: "If you look at a beautiful sunset, or how mountains are formed, or observe how continents move, you can view it either as science or as God speaking to you, or both. I do both. What I do as a scientist is no different from what I do listening to the cosmic word of God. It's nice to have both [science and faith]—in fact, it makes everything so exhilarating. What could be more marvelous?"

In 2002, Mount Holyoke College geologist/paleontologist Mark McMenamin named a new genus of trilobite, Skehanos, in Fr. Skehan's honor. Skehanos is a marine invertebrate that lived more than 500 million years ago and whose fossil was discovered in Quincy, Mass.

The naming of Skehanos was only one of the special ways Fr. Skehan was honored during his storied career. Author Sarah Andrews created a fictional Fr. Jim Skehan character for In Cold Pursuit, her mystery novel set in Antarctica. In 2012, a bronze bust in Fr. Skehan's likeness was unveiled at the Department of Earth and Environmental Sciences on the occasion of his 89th birthday; the bust's base, from the Le Masurier Family Quarry in North Chelmsford, Mass., is made from Chelmsford Granite, one of Fr. Skehan's favorite rocks.

In 2013, his friends and colleagues established the James W. Skehan, S.J., Graduate Research Awards to offer financial support for graduate student research in Earth and Environmental Sciences and at Weston Observatory.

 "Fr. Skehan was the founder and beating heart of our department," said Professor Ethan Baxter, chair of Earth and Environmental Sciences. "He sparked joy and curiosity about the Earth and its deep history for thousands of students at BC and for the general public through his popular books about local geology. He did fundamental research on supercontinents and tectonic evolution written in the rocks of New England. I still have a copy of one of his field books that I followed as a child growing up in the Boston area driving and walking with my own father to sites of geological interest. Fr. Skehan was an inspiration to so many and he will be missed.  His legacy is strong in the department he founded decades ago."

Long-time departmental colleagues echoed Baxter's remarks.

"Fr. Jim, as he was known to all, was a multifaceted scholar and a friend to everyone," said Professor John Ebel, who succeeded Fr. Skehan as Weston Observatory director (he stepped down in 2013 and is now senior research scientist). "He could expound for hours on the history of the rocks of New England, but he also could talk about the finer points of the theology of Teilhard de Chardin, S.J. He wrote several works on religion and the science of evolution, both of which he found perfectly compatible. He married many of his students, led Ignatian retreats for friends and strangers, and taught courses in geology in ways that always connected with his students. He fully supported the earthquake monitoring mission of Weston Observatory. It is seldom that I meet a geologist or an alum of BC who did not interact in some happy way with Fr. Jim."

Said Associate Professor and Weston Observatory Director Alan Kafka, "Fr. Jim was not just a great scientist and educator, he was a mentor and friend to many people he encountered in the many dimensions of his long and very full life. He loved teaching people of all ages about the wonders of planet Earth, and also loved being engaged in all aspects of the fullness of life with so many he encountered."

"He had an outgoing personality and made a great many friends," said Professor Emeritus J. Christopher Hepburn, Fr. Skehan's successor as department chair. "He always greeted his friends, colleagues, and former students he hadn't seen for a while with a simple 'Hi' and a handshake, and always by name—he never forgot a name."

Hepburn, who called Fr. Skehan "a distinguished and prolific researcher," pointed out that he was among the first geologists to apply the concept of plate tectonics to the formation of the northeastern Appalachians. He also noted that Surtsey—still smoldering when Fr. Skehan said Mass there—was later declared a UNESCO World Heritage site for the unique opportunity it provides to study the colonization of new land by plant and animal life.

"A fantastic colleague, leader, mentor, and friend," said Hepburn. "He will be missed."

Fr. Skehan was the recipient of the American Institute of Professional Geologists' Ben H. Parker Memorial Medal, honoring individuals with long records of distinguished and outstanding service in the field of geology, among other honors.

Born in Houlton, Me., Fr. Skehan was the oldest of seven children. His father worked for Western Union and his mother was a seamstress. The practice of their Catholic faith was an important part of family life and the rosary was regularly recited after dinner. As a teenager, he enjoyed being outside—camping and hiking—or participating in track and field activities. He maintained his love of the outdoors throughout most of life. He was part of a crew that cleared trees to make way for the erection of the Weston Observatory and was often photographed with his trusty pickaxe in hand.

Fr. Skehan entered the Society of Jesus in 1940, was ordained in 1954, and made final vows in 1957. A noted spiritual leader, he authored Place Me With Your Son: Ignatian Spirituality in Everyday Life, which he used throughout the 1980s and '90s to lead 24-week group retreats based on St. Ignatius' Spiritual Exercises. He also wrote Praying with Teilhard de Chardin, on the life and thought of French Jesuit paleontologist and philosopher Pierre Teilhard de Chardin, S.J., and contributed to the volume The Dialogue between Science and Religion: What we Have Learned From One Another.

He earned bachelor of science and master of arts degrees from Boston College in 1946 and 1947, respectively, and graduated with a doctorate in geology from Harvard University in 1953. He then attended Weston College where he earned a bachelor of sacred theology, master of theology and licentiate in sacred theology. He was awarded an honorary Doctor of Science degree by Boston College in 1998.


University Communications | November 2020