Associate Professor of Psychology and Neuroscience Donnah Canavan, a longtime faculty member whose writing and teaching centered around her concept of "social energy," died on April 28. She was 79.

Visiting hours for Dr. Canavan will be May 3 from 4-7 p.m. at the Keefe Funeral Home, located at 2175 Massachusetts Avenue in North Cambridge, Nass. A funeral Mass will be celebrated on May 4 at 10 a.m. at St. Ignatius Church in Chestnut Hill, Mass.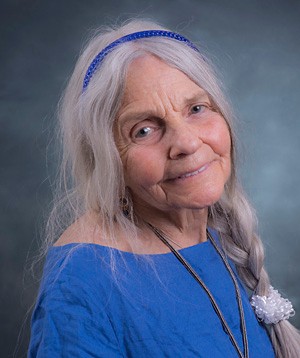 Dr. Canavan, who began her 51st year on the Boston College faculty last fall, and also taught in the Woods College of Advancing Studies, focused much of her research on social and personality psychology, in particular interpersonal relations and well-being.

One of her major interests involved what she called social energy: the dynamic that arises from shared emotions and experiences among people who aren't necessarily acquainted with one another. Dr. Canavan saw the 2013 "Boston Strong" ethos as a prime example of social energy. As the city sought to overcome the horror and trauma of the Boston Marathon bombings, this expression of resilience was adopted by individuals and organizations alike—including the Boston Red Sox, who would go on to win the World Series in the fall.

Speaking with CBS Boston after the Sox clinched the championship, Dr. Canavan—who had previously cited the public interest in the birth of Britain's Prince George as another example of social energy—described the emotional ripple effect of social energy: "You know that everyone is feeling the same way you are feeling. It does something to validate your perception as a human, to know that another human being—independent of you—sees and feels the same way you do. You feel closer, more energetic, more purposeful."

Social energy can span emotional extremes, she added. The social energy that initially arose from the bombings may have had negative foundations, "but Boston Strong emerged from that." The Sox found in Boston Strong a perfect watchword to animate their efforts to rebound from a dismal 2012 season.

"A team that has a lot of social energy performs better," she said.

In 1978, Dr. Canavan co-authored The Success-Fearing Personality: Theory and Research, the result of a six-year study that sought to promote understanding of the estimated 15 to 20 percent of Americans suffering from a neurotic fear of success. This fear is manifested in an unwillingness to take credit for success, an inability to achieve success when it seems near, or an inclination to self-sabotage. In most cases, according to the study, these people are entirely unaware that they have ambivalent feelings about success, or are ruining their chances of success.

The Success-Fearing Personality created a more complete portrait of those fearing success. "They are common, run-of-the-mill neurotics just like you and me," said Dr. Canavan in an interview with Boston College Colleague. She explained that success-fearing does not dominate every aspect of an individual's life, and that even for many of those who self-sabotage, "it just takes a little longer to get to the same place." Nor is success-fearing a handicap, she added: For example, success-fearers tended to fare better in sports that require cooperation and teamwork than non-success-fearers.

Dr. Canavan's exploration of the human psyche from both scientific and philosophical angles was reflected in her class Positive Psychology. As she explained in a 2017 interview with The Heights, she used a metric to quantify levels of health and happiness, at the top of which was "flourishing," which she likened to a protective coating that fostered resilience in the face of setbacks. The practice of mindfulness and positive behavior can lead a student to flourish, and with the development of job skills, she said, offers a path to happiness and fulfillment.  

"Ever since I started teaching this class," Dr. Canavan said, "I realized that being happy was fun."  

"I learned from Dr. Canavan about the joy of living every moment of my life with generosity, humility, and kindness," said senior Giulianna Rivera. "Dr. Canavan showed me the goodness in humanity that lifts others up. Although she was fascinated with studying the social energy, humility, and 'pure goodness' of others, she herself was the perfect example of all these qualities. She lit up a room, created a dynamic energy between her students, gave without expecting anything in return, and focused more on those around her than on herself."

Colleagues also recalled Dr. Canavan's generous and kind spirit, which Professor James Russell encountered when he first arrived at the department—she invited him to coffee and told him she looked forward to working with him, and would buy him loaves of bread from a local bakery she supported.

Senior Lecturer Gene Heyman received a similar introduction to Dr. Canavan when he joined BC: "She invited me and another new faculty member to lunch and we got a taste of her inimitable style. Along with the expected pleasantries, we moved on to larger, eventually quite personal topics: how we ended up in psychology, what research issues most interested us, and—at about dessert time—our favorite dreams. It was all in good humor, but also serious. She had a probing mind."

"Donnah had a lighthearted manner, yet also a deep understanding of human interactions and how to bring out the best in others," said Psychology and Neuroscience Professor and Chair Elizabeth Kensinger. "It is no wonder she chose to study social energy and shared enthusiasm: She showed the power of that energy in her every interaction. Donnah took a front-row seat at nearly every colloquium talk, always asking thought-provoking questions. She was a beloved mentor to undergraduate students who engaged with her on research projects, their posters filling the hallways at the annual Psychology Undergraduate Research Conference. Her longstanding commitment to her students will reverberate her positive energy for many years to come."

"She had a genuine and refreshing enthusiasm for understanding the human mind, and a welcoming attitude towards everybody," said Assistant Professor Stefano Anzellotti.

Office for Research Protections Director Erin Sibley recounted Dr. Canavan's enthusiasm for serving on the University's Institutional Review Board. "She may have been BC's longest-serving IRB member, as she always asked to renew her term when it was up. She truly enjoyed learning about the research going on across the University, and was incredibly thoughtful in her commentary. Whenever we had a particularly tricky study that didn't quite fit into one person's area of expertise, Donnah was our go-to reviewer."

Dr. Canavan presented her research regularly at meetings of regional and national psychology organizations. She was a long-time member of the New England Psychological Association and served as the NEPA president in 2001.

A native of Cambridge, Dr. Canavan received a bachelor's degree from Emmanuel College and a doctorate from Columbia University. She completed a post-doctoral fellowship at the University of California-Los Angeles and earned a clinical psychologist license following a fellowship at McLean Hospital in Belmont.

She is survived by her brother Peter.

Memorial donations may be made in Dr. Canavan's name to the Angell Memorial Animal Medical Center, 350 So. Huntington Ave., Boston, Mass. 02130.


University Communications | April 2021