Welcoming the newest class to Boston College is a longstanding tradition. The annual admission video, produced by University Communications, is a highlight for the incoming class, their families and the BC community worldwide.
This year's production, falling on the the 20th Anniversary of Harry Potter's publishing in the United States, is sure to delight Potterheads.
University Communications Creative Producer John Walsh '17 was the driving force behind the piece. He wrote, directed and filmed "Special Delivery."
"Creating a Harry Potter video at BC has been a dream of mine for a long time—ever since BC's resemblance to Hogwarts was one of my initial draws to the campus when I was in high school. 
"J.K. Rowling and Harry Potter played such a huge role in shaping my generation and the way we see the world, that I couldn't help but find myself reflecting on so many of the series' major themes to understand my education and experiences here at BC," said Walsh. 
"Even though I never opened a letter delivered by eagle or studied in a library under floating candles as a student, I constantly found myself grateful for the unique spirit and joy that comes from being a part of this BC community. I can only hope that this video might offer new admits a glimpse of that spirit, and of the BC community so many feel grateful to be a part of."
Senior Digital Media and Web Producer Paul Dagnello was the inventive creator of lighting props and partnered with Walsh to create special effects for the piece. Students Branick Weix '19 and Ariana Cho '18 also offered production support throughout the piece, even convincing fellow students to wear Gryffindor scarves and capes for the opening scenes.
Although most at BC will recognize the individuals featured in the production, for our newest Eagles, here's a quick guide to the players and scenes, in order of appearance: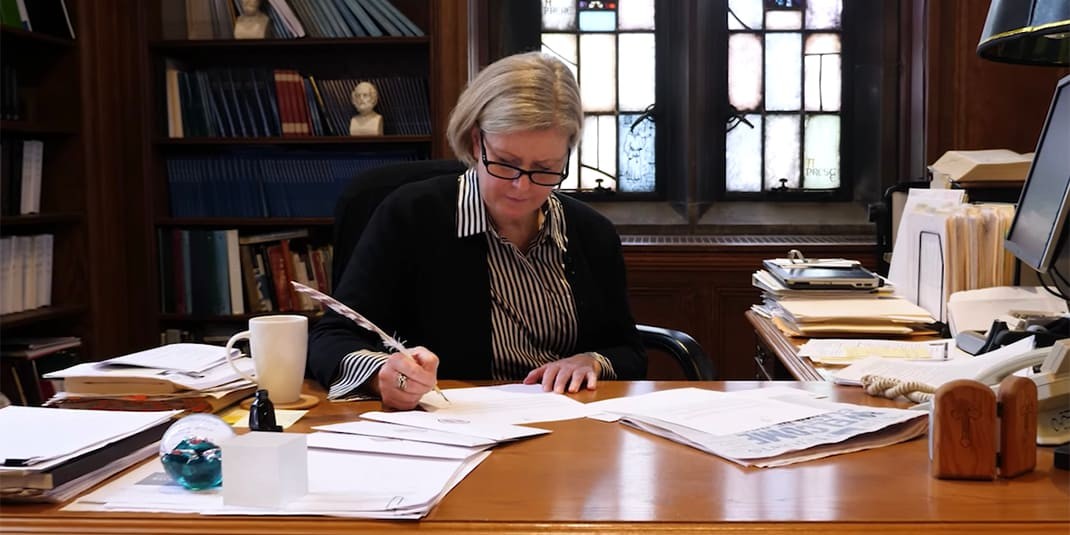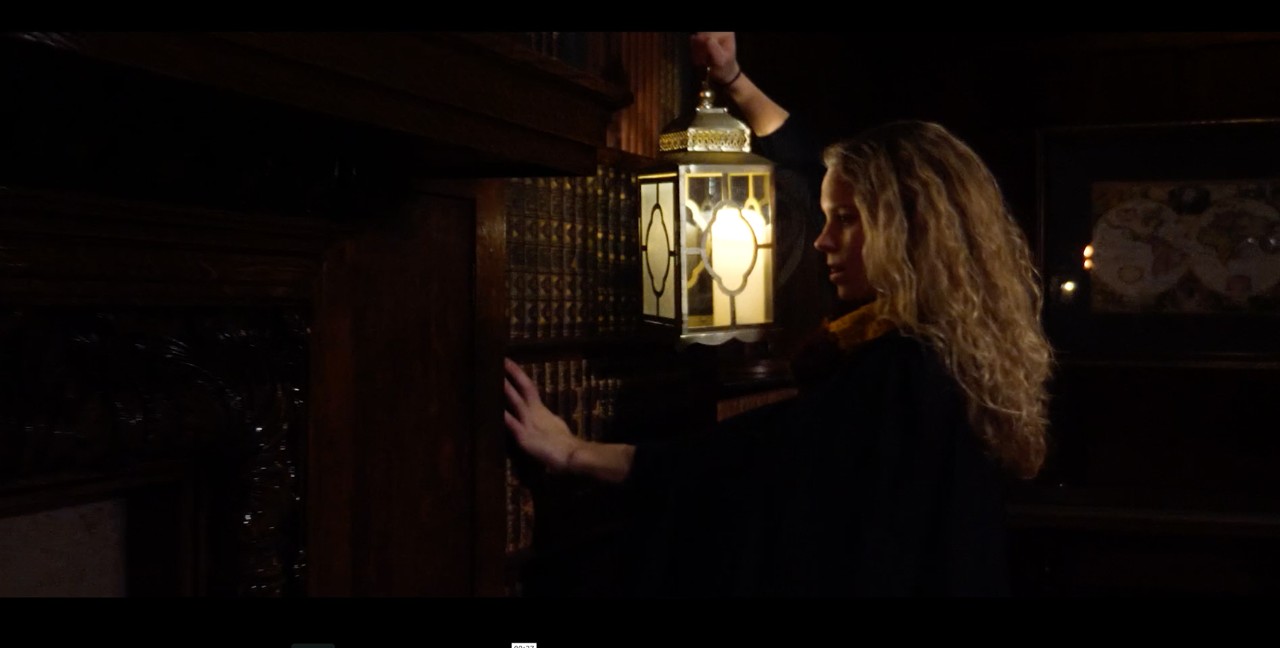 Hidden Bookcase in the Connors Retreat Center
The moving bookcase featured in the video actually exists in the main living room of BC's Connors Retreat Center. More than 60% of BC students attend a retreat over the course of their four years, so many BC students will find themselves passing this bookshelf while spending a reflective weekend on Halftime, 48 Hours, Kairos, or a number of other BC retreat opportunities.
---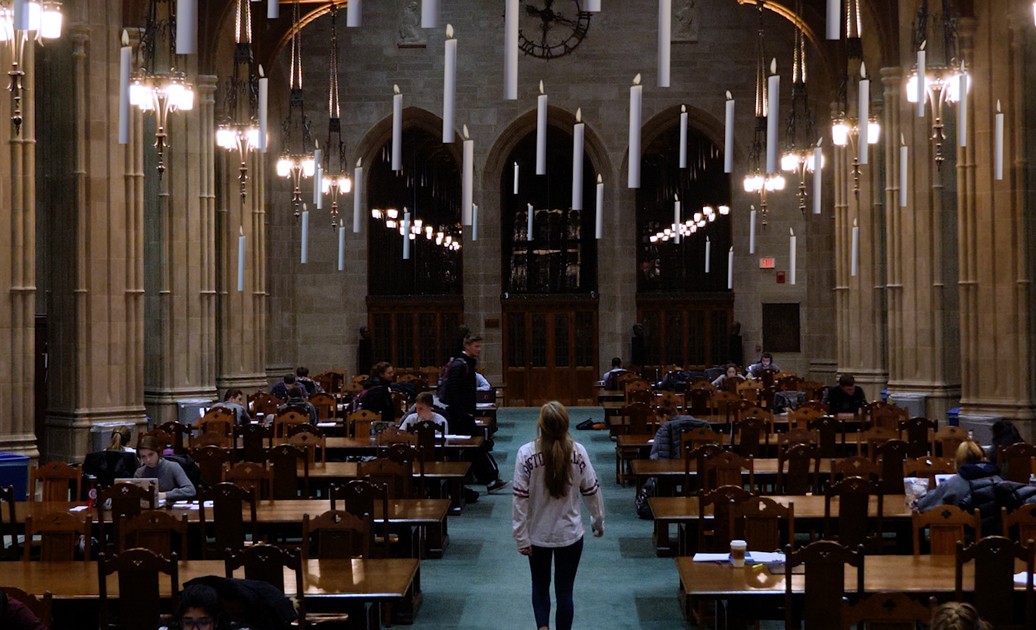 Gargan Hall at Bapst Library
Often compared to the Great Hall of Hogwarts by students and visitors alike, Gargan Hall in Bapst Library is the site of many campus tours and late-night study sessions. 
Completed in 1928 and named after Boston College's first president, Bapst Library was one of the campus' original buildings.  Bapst was designated as Boston College's Art Library in 1993 and is home to over 51,000 volumes, 150 serial titles, and offers access to hundreds of databases, electronic journals and books, and images in Art, Architecture, Museum Studies and Photography.
---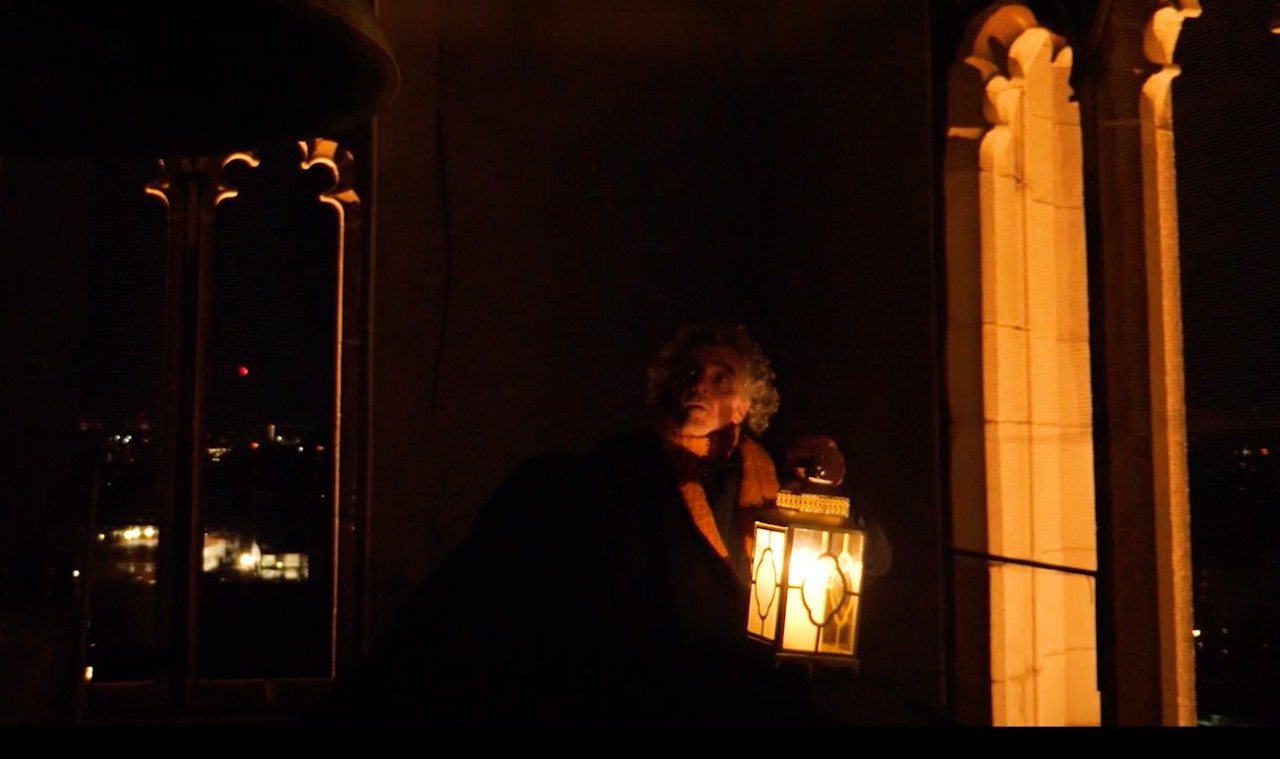 John Luniewicz, P '18 & '19 in Gasson Bell Tower

John Luniewicz is a carpenter on the BC Campus Facilities staff, parent of two current BC students, and the keeper of the Gasson Hall tower.
---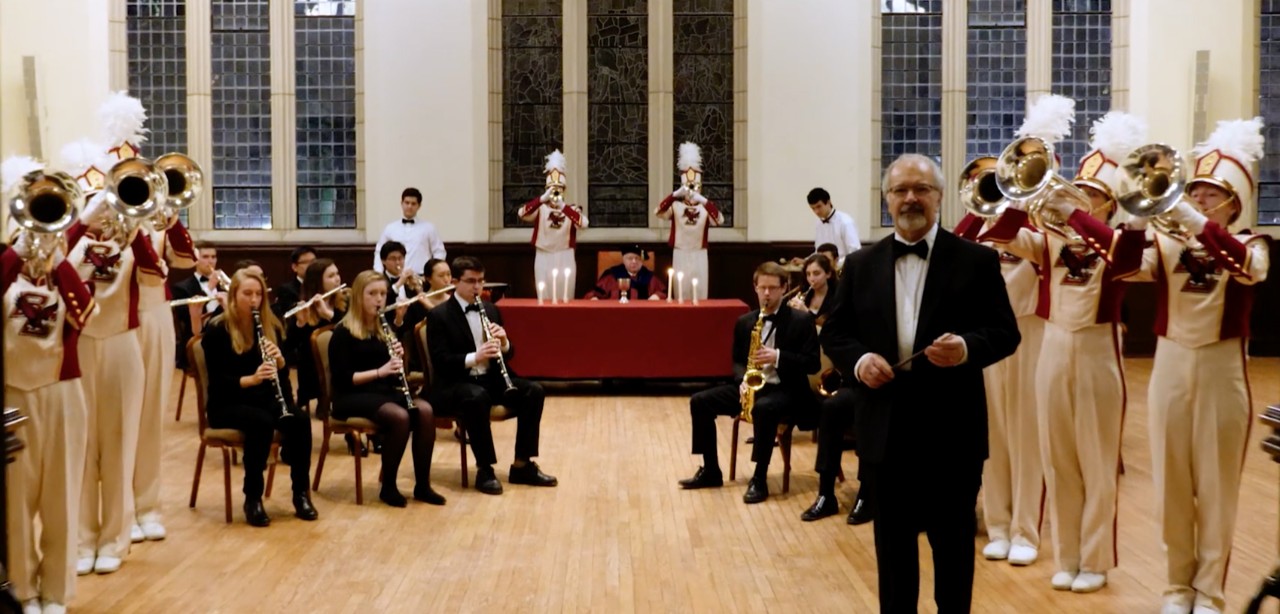 Sebastian Bonaiuto & the Boston College Bands Program
The iconic John Williams' composition of "Hedwig's Theme" and "Leaving Hogwarts" were performed entirely by the University Wind Ensemble of Boston College. The Boston College Bands Program encompasses five ensembles, with more than 250 members including current and former BC students, faculty, staff and members of the community.  Led by the first full-time Director of BC Bands, Sebastian Bonaiuto and Assistant Directors David Healey and Kara Robbins, over 40 student band members are featured in the video's closing scene.
You can follow them on Facebook, or watch them on YouTube.
---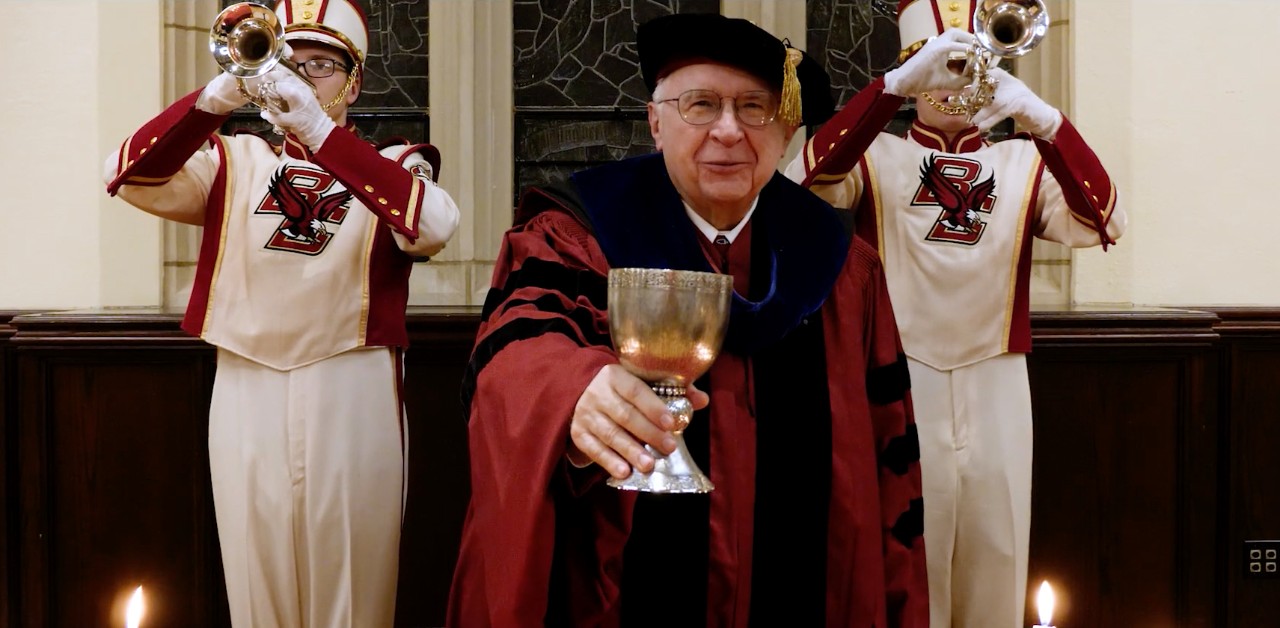 Fr. Michael Himes
In addition to playing the Dumbledore figure of the film, Michael Himes can be credited as the initial inspiration behind "Special Delivery," suggesting the theme to Walsh during an independent study conversation over a year ago. A Professor of Theology at BC and a priest of the diocese of Brooklyn, Himes is a preeminent systematic theologian and a beloved member of the BC community.  He has earned multiple awards for his books and teaching from students at both BC and Notre Dame.
Fr. Himes encourages students to ask themselves three questions in their deliberation of a vocation: What brings you Joy? What are you are good at? What does the world need you to do?
Hear Fr. Himes' "Last Lecture," or his "Agape Latte" reflection here at BC.
---