A group of Woods College Manresa Experience Scholars and faculty mentors gathered for a photo with speaker Steve Pemberton prior to his remarks on November 19. (Peter M. Julian)

His childhood was bleak; his future seemed the same. He was once described by a caretaker as a little boy without "a chance in the world."

Today, Steve Pemberton '89, H.'15, M.A. '19 is a pioneering corporate executive, motivational speaker, youth advocate, husband, father, and champion for the disenfranchised. And that stark assessment of his prospects? It's now the title of his bestselling memoir, A Chance in the World: An Orphan Boy, a Mysterious Past, and How He Found a Place Called Home.

The book, which since its publication in 2012 has been translated into multiple languages and adapted into a feature film, recounts Pemberton's struggle to overcome a childhood of abuse and neglect in the foster care system, and the journey that led him to attend and graduate from Boston College—where he now sits on the board of trustees—and begin a career that would lead to senior leadership roles at Monster.com, Walgreens, and his current position as chief human resources officer at Workhuman.

A testament to the resiliency of the human spirit and the power of tenacity and faith, A Chance in the World continues to inspire audiences across the world⁠—and, this year, is the shared reading for participants in the Woods College of Advancing Studies Manresa Experience, which encourages and supports undergraduate students in their professional, personal, and spiritual discernment.

On November 19, Pemberton delivered the program's fall lecture in the Heights Room of Corcoran Commons, where he shared his personal perspective on how challenges, rejections, and setbacks can be catalysts for growth and for good.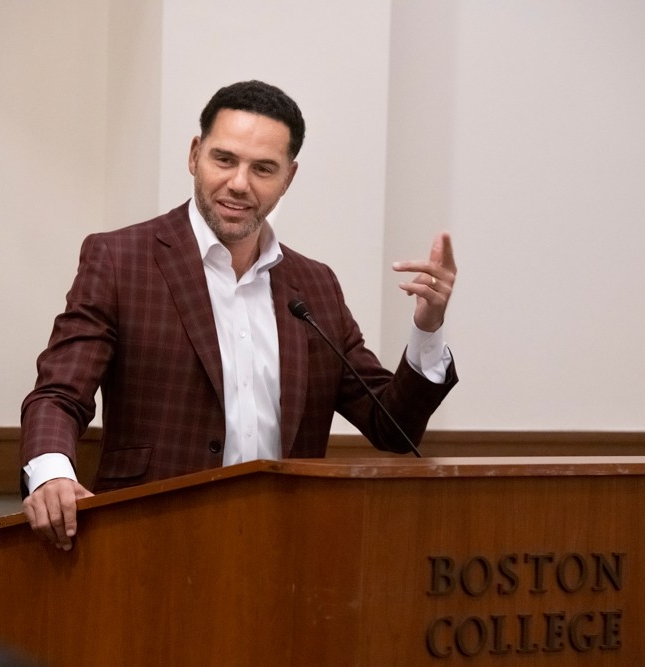 He wrote the book, he told the audience, not because he wanted anyone to feel sorry for him; rather, he said, he wrote it for others who were on nontraditional paths or had hit roadblocks in their lives, to show the power of fortitude, faith, forgiveness, and, importantly, of small kindnesses.
His messages to those present: believe in your dreams, strive not to be defined by obstacles but to rise above them, look for similarities that unite rather than differences that divide, and work to create opportunities for others.
In his own personal and professional life, Pemberton, a passionate human rights champion, has worked to advance equality and access for the disenfranchised, earning numerous accolades for his advocacy, including the Horizon Award presented by the U.S. Congress.
It would have been difficult to envision such an outcome for the neglected boy at the center of his memoir. But small acts by ordinary people can have an extraordinary impact, he said, citing individuals whose simple kindnesses during his harsh childhood helped redirect the trajectory of his life.
The real "heroes" don't dominate the nightly news or social media timelines, but "are right here among you," he said, urging members of the audience to see in their own experiences the chance to be heroes⁠—or, as he calls them, "human lighthouses"⁠—for others.
"The pain in your past can help someone else navigate the challenges in their present," he said. "They need the power of your example."
His message to those present: believe in your dreams, strive not to be defined by obstacles but to rise above them, look for similarities that unite rather than differences that divide, and work to create opportunities for others.
Now in its third year, the Woods College Manresa Experience is an initiative of a kind not ordinarily available through adult education programs, says Associate Dean for Enrollment Management and Student Engagement Claudia Pouravelis. Named named for the discernment experience of Society of Jesus founder St. Ignatius Loyola in Manresa, Spain, the program reflects the Woods College's commitment to Boston College's Jesuit educational tradition, which invites students to reflect on their own life experiences to determine how best they can use their talents to respond to the world's needs.

Through the program, participating Woods College undergraduates discuss a common reading in courses across varying disciplines. Previous selections include Tattoos on the Heart: The Power of Boundless Compassion by Gregory Boyle, S.J., founder of the world's largest gang intervention, rehabilitation, and re-entry program, and The Red Bandanna: A Life, A Choice, A Legacy, by ESPN national correspondent Tom Rinaldi, which tells the story of BC alumnus and 9/11 hero Welles Crowther. Students in each class are designated as Manresa Experience Scholars, who lead classroom discussions, attend an off-campus retreat, and take part in other program activities.
Manresa Scholar Kelly Cunniffe '22 expressed gratitude for being able to participate in such a meaningful experience. "A Chance in the World is such a thought-provoking book. "Steve's story resonated with me in so many ways," she said, noting in particular his approach to fatherhood, which he touched upon during his remarks at BC. "Like Steve, I've been able to put down my pain and move forward."
Both the book and lecture reminded Manresa Scholar Haleigh Creamer ' 21 "of the importance of being of service to others and of having faith in something greater than yourself. No matter who you are, you can make an impact in someone's life by being of service.
"We will all experience hardships and setbacks," she said, "but it is how we persevere through faith and being of service that connects us all."
Connections, such as those created through learning about and reflecting on the challenges and adversity facing others, are more important than ever in what Pemberton refers to as today's "relentlessly divided" society. To this day, he said, when readers contact him from all over the world, "they say, 'while we don't have the same story, we have similar chapters'" of suffering or difficulty.
The beauty of sharing that experience, Pemberton said, "is that's the pathway to healing."

Patricia Delaney | University Communications | December 2019