Taylor Bryan Turner '23 doesn't often tell people that she hasn't graduated from college. As a professional who has worked to promote affordable housing for more than 10 years, it's not a topic that comes up.
"I think people assume that I have a degree," she said. "It's something I've always been insecure about."
When Turner first learned about the Woods College of Advancing Studies at Boston College, which offers both undergraduate and graduate degree programs for students of all ages, she jumped at the opportunity to earn a diploma. What she didn't anticipate was that her Woods experience would do more than challenge her academically—it would deepen her relationship with herself and others, expand her vision for the future, and push her to rethink her life's purpose. 
"You will find yourself here," she said. "Maybe not immediately, but in a couple of months, maybe a year, you will feel inspired and encouraged."
Educating the whole person
Boston College has long been a leader in formative education, offering a host of programs to help students engage in self-reflection and begin to integrate their academic, personal, and spiritual lives. At Woods College, despite the fact that many students are enrolled part time and don't live on campus, the focus on formation is strong.
"Boston College has a longstanding tradition of leadership in this area, and we're proud to share in that tradition," said Woods College Dean Karen Muncaster. "We're committed to caring for our students' intellectual and professional development, but also to helping and challenging them to lead meaningful, purposeful lives, and to be their best selves."
West Price-Ashby '19 grew up in the shadow of BC's Chestnut Hill campus, and enrolled at Woods in 2015 after beginning his studies at Bunker Hill Community College in Boston. Right away, he was struck by the interest that Woods professors  showed not just in his academic work, but in his personal journey. Outside of class, he found himself opening up to peers and faculty members in a way he never expected.
"Woods gave me more confidence, and it allowed me to share my stories with people and start to recognize certain situations within myself," he said. "I've grown in all areas."
In particular, Price-Ashby, a school counselor at YMCA of Greater Boston, credits Woods Associate Dean for Enrollment Management and Student Engagement Claudia Pouravelis with helping him to articulate his goal of working in youth education. 
"She didn't see me as a number, or even as just a student," he said. "She saw me as an individual who has something to look forward to." 
Time to reflect 
In keeping with its mission to make a Boston College education accessible to nontraditional students, the Woods College is quick to embrace opportunities to reflect the University's signature focus on formation. A prime example is the school's Manresa Experience, a year-long program launched in 2017 to help undergraduates discern their vocation, explore their faith, and connect with the BC community. 
"Student formation programs have a vital place in adult education," said Pouravelis. "The Woods Manresa Experience is one of the many ways we help our students engage with the Boston College mission of graduating ethical and well-rounded leaders."
Each year, the Manresa Experience—named for the pivotal discernment experience of Jesuit founder St. Ignatius Loyola in Manresa, Spain—brings students together through events and classroom discussions centered on a common text. For selected scholars, the program offers an off-campus retreat and leadership opportunities in the classroom.
This year's speaker is BC alumnus and trustee Steve Pemberton, whose best-selling memoir A Chance in the World chronicles his inspiring rise from orphan to executive and advocate for the disenfranchised.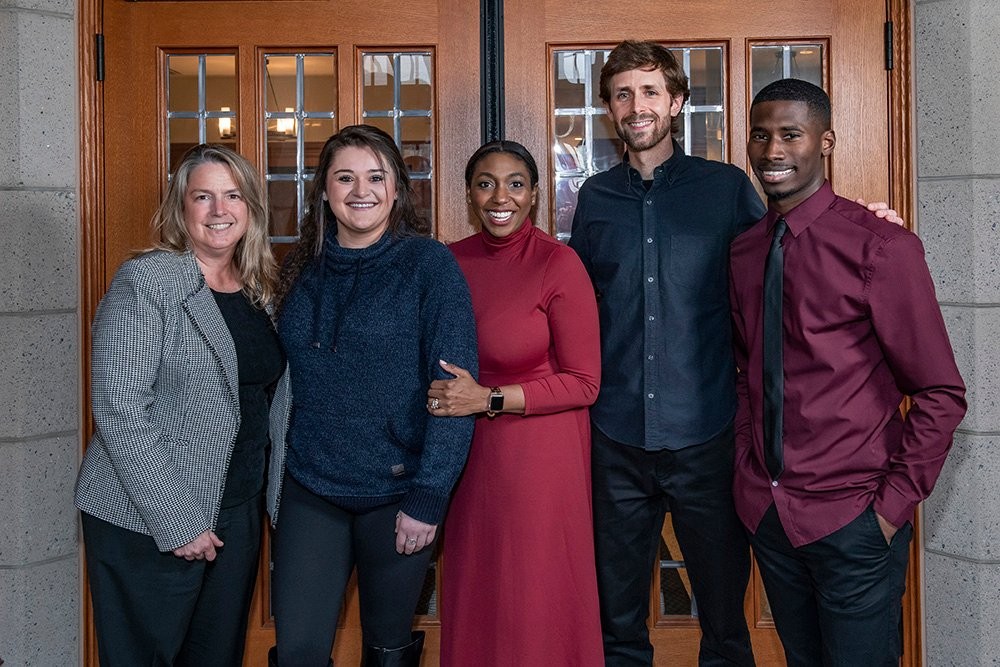 Being nominated as a Manresa Experience Scholar was a turning point for Missy DePillo '19, who enrolled at Woods after a semester at Salem State. Last semester, she and the other scholars spent a weekend retreat deep in conversation about Tattoos on the Heart by Fr. Greg Boyle, S.J., in which he describes his work helping former gang members in Los Angeles.
 "Going through the Manresa Experience Retreat truly changed my life," DePillo said. "Having time to reflect and think about my life, I realized how I can lead by example."
Back on campus, DePillo and other Manresa Experience Scholars led classroom discussions based on the book. Judge James Menno '77, J.D. '86, who served for more than two decades as an associate justice of the Massachusetts Probate and Family Court, has taught courses at Woods for 17 years. He was amazed by one such session held in his Law and Morality class. 
"Hands went flying up," he recalled. "People who had never opened their mouths in my class were sharing left and right. We could have gone on all night." 
Part of a community
What does it mean to be a Boston College student?
For Woods undergraduates, the question is one of three themes explored throughout the Manresa Experience, and its wording is no accident. Students like Turner are proud of their Woods affiliation, but say they also feel a strong connection to the University and its mission.
"I'm a Woods student, but I don't feel like an outlier," Turner said. "I'm not very religious, but I've realized that BC and I share a lot of the same qualities. We are more the same than we are different." 
Despite busy lives working full time or caring for family members, many Woods students enjoy spending time on campus outside of class. They regularly attend hockey games and football tailgates, and chat with professors at faculty barbecues. Many have developed strong bonds with classmates and staff, describing them as family.
"There's a never-ending sense of community," said DePillo. "It allows you to take your guard down and just be yourself."
Compared to the stereotypical "night school" experience—going to class and then leaving immediately—Woods stands out with its emphasis on educating the whole person, she said.  
"I feel like Woods kind of breaks that stigma of 'night school,'" she said. "You do the night program but you also have all these other activities. I'm able to be on a club basketball team—they're not able to do that in a lot of schools."
"

You will find yourself here. Maybe not immediately, but in a couple of months, maybe a year, you will feel inspired and encouraged.

"
A network of support
As a Manresa Experience Faculty Mentor, Woods instructor Dustin Rutledge—who also is an adjunct faculty member in the English Department of BC's Morrissey College of Arts and Sciences—has regular conversations with students about their passions, career goals, and the role of spirituality in their lives. There's no agenda to the sessions—if a student is grappling with a personal dilemma, Rutledge is happy to spend the entire hour listening. 
He sees the impact of these meetings, as well as conversations held during retreats, on his students' performance in the classroom and in their overall wellbeing. He recalled one student in particular who began participating regularly in class after processing a difficult professional rejection during a Manresa Experience Retreat. 
"Through the reflection in the program she was able to see everything she was doing well already and take some pride in that," he said. "That was nice for me to see." 
Similarly, Judge Menno has begun asking his students to write journal entries reflecting on the connections between their academic and personal lives. So far, the response has been overwhelmingly positive.
"It's clear to me that students want to talk about this stuff; they want to share their personal experiences," he said. "A lot of them have overcome significant challenges—every student has a story."
Finding the right path
Thanks to her Woods experience, DePillo now feels confident in her plans for the future. Judge Menno's class awakened her interest in criminal justice, while the Manresa Experience convinced her of her desire for a moral career that serves others. She also hopes to fuel her interest in technology by pursuing a master's degree in the school's Cybersecurity Policy and Governance program. 
Conversations with peers and mentors helped her discern what mattered most to her, she said, adding, "I want to lead by example; that's how I want to flourish in my career."

For Turner, studying at Woods has opened up a world of possibilities. She sees a potential future career in the mental health sphere and is considering pursuing a master's degree once she graduates. 
"I still don't know exactly what I want to be 'when I grow up,' but that's ok," she said. "As a Woods student I can learn and feel inspired just as I would if I were 18 or 19 years old—opening my mind to new things and broadening my horizons."
—Alix Hackett | University Communications