For nearly four decades, environ­mental photographer James Balog '74 has broken new conceptual and artistic ground on one of the most important issues of our era: the human modification of nature.
A global spokesman on climate change, Balog will return to campus on March 29 to present a special screening of his new film, "The Human Element," which offers an in­novative and visually stunning view of how humanity interacts with earth, air, fire, and water.
The event, which also includes a Q&A session, will be held at 4 p.m. in Devlin 008, and is free and open to the public.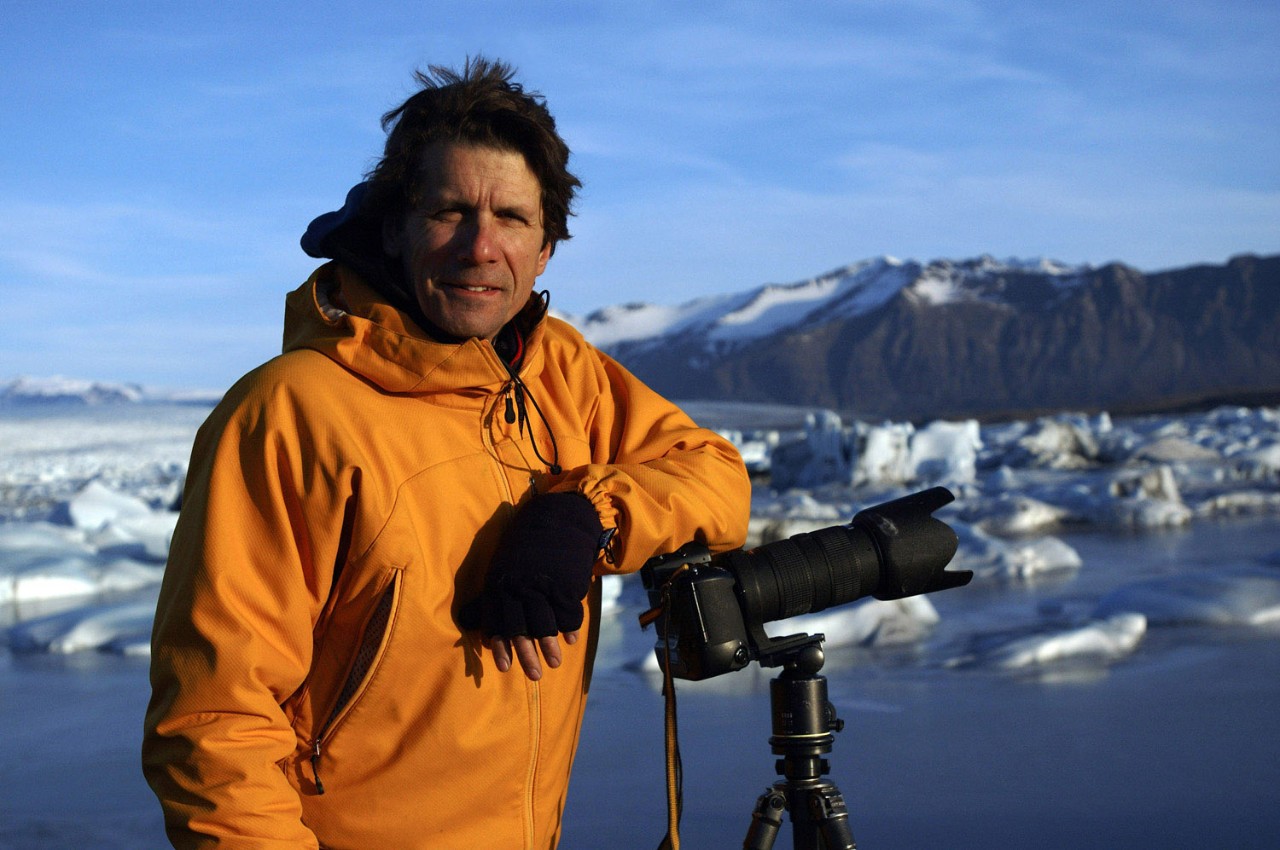 "The Human Element" chronicles wild­fires, hurricanes, sea level rise, a struggling coal mining community, and our changing air supply. Balog highlights Americans on the front lines of climate change and spurs audi­ences to reevaluate their relationship with the natural world. Balog and his team have doc­umented visual evidence of the epic changes sweeping the Earth today: Ice is melting, the coasts are flooding, the air is changing, and the West is burning, they note.
"Jim is a distinguished alum and has a special gift in visual storytelling that will inspire our students and faculty," said Ethan Baxter, Department of Earth and Environ­mental Sciences professor and chair. "His message about the very real role that humans have in the Earth and environment is not unique. But the literal lens through which he views and conveys this message is unique and compelling and troubling and inspiring."
Baxter hopes the film provides inspiration to, and raises awareness among, viewers.
"Our Earth is changing," Baxter said. "It has always been changing. But human activi­ties are accelerating and re-directing those changes in meaningful ways. All citizens of our planet should be inspired by the wonders of the Earth, and cognizant of the responsi­bility we all have to be stewards in protection of the Earth and its environment. This film helps make that case."
Balog humanizes this story of change, investigating how altering the elements is affecting Americans. He uses art to raise awareness of the interconnectivity between nature and a singular all-powerful force on Earth: "The Human Element," according to the film's description. Balog concludes that "humans are part of the whole system of nature and not apart from it, and finds great hope that the fifth element, the human ele­ment, can bring the whole system back into balance." [Visit the film's website to learn more.]
Recipient of the 2005 Boston College Arts Council Alumni Award for Distin­guished Achievement, Balog founded the Extreme Ice Survey—the most wide-ranging, ground-based study of glaciers ever conduct­ed—which was featured in the internation­ally acclaimed documentary "Chasing Ice," and in the PBS "Nova" special "Extreme Ice." He has authored eight books, and his images are in dozens of public and private art collections, and published extensively in National Geographic and other prominent magazines.
Prior to the BC film screening, Balog will visit Baxter's Building a Habitable Planet class which is co-taught by Natana Delong-Bas, associate professor of the practice in theology.
"Jim will join us for a discussion of his perspective as a photographer and what mo­tivates his work," according to Baxter. "The class is all about learning how to see the stories of the Earth in the earth around us, both through the lens of geoscience and the lens of theology. The visual arts offer another lens, perhaps capable of illuminating both geological and theological meaning."
Baxter said he hopes his students gain "an appreciation that the visual arts can be a crucial tool to inspire and communicate to society about deeply important human, and environmental, issues."
For more information about the March 29 screening and Q&A, visit the event page.
—University Communications