Vice Provost for Enrollment Management John L. Mahoney, a key architect for Boston College's unprecedented success in undergraduate admission and enrollment during the past three decades—and one of the nation's most respected professionals in the field—will retire from the University at the end of the 2022-2023 academic year.

Mahoney, who earned bachelor's and master's degrees in English from BC, returned to his alma mater in 1984 as assistant (later associate) director of undergraduate admission. He was appointed as director of undergraduate admission in 1990; in 2018, he became dean of undergraduate admission and financial aid and later that year was appointed as vice provost for enrollment management.

The University will announce plans for a restructuring of the Undergraduate Admission division at a later date.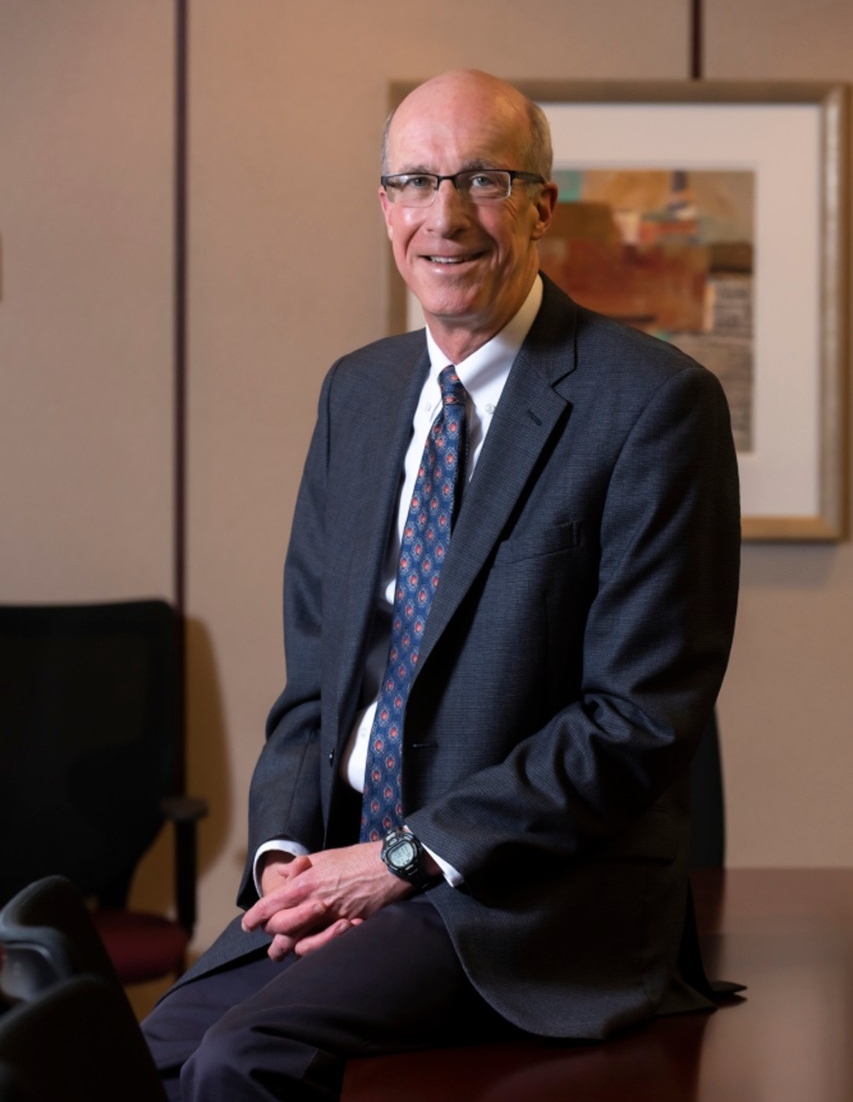 During his tenure as director of undergraduate admission, Boston College saw a dramatic rise in freshman applications that continued after he became a senior administrator and was succeeded by Grant Gosselin: from 12,403 in 1990 to 20,743 in 2000 to 34,061 in 2012; the latter figure was a record surpassed seven years later by the 35,500 applications for the Class of 2023; three years after that, undergraduate applications exceeded 40,000.

The planning and strategizing that produced such statistics is a source of pride for Mahoney, but it's an achievement made possible by many, he says—especially the two presidents he's served under, William P. Leahy, S.J., and J. Donald Monan, S.J., and their vision for BC as a Jesuit, Catholic university mindful of its heritage while building toward the future. He also points to his predecessor as admission director, Charles Nolan, who hired him, and retired Dean for Enrollment Management Robert Lay, who worked closely with Mahoney.

Discussing his decision to retire earlier this month, Mahoney said, "It feels like it's the right time. These 39 years have been an amazing run, and it's a blessing to have worked here at Boston College during a time of such incredible progress."

The appeal of Boston College to prospective students, said Mahoney, rests on two things, one of which is its proximity to Boston.  "The other thing is, students and their families like what they hear about a Boston College education, not only what happens in the classroom but the formation that takes place throughout their four years here. Parents recognize that BC is serious about helping their child grow, not just intellectually but personally, in such a critical period of life. Care of the individual: That's what differentiates us."

"

Since joining the team in Devlin Hall nearly 40 years ago, John Mahoney has been an indispensable leader as he and his colleagues have admitted nearly 100,000 young women and men who are today Boston College alumni. John remains one of the most eloquent voices in articulating what makes this a special place among the nation's best universities. [He] leaves a remarkable legacy here on the Heights.

"

The increase in numbers of applicants to BC under Mahoney precipitated the enrollment of an undergraduate student body marked by superior academic achievement as well as greater diversity, critical factors in the emergence of BC as an elite national university. Even accounting for changes over time in the way test scores are calculated, as well as other factors, numbers for the Class of 2026—a 1,484 mean SAT and 34 mean ACT—confirm BC's academic excellence, said Mahoney.

During the first decade of Mahoney's directorship, BC saw an uptick in the numbers of AHANA undergraduate applicants. From 1992 to 2002, according to a national study, the University recorded the 10th biggest increase (3.1 percent) in the share of underrepresented minorities, compared to an overall 0.4 percent gain among all entries in the U.S. News "best national universities" category. Progress has continued, Mahoney said: AHANA students make up 36 percent of the Class of 2026, and in recent years that percentage has consistently reached the mid-30 percent range.

While they laud such statistics, Mahoney's colleagues say his dedication to BC goes beyond the quantifiable, noting his ties as an alumnus and the son of one of BC's most storied figures, longtime English faculty member John L. Mahoney Sr.

"Since joining the team in Devlin Hall nearly 40 years ago, John Mahoney has been an indispensable leader as he and his colleagues have admitted nearly 100,000 young women and men who are today Boston College alumni," said Provost and Dean of Faculties David Quigley. "John remains one of the most eloquent voices in articulating what makes this a special place among the nation's best universities.  Like his father before him, John leaves a remarkable legacy here on the Heights."

"It is significant that the person responsible for the admission of tens of thousands of undergraduates beginning in the early 1990s is himself a model of the 'well-rounded' individual that we all seek in college admissions," said Lay. "John exhibits a balance of strong verbal skills and insightful mathematical skills.  Through his words he commands a room of prospective students and parents on the essence of the Boston College experience, and with his analytical skills he directs enrollment modeling and statistical planning for each incoming class."

Mahoney's work in undergraduate admission has been recognized by his peers.  In 2002, he won the John B. Muir Editor's Award from the National Association for College Admission Counseling for his article "Perception of the Profession Is a Cause for Concern," published in the Journal of College Admission. In 2014, the New England Association for College Admission Counseling selected him for the Harry R. Carroll Distinguished Service Award, which honors a college admission counseling professional whose contributions and achievements merit special recognition and whose work reflects the spirit and principles of its namesake.

Yet Mahoney's success was hardly preordained. He spent the first five years after his graduation from BC as an English teacher at St. John's Preparatory School in Danvers, Mass., an experience he found demanding yet invaluable: "When you're teaching 14- to 16-year-old boys, you have to bring it every day. I had to be prepared, engaged, enthusiastic, and passionate about what I was saying, and I feel this prepared me well to speak about BC when I joined the Admission Office."

Mahoney succeeded Nolan as director of admission at an inauspicious time for higher education, with the college-age population at low ebb; the number of high school graduates during his first years at the helm of undergraduate admission was only 2.4 million, with the biggest decline in the Northeast. BC, he recalled, had to begin recruiting nationally and internationally. It was a challenge he took on personally, making visits to high schools across the country.

"Bob [Lay] told me, 'You need to be a national figure in two years,'" recalled Mahoney. "I wanted to get out to as many places as I could, like Salt Lake City, St. Louis, and Denver. Sometimes, when I'd come to a high school, one of the counselors would ask why the BC director of admission was visiting: 'Did we do something wrong?' But I loved talking to the students about liberal arts education and BC; it was enriching."

Mahoney can wax nostalgically about how aspects of the admission process have changed during his time at BC—such as when he and his admission staff would lug home freshman applications (70 to 80 apiece) in mail crates to read through them—but one constant has been those undergraduates who have aided the office as campus tour guides or in panel discussions on student life.

"They are in many ways our most valuable resource, because they have lived experience," said Mahoney, recounting how one such student answered a parent's question of whether BC faculty hold office hours. "He said the question should be, 'Do you have coffee-and-cellphone faculty?' And he explained that he had his professors' numbers in his cellphone, and knew that he could call them and say, 'Would you have a cup of coffee with me? I need to talk about something.' That's the sort of thing which really stands out to prospective students and parents."
Sean Smith | University Communications | February 2023