Boston College has announced that two of its most popular and respected administrators will assume new roles in 2023, with Thea Bowman AHANA and Intercultural Center Director Michael Davidson, S.J., returning to University Mission and Ministry to serve as director of the Montserrat Coalition, and Montserrat Coalition Director Yvonne McBarnett returning to Student Affairs to become the new director of the BAIC.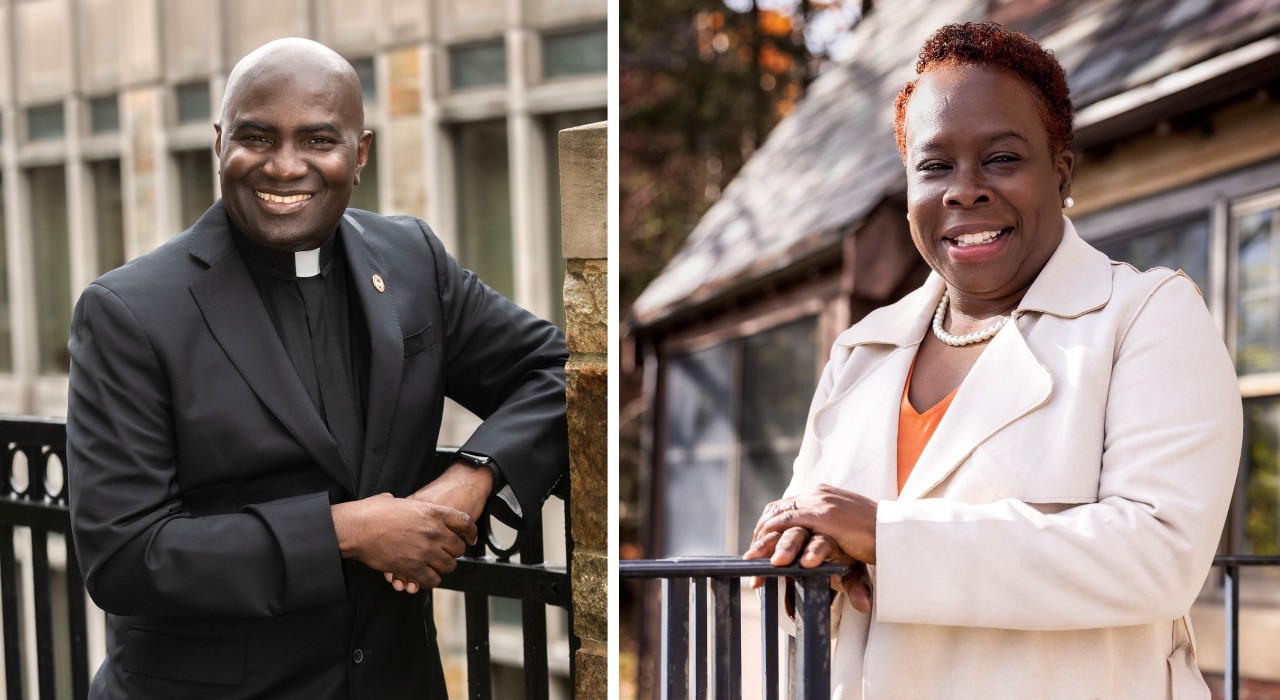 The changes, senior administrators said, will enable both directors to utilize their extensive experience and student-mentoring skills in a way that best assists BC students.
Haub Vice President for University Mission and Ministry Jack Butler, S.J., said the change in positions will allow Fr. Davidson to use his pastoral gifts as a Jesuit to serve Montserrat students.
"Fr. Michael began his career at Boston College as a campus minister who lived in BC residence halls before eventually moving to Student Affairs," said Fr. Butler.  "I am pleased that he will be returning to our division to lead the Montserrat Coalition, where he can help even more of our students to find the academic, social, and spiritual supports that will help enable their success."
Founded in 2008, the Montserrat Coalition serves students with the highest levels of financial need, providing access to retreats, sporting and theater events, service programs, and independent study, while also aiding in their academic, social, and spiritual formation.
Vice President for Student Affairs Shawna Cooper Whitehead welcomed McBarnett back to Student Affairs where, she said, her leadership, vision, and mentoring skills will help her to lead the BAIC in its outreach to students.
"Yvonne began her career at BC working in the BAIC, and this transition will give her an opportunity to return to a center that is critically important to our students," said Cooper Whitehead. "She has a wealth of experience and a unique ability to connect with people, particularly underrepresented and underserved students. She is an ideal fit for the BAIC."
The Thea Bowman AHANA and Intercultural Center provides support for the University's undergraduate community, with a particular focus on AHANA students and multicultural, multiracial, Options Through Education scholars. The center helps students to navigate the challenges of the college experience by offering programs that facilitate student identity formation and build community.
A member of the USA East Province of the Society of Jesuits and a native of Jamaica, Fr. Davidson came to Boston College in 2012 after serving as dean of students at St. George's College in Kingston. He worked for six years in Campus Ministry before being named director of the BAIC in 2018. During his four years as director of the Bowman Center, he earned a reputation as a strong student advocate and a resource for AHANA students looking to make the most of their BC experience.
"As the incoming director of the Montserrat Coalition, I am excited to once again focus on students, especially those who are from financially modest backgrounds," said Fr. Davidson. "As a Jesuit, I am charged by the Gospel to find God in all things and all people and to give selflessly, especially to those living on the margins of society. I intend to create a space where students are loved, celebrated, and their voices are heard-- regardless of their demographic differences, and to continue fostering a community of care where students' experiences and expressions are valued and their sense of belonging is both actualized and celebrated."
McBarnett, who received her undergraduate and graduate degrees from the Woods College of Advancing Studies, came to Boston College in 2002 and worked as an administrative assistant in the BAIC before being named counselor and then BAIC program administrator.  She was appointed program manager of the Montserrat Coalition in 2015 before being named director in 2018. As leader of Montserrat, she was praised by students for being a caring advocate and mentor who was readily accessible to students in need.
"I am honored and humbled by this appointment, and look forward to transitioning into my new role as the director of the Thea Bowman AHANA and Intercultural Center," said McBarnett. "One of my goals will be to work on eliminating perceived barriers, so that the students can pursue their spiritual, social, and intellectual development here at Boston College. I am excited for the opportunity to continue on the journey of helping students and building bridges with my campus partners across the University."
Jack Dunn | University Communications | December 2022