Citing a desire to conduct an extensive review on how best to maximize the benefits of the Thea Bowman AHANA and Intercultural Center for all students, Vice President for Student Affairs Shawna Cooper-Gibson has announced that she will pause plans to revamp the center, and spend the coming months continuing conversations and conducting focus groups on ways to enhance its programs and services for the BC community.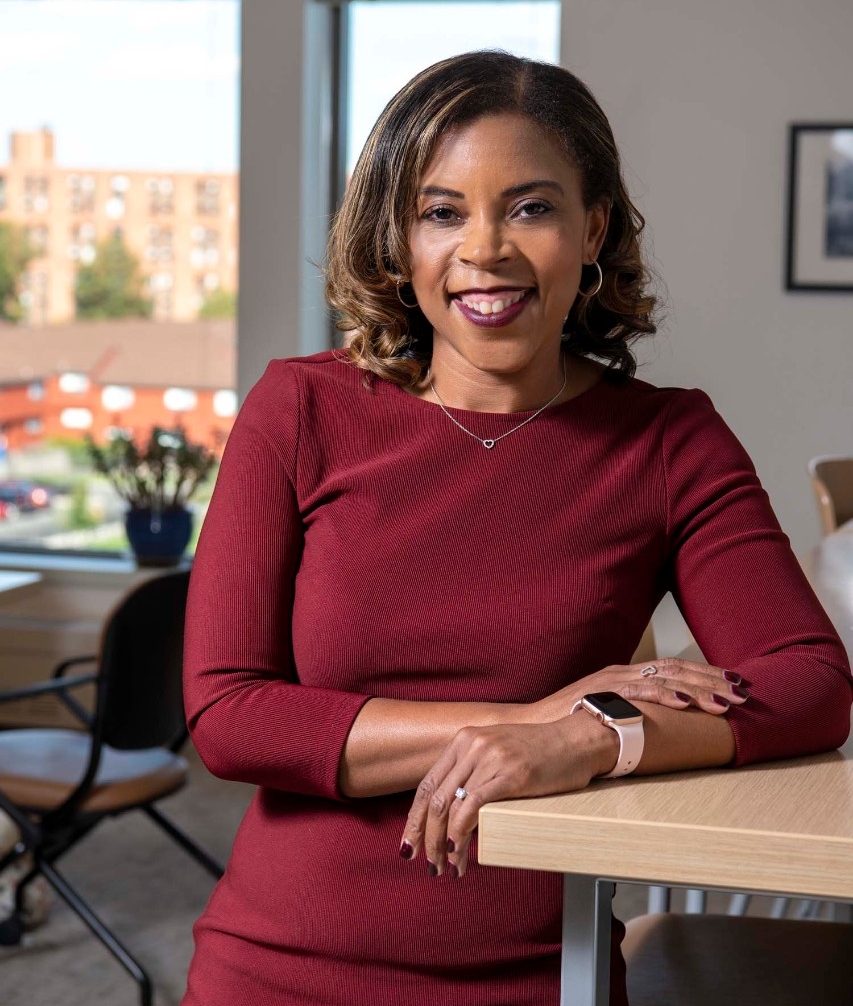 Cooper-Gibson said she was grateful for the feedback she has received from students, alumni and, in particular, individuals of color on the Boston College Board of Trustees, who provided sound counsel on how to examine the center's existing strengths while planning for improvements.
"Since being named vice president for student affairs in 2021, my overarching goal has been to create a more welcoming and inclusive campus environment at Boston College, and to ensure that our programs and services meet the needs of all of our students," said Cooper-Gibson.
"I have heard from many students and student groups that the BAIC—despite its great work—is not fully welcoming and accessible to all, particularly Latino/a, Asian, and LGBTQ+ students, and that the AHANA acronym does not represent all students of color.  I have also heard from students, faculty, and alumni that they would like to be part of a wider conversation on how to achieve the goal of enhancing inclusiveness. That is what I intend to do. "
Cooper-Gibson said she was especially grateful to Board members Steve Pemberton, Darcel Clark, Lise Leist, Kendall Reid, Kevin Pearson, Kevin Smart, and Juan Concepcion, who shared their insights on the historical significance of the AHANA acronym, and their thoughts on how to make the BAIC as strong a resource for students as possible.
"I want to be clear that it was not my intention to disregard the historical significance of AHANA nor to offend those who were instrumental in its naming. Rather, my intention has always been to create a welcoming and inclusive environment for all BC students, including the students who feel that their needs are not being fully served by our existing office structures and programs.
"The insights and advice I received have been most helpful. As a result, we will take a pause to strategize about how we best move forward. Taking the time to reflect will help me to work collaboratively toward our common goal of enhancing the BC student experience. I am grateful to have individuals who are willing to work with me in helping to address these important issues. I look forward to sharing our findings with the BC community in the months to come."
A nationally respected student affairs leader with a strong reputation for building successful student engagement and collaborative relationships at a range of universities—including Catholic institutions Seton Hall and Loyola Chicago, and research universities such as Northwestern, University of Chicago, and MIT—Cooper-Gibson has addressed myriad challenges throughout her career in the area of diversity, equity, and inclusion.
"Change comes slowly," said Cooper-Gibson. "But given the number of BC students who go on after graduation to become leaders in the private and public sector, it is important that they embrace interculturality so that they can effect change beyond BC. This is our goal, to incorporate the Magis—the more—for all students by being the most welcoming campus we can be.  Working with members of the BC community, I know we can achieve that goal."
Jack Dunn | University Communications | May 2022