Red Sox Visiting Clubhouse Assistant Jesse Lopez '18 dons the opposing team's uniform for each game at Fenway Park.
For most Red Sox fans, taking in a home game is a sedentary affair, unless you count doing the wave as upper body exercise. But for recent grad Jesse Lopez, it's an entirely different ballgame.
As the Visiting Clubhouse Assistant, Lopez serves as the bat boy for opposing teams, collecting discarded bats after hits and retrieving equipment from players who reach base. If a hitter breaks his bat, Lopez sprints over with a new one from his post near the on-deck circle.
"I do a lot of running," he said, laughing. "It can get tiring but I get my cardio in."
Lopez arrives at work by noon on evening game days, and takes care of the multitude of supportive tasks that professional athletes require. There's laundry – "I probably don't want to know how many towels I'll fold by the end of the season" – food runs to Chipotle and setting up equipment for batting practice.
"It revolves around making sure the players have everything they need," he said. "I'm there to help them out."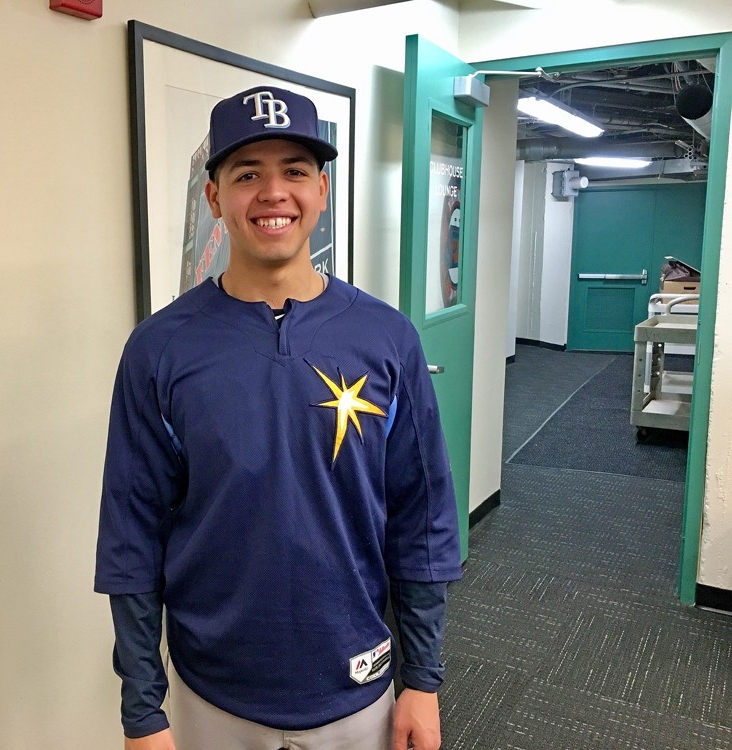 A lifelong fan of the sport, Lopez played catcher in high school and joined the BC baseball team as an assistant his sophomore year. He later became student manager of the team, gaining the respect of players and coaches alike.
In March, still two months shy of graduation, Lopez was offered the Red Sox position. He jumped at the opportunity, juggling finals and his responsibilities with BC baseball with his new role as a member of a top Major League Baseball organization.
"It was a lot but working for the BC baseball team prepared me well," he said. "From day one I was ready to go. Nobody had to teach me how to do things, I already knew."
With every team that visits Fenway, Lopez gets the chance to interact with a new cast of characters – from his childhood hero Mike Trout to lesser-known players whose names are seldom mentioned in the media. Lopez is bilingual, and enjoys chatting in Spanish with Dominican-born players like Albert Pujols and Nelson Cruz.
"Some of my favorite moments are conversations with players," he said. "Hearing their personal stories, especially those who came out of poverty and their journey through the minors – it's eye-opening."
The Red Sox organization has been a part of Lopez's BC journey since before he was a freshman. In fact, his decision to attend the school came during a trip to Boston from his native California to take in a game at Fenway Park.
"I was here to watch the Red Sox, explore Cheers, walk the Freedom Trail," said Lopez. "I wasn't originally going to visit BC, but I did, and I absolutely fell in love with it."
In the fall of 2014, Lopez became the first person in his family to attend college. He describes his four years at the Heights, where he majored in psychology at the Morrissey College of Arts and Sciences, as challenging him to become an independent thinker.
"Suddenly I needed to create, to actually write down things that were my own ideas," he recalled. "So many classes had the same goal: to help me develop my own understanding of my surroundings and my own understanding of the knowledge that I'm learning."
Looking ahead, Lopez hopes to begin pursuing a master's degree in business administration with the goal of eventually obtaining a leadership role where he can continue to hone his management and communication skills. Whether his future is in sports, entertainment, or even finance, he's not yet sure.
"I love being in baseball, but if an opportunity comes up in another industry I'm not going to write it off," he said. "I just know I want to make a difference on some level."
Alix Hackett | University Communications