Growing up in Iran in the 1960s, Hamideh Anssari and her younger sister shared the same ambitious dream: to attend university and become doctors.
"We always said we would work together," Anssari recalled. "It was our mission for both of us to become obstetricians."
Instead, at her father's insistence, Anssari married at the age of 18, putting her education on hold to start a family. The next three decades brought wave after wave of tragedy: beginning with a war that drove her from her home country, and ending with a horrific accident that would challenge her will to survive.

All of this was on her mind on Monday, May 21, as Anssari donned her cap and gown and prepared to graduate from the Woods College of Advancing Studies at Boston College. At the age of 65, she was fulfilling a portion of her childhood dream.

"It was so incredibly emotional," she said. "I cried, I laughed. Second to second it's a moment I'll never forget."
Escaping Violence
Anssari was living with her husband and four children in Tehran when the bombings began. Following the 1979 Iranian Revolution, a bloody war with Iraq had ensued, and the radio in Anssari's house was never silent.

One morning in 1985, she heard the news she feared most – a bomb had been dropped on the private school her children attended. Frantic, she drove 30 minutes to the school gates, only to be turned away.

"They told me, 'Go hide in your house, nobody knows what's going on,'" she recalled. "I hid in my house crying. After three hours, my children came home."

A week later, Anssari took her children and left the country for Germany, which had granted her a visa. She left behind her parents and seven siblings, as well as her husband, who didn't rejoin the family for six months.

Shortly after arriving in Frankfurt, she received word that four of her children's friends had perished in the bombing. Their mothers had called Anssari's husband to invite them to the funerals.
"Boston College was my fate. At my age, I never believed I could get my degree, but Father Woods told me 'It's your turn,' and those three words changed my life."
A sudden loss
As her children grew up in Germany, Anssari encouraged them to pursue the college degree she had always wanted. Her two daughters enrolled at Columbia University, where her youngest son would later matriculate (all four of her children pursued doctorate degrees at top universities and currently work in academia).

In 1999, with the war concluded, the family took a trip to Tehran to visit the carpet factory Anssari's husband had built to support them. Less than 48 hours after they arrived in Iran, the car carrying Anssari and her husband was rear-ended by a truck on the highway. The impact threw both adults from the vehicle.

"My husband died before my eyes next to me," Anssari recalled. "I shook him, I said 'Where are you going?' He just closed his eyes and went."

Anssari suffered life-threatening head injuries and required several surgeries. She remained in the hospital for six months, both mentally and physically broken. Bedside visits from her children were the only thing keeping her alive, she said.
"Their passion gave me new life," she said. "I wanted to live for them."
'It's your turn'
In 2009, with all of her children living in the United States, Anssari decided the time to pursue her own higher education had finally arrived.

On the advice of her son, a Ph.D. student at MIT, she submitted an application to Boston College, including an essay she'd written about her life. A response arrived from Fr. James A. Woods, S.J., the longtime dean and namesake of the Woods College of Advancing Studies. He'd read Anssari's biography, and wanted to meet her.

When they met, "he told me, 'You deserve to study and get a degree. You sacrificed your own life for your family and now it's your turn,'" Anssari recalled. "I'll always remember that.
'It's your turn.'"

She moved to Newton, Mass. and enrolled at Boston College the following fall.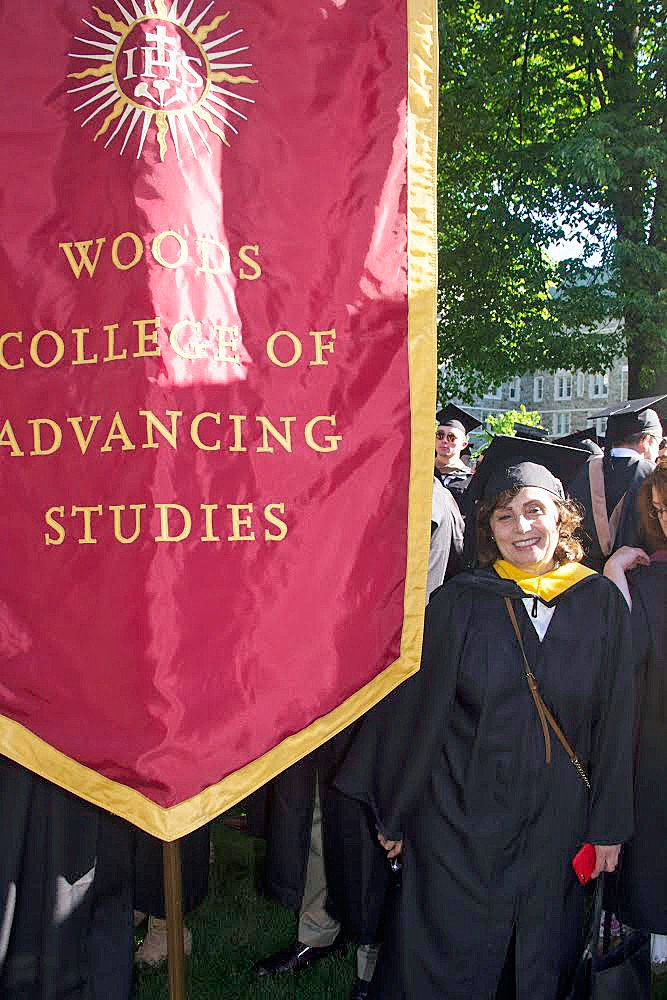 The next eight years were both exhilarating and exhausting. Though her English was proficient, Anssari still took notes in Farsi, and struggled to complete tests in the allotted time. She sought tutoring to help her keep up with coursework.
The Woods College accepts nontraditional students from a range of backgrounds who are seeking a rigorous education that fits into their lives. Many have children or careers and have overcome significant challenges.
"Hami in so many ways really illustrates who our students are," said Claudia Pouravelis, Associate Dean of Enrollment Management. "She's a reminder of the value of a place like the Woods College for students who might not otherwise be able to attend college."
The supportive environment at Woods (all students are assigned a personal academic advisor upon acceptance) helped Anssari adjust to her new life as a student.

"The BC community was very kind to me," she said. "They really understood my situation. I'm not a teenager, I've had a difficult life. They understood that."

In the classroom, Anssari discovered a passion not far off from her childhood dream of becoming a doctor—nutrition. In the future, she hopes to continue working in the field, helping others understand what a healthy diet looks like.

"That's my next mission," she said.
A happy ending
Now that she's a member of the Boston College Class of 2018, it's difficult for Anssari to believe that she almost didn't graduate. In 2016, after a heart attack and a bout of short-term memory loss, she told her children she was done.

"I said that's it, I'm finished," she said. "But Boston College was my fate."

With support from her professors and advisors at the Woods College, Anssari completed the courses she needed for her social sciences major. A few days before graduation, she visited Fr. Woods, whose encouragement nine years earlier gave her the confidence to pursue her dreams.

"At my age, I never believed I could get my degree," she said. "But Father Woods told me 'It's your turn,' and those three words changed my life."

—Alix Hackett | University Communications