Boston College Veterans Memorial Wall (Gary Wayne Gilbert)

Archbishop of Military Services USA Timothy P. Broglio '73 will be the keynote speaker at the 17th annual Boston College Veterans Remembrance Ceremony at 11 a.m. on Nov. 10.
He also will preside and deliver the homily at the preceding Mass, which will be held at 9:30 a.m. in St. Ignatius Church. BC Jesuit Community Rector Robert Keane, S.J., part-time Philosophy Department faculty member Paul McNellis, S.J., and Jesuit Community member John Monahan, S.J. – all veterans – will concelebrate the Mass.
A ceremony honoring all alumni who have served, or are currently serving, in the armed forces, will take place following the Mass at the Boston College Veterans Memorial on Burns Library lawn.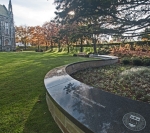 BC ROTC program students will emcee the ceremony and read aloud the names of Boston College graduates who died during the nation's military conflicts. BC students, faculty, staff, and alumni will serve as representatives of those who have died in wars. Commemorative pins, introduced at last year's ceremony, will once again be presented to BC alumni veterans. 
The event, which is open to all members of the University community, will be followed by a luncheon reception at noon in Gasson 100. Shuttle bus transportation will be provided for guests.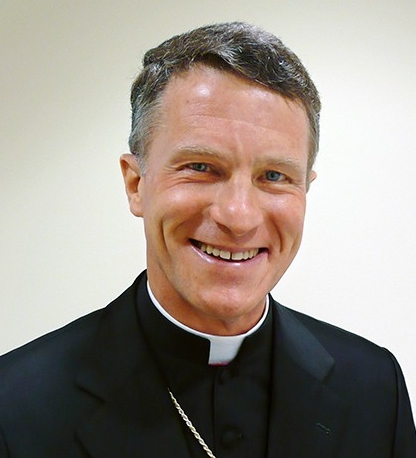 "The Alumni Association is honored to have Archbishop Timothy Broglio with us for the annual BC Veterans Remembrance Mass and Ceremony," said Associate Vice President for Alumni Relations Joy Haywood Moore '81, H'10. "The archbishop has an extraordinary relationship with military families. There is no one more versed in providing words of comfort and honor to the family members of those who lost their lives serving our country." 
Ordained as an archbishop by Pope John Paul II in 2001, Archbishop Broglio was installed in his current role in 2008. He also has served as secretary of the Apostolic Nunciature in Abidjan, Ivory Coast and of the Apostolic Nunciature in Asunción, Paraguay. 
From 1990 to 2001, he was chief of cabinet to Angelo Cardinal Sodano, Secretary of State to Pope John Paul II, and desk officer for Central America. In February of 2001 he was named apostolic nuncio to the Dominican Republic and apostolic delegate to Puerto Rico.
The Veterans Remembrance Mass and Ceremony is organized by the Alumni Association in partnership with the BC Veterans Alumni Network, BC Army ROTC, Human Resources and Campus Ministry. Advance registration is encouraged, but not required.  Click here to register.
–University Communications